The Best Popcorn Alternatives to Try On Your Next Movie Night
Movie night requires some staples: a comfy pair of sweatpants, cozy blankets and plenty of snacks, like the classic oversized bowl of popcorn.
Although popcorn is usually the movie night snack of choice, corn is not the only whole grain you can pop. Yep, that's right people. Ancient grains like amaranth, barley, buckwheat, quinoa and sorghum can all be popped and enjoyed as popcorn alternatives. (How did we not know this before?!)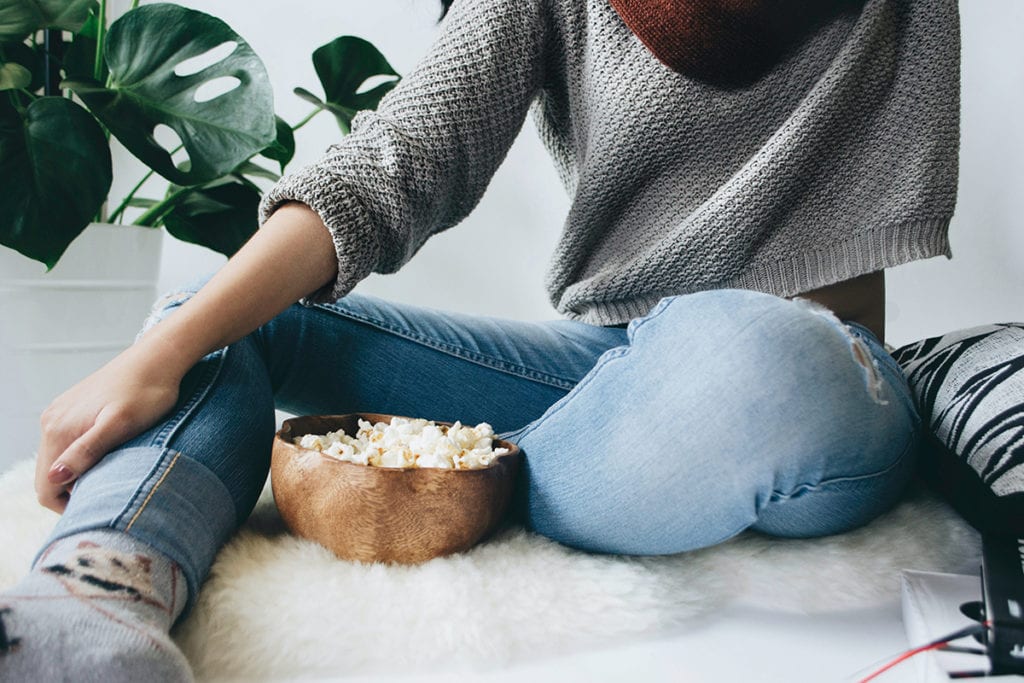 Actually, let's clarify that a little bit: not all ancient grains will pop like exactly popcorn. When applied to heat, most ancient grains puff, so if you give these ancient grains a go, be open minded and don't expect an airy, soft shell like you would with popped corn kernels. 
Curious? Try puffing up one of these ancient grains the next time you watch Clueless for the millionth time.
Sorghum
If you are new to popping ancient grains, you may want to start with sorghum first. Lauren Harris-Pincus, MS, RDN, founder of NutritionStarringYOU.com and author of The Protein-Packed Breakfast Club, says popping sorghum is a great alternative to popcorn.
Why? Well, it's a USA-grown ancient grain that's a plant-based source of protein. It's gluten-free, full of fiber and rich in antioxidants. It's also eco-friendly. When heated, sorghum acts the most like corn kernels and will produce a soft white snack. Though smaller in size than traditional popcorn, sorghum resembles baby popcorn kernels and are crunchy in texture and toasty in flavor.
Harris-Pincus says sorghum can even be better than popcorn because it doesn't have the hull like popcorn kernels, so it won't get stuck in your teeth. (Amen to that!) You can enjoy puffed sorghum on its own or as a topping for ice cream, salads and soups.
Ready to try it? Here's an easy recipe for popped sorghum.
Amaranth
Amaranth is another ancient grain that is growing in popularity as a popcorn alternative. Lisa Richards, nutritionist and author of The Candida Diet, explains, "Amaranth is an ancient grain known for being naturally gluten-free and packed with protein. One cup of amaranth contains a nutrient dense 250 calories along with nearly 10 grams of protein and a significant amount of essential minerals."
Amaranth pops quicker than popcorn and is quite small in size. Although it can be enjoyed on its own, puffed amaranth works well in your favorite recipes for baked goods like homemade granola bars, muffins or trail mix. You can even create your own popped amaranth cereal.
Barley
Barley won't pop, but will crack once it has been puffed. It's important to remember this may not happen with every kernel. Puffed barley creates a soft yet chewy texture and is nutty and toasty in flavor.
Buckwheat
Buckwheat, like sorghum, is a popular ancient grain that serves as a popcorn alternative. Puffed buckwheat is wonderfully crunchy and tender in texture. Puffed buckwheat is rather small, which is why it works best on top of your favorite dishes like overnight oats or sprinkled on your favorite fresh fruit slices. Just be sure to include a spoonful of nut or seed butter so they stick!
Here's a hack: if you're interested in trying puffed buckwheat, but aren't sure if you want to pop it yourself, try Lil Bucks.
Quinoa
Quinoa is another ancient grain that pops small, but packs a big flavor. Puffed quinoa makes a popping sound when it's puffed, but doesn't look any different than its original raw form. The main difference lies in the flavor. Puffed quinoa has a light texture and like most puffed ancient grains, holds a nutty flavor. Enjoy as a cereal alternative, on top of desserts or sprinkled on salads or soups.
How to puff ancient grains as popcorn alternatives
Ancient grains don't need to be popped like traditional popcorn. In fact, ancient grains are much easier to pop than corn kernels. You don't even need any cooking oil. All you need is a medium saucepan heated on medium to high heat.
Let the pain get hot, but not too hot. A good way to test this out is by adding a drop of water. If it quickly sizzles and evaporates, then the pan is ready to use.
Add your ancient grain of choice in a single layer, then shake the pain occasionally to avoid burning, just like you would traditional corn kernels. During the puffing process, some ancient grains will crack and some will sizzle, while others will split or toast.
Each ancient grain is different, but the key is to remove them from the heat before they stop crackling or get too dark in color as over roasting produces a bitter taste.
Channel your culinary creativity and try popping, I mean, puffing, these ancient grains as popcorn alternatives the next time you feel like making a bowl of popcorn. Happy snacking everyone!