The 6 Most Common Myths About CBD
This post is part of a partnership with Equilibria. As always, we only write about products, services, and brands we love. Use code "ASWEATLIFE" to get 20% off your first order from Equilibria!
We love a good myth-busting session, whether it's about intuitive eating, the collagen hype, or the all-too-popular "lifting weights will make me bulky." And with Illinois about to legalize recreational cannabis on January 1, 2020, we figured there's no better time than the present to circle back with our friends at Equilibria and ask them to lay down the cold, hard facts surrounding some of the most common myths about CBD.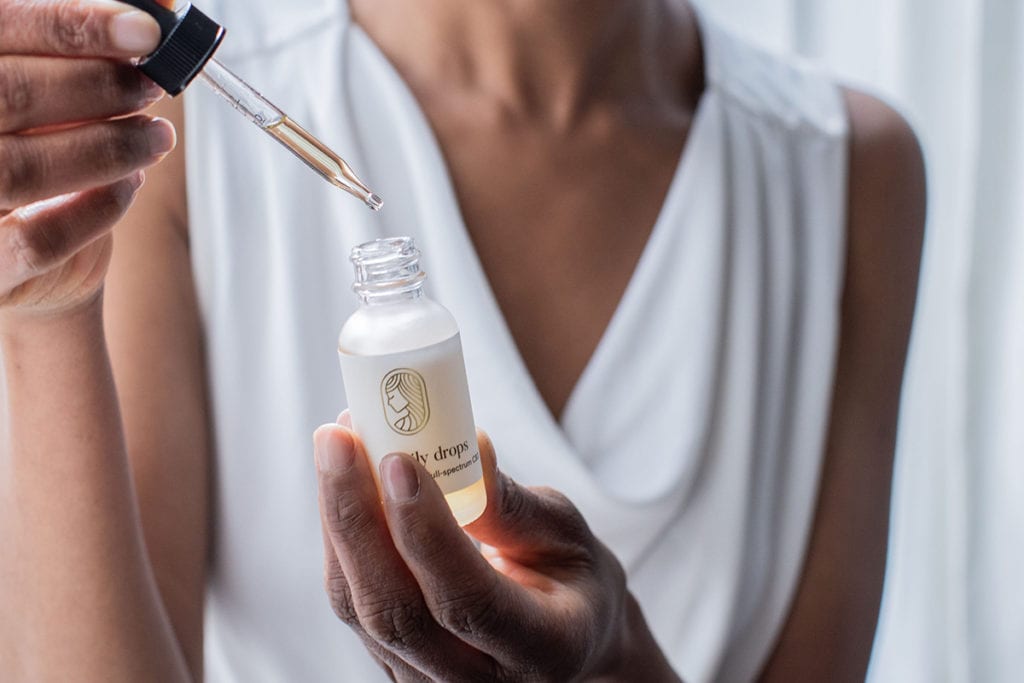 Myth #1: CBD will make you fail a drug test.
Verdict: Mostly false.
One of the most common myths about CBD is that you'll fail a drug test. Full-spectrum CBD, like Equilibria, does have trace amounts of THC in it, up to the legal limits of 0.3 percent, says Equilibria CEO and co-founder Coco Meers.
However, "the vast majority of people will not flag on a drug test because the THC content is so incredibly low," explains Meers. "No one on the Equilibria team has ever flagged on a drug test, including my co-founder, who's taken 50+ mg of full-spectrum CBD every day for four years. That said, we cannot legally guarantee that you will not flag. Some people's metabolism or sensitivity might, could, maybe flag—it's technically possible but statistically a very, very small likelihood."
And as to why CBD products include THC in the first place: the two together make a powerful duo, and THC ups the effectiveness of CBD, says Meers.
"THC and CBD amplify one another in what's called 'the entourage effect,'" she tells us. "THC helps act as the communicator to the endocannabinoid system, which is really important for the efficacy of CBD."
One important thing to note: it's only the full-spectrum CBD that includes up to that legal limit of THC. Isolate CBD or broad-spectrum CBD will for sure not make you fail a drug test.
Myth #2: CBD will get you high.
Verdict: Totally false.
Another major myth about CBD, "absolutely no one can get high from the 0.3 percent or less THC that is in our full-spectrum CBD," emphasizes Meers.
However, she cautions users to make sure they're aware of what kind of CBD they're taking.
"Federally legal CBD is sourced exclusively from industrial hemp plants. That crop, by definition, must have less than 0.3 percent THC, and it absolutely won't make you high," she clarifies.
But, CBD can also be derived from marijuana plants, which have more than 0.3 percent THC. In a dispensary, for example, you'll often see blended products with both CBD and THC; these are designed to produce a "high" effect because of that THC content. So, bottom line: read your labels.
Myth #3: CBD is just a placebo effect.
Verdict: False, when used correctly and consistently.
"The vast majority of people who take CBD consistently and have experimented with proper dosage and delivery report to us that they see specific benefits, indicating it's not just a placebo," clarifies Meers. "Our members report improved sleep, chronic pain relief, an evenness or steadiness in their temperaments, and more. Our data suggests there are real, therapeutic benefits beyond just a placebo effect."
aSweatLife Ambassador Bridget Geraghty, who takes 25mg CBD gel capsules or 30 ml drops of CBD oil interchangeably, says sleep is the main reason she keeps CBD in her routine.
"When I take CBD before bed, it calms me," she explains. "I sleep well and I don't wake up feeling groggy!"
Fellow Ambassador Jennifer Rutili, meanwhile, noticed tangible benefits in her chronic pain that allowed her to add intensity to her workout routine.
"I noticed the biggest difference with my chronic sacroiliac joint back pain," Rutili says. "I started taking Equilibria when I was going through a flare-up, and after it subsided I was able to go back to my regular exercise routine way faster than usual (we're talking SHRED415 level classes), and the only thing I did differently this time was use Equilibria."
If you're not seeing results with your CBD routine, Meers stresses that "consistency really is key."
"Our endocannabinoid systems are often deficient, and our own bodies, because of stress or age, have lost our own endogenous cannabinoids," she says. "It takes time to build up that system's reserves. Taking CBD just a few times, or not being consistent with it, might not be enough to experience the full benefits of taking it consistently for months at a time."
One way to gauge whether CBD is benefitting you is to take a break from it for a few days, Meers advises.
"Once you're in that consistent routine, if you're not sure how CBD is benefiting you, we encourage people to just stop for three or four days," she notes. During this time, Equilibria encourages clients to pay extra attention to their stress levels, their sleep quality, their PMS symptoms, even keeping a journal to make sure you're accurately noting your feelings.
"Most people find that if they're used to consistent CBD and then they stop, they experience more volatility without their daily dose," Meers says.
Myth #4: CBD is too expensive for me to use.
Verdict: It's complicated, but likely false.
With CBD, you pay for quality products, says Meers.
"Good, high quality CBD that's phytocannabinoid-rich, that's been grown and manufactured with care for the most therapeutic outcome for the customer—it is expensive to make," she acknowledges. "There are less expensive ways to make CBD, but they don't result in as much therapeutic benefits for the customer. Now, price isn't necessarily indicative of quality, but it is true that many of the isolate products that are found in gas stations or gummies or scattered around in our consumer world today—that type of manufacturing is very inexpensive but will not yield the benefits. A little can go a longer way if you're taking care to find a reputable, high quality product."
Says Chicago aSweatLife Ambassador Kirstie Castaneira, "Equilibria's prices are very reasonable for the market, and the free option of a concierge service (dosage specialist) added incredible value for me. Maia gave me a regimen to stick to for two weeks and then followed up to check on my symptoms so we could adjust if needed. I have always 'self-medicated' based on what the internet suggested I do with CBD and seen zero long-term results. Maia helped monitor and recommend exactly when and how I should use the products to best address my concerns. This experience with Equilibria made me believe in the power of CBD for my personalized needs."
Meers also points out that for many of Equilibria's customers, CBD replaces over-the-counter products, like Advil or Tylenol PM, or even that last glass of alcohol that you turn to for "winding down" every night.
Ambassador Amy Charvart echoes that sentiment, saying that "if I had to pick between CBD versus something over-the-counter, I'd choose CBD every time."
Myth #5: Pure CBD is better than full-spectrum CBD.
Verdict: Totally false.
"The only time we recommend pure CBD for anyone is for individuals who absolutely cannot run even the most miniscule risk of flagging on a drug test, like a school teacher or a pilot," Meers tells us. "We highly recommend full spectrum; that trace amount of THC is the key that unlocks the receptor."
Meers goes on to explain that because of the THC in full-spectrum CBD products, CBD has an easier path to enter the body and attach to the receptors in your endocannabinoid system. Without THC in your system, the CBD has to work harder and your body needs more of it to achieve the same levels of efficacy.
"Our full spectrum oil has nine different cannabinoids in it, what we call 'the fullest of the full spectrum.' That's what you want to look for in the market because the more cannabinoids in the product, the more benefit there is for your body," Meers says.
Myth #6: CBD has zero regulation, and going organic or farm-sourced is the only safe way to avoid pesticides and other chemicals.
Verdict: True.
In addition to looking for transparency in your CBD company, Equilibria recommends reading the company's lab reports.
"Any CBD company should be willing to give you their lab reports and make them readily available online," stresses Meers. "The part that shows no GMOs, no pesticides, no mold, and no heavy metal are straightforward and easy to understand. The part that shows the CBD profile can be a little more convoluted, and Equilibria tries to help with that through our website."
In general, Meers recommends looking for multiple cannabinoids, checking the percentage of cannabinoids in the product, and making sure the THC content is at or below the legal limit of 0.3 percent.
Castaneria felt that when trying Equilibria, the company's commitment to transparency really came through in her interactions with the website and her own dosage specialist.
"All Equilibria team members that I spoke with had extensive knowledge about the products and how to monitor any treatments," she says. "The site goes into detail about their farming process as well, and I appreciate the full-transparency and access to that information when talking to others about the brand's products."
Rutili agrees, adding that "I think a big part of it is that Equilibria sources their CBD from a partner farm in Colorado, so the quality of what you're getting is controlled. I have no worry that I'll get a bad batch. All of this info was very clearly written on their site, alongside lab results. They also included a wealth of information I did not find on other brand's sites, including FAQs I could not find elsewhere, and prescription interactions."
Did we bust any myths about CBD you'd previously assumed to be true? If so, you're invited to try Equilibria yourself, using the code "ASWEATLIFE" to get 20% off your first order!