The Opening of More Barry's Locations Signals Return to Studio Fitness
In Chicago, where aSweatLife planted its roots, the lift in mask mandates for vaccinated people created a palpable shift in the energy of the city. And for us, that was felt most in the fitness communities reuniting at the gym.
And a sign of the changing times, and perhaps a future that may feel more like our old normal was the opening of Barry's on the refreshingly bustling Milwaukee Avenue in Wicker Park. It's the first new studio christened by the global fitness juggernaut since COVID-19 changed the way the world thinks about and consumes fitness.
I took a class led by Barry's CEO Joey Gonzalez at the new location. He peppered a sense of gratitude that he and everyone else felt to be there into his normal class language of pushing harder, getting stronger and running faster.
Gratitude. It's often easiest to feel it once you've known tougher times.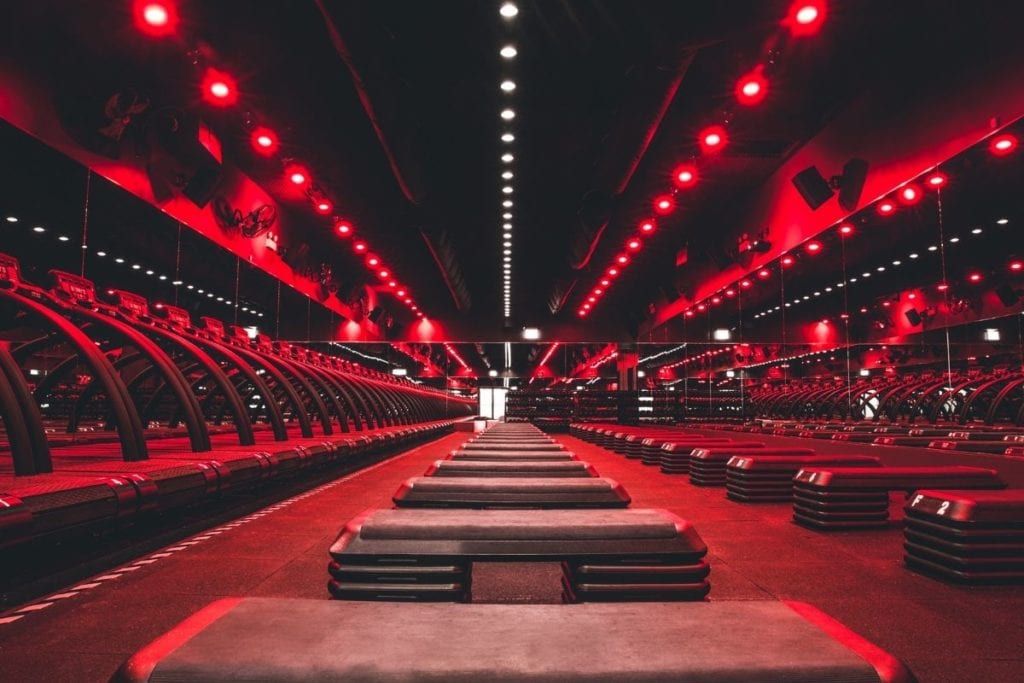 Coming out on "the other side" of the pandemic
To say it's been an operationally difficult 14 months for gyms, studios and fitness professionals is an understatement that removes a sense of uncertainty that comes with constant changes. Fitness leaders and professionals were left wondering if their jobs, studios or industry would ever be the same again.
Bloomberg reported on the state of the industry earlier this year – 54 percent of fitness members had frozen or canceled their memberships. We saw similar numbers in our State of Fitness survey in fall of 2020 – 59 percent of consumers paused or cancelled monthly memberships. But the most startling stat was for the industry at-large: 15 percent of gyms had permanently closed. The industry lost more than $15 billion in revenue and cut 480,000 jobs.
But just like everything in this pandemic – behavior, the information available, vaccines – we don't expect any of these stats to hold steady forever as we learn new information. Even so, the industry is seeing some interesting innovations and shifts as a result of uncertainty and varying consumer needs.
Gonzalez shared that Barry's managed to come through the pandemic without shuttering any studios because of their culture of innovation. Outdoor studios, new formats and virtual experience kept customers moving and connected to the community.
And they've managed shutdowns, reopening, changing restrictions as a global brand, which amounts to a corporate team constantly trying to understand the rules of engagement in every country, city and state where they operate.
"Often times they'll give you no notice, so we'll have 24 hours to effectively bring a studio from 25 percent to 50 percent to 100 percent, which operationally has a different set of requirements from a labor perspective," he shared. "Having been through shut downs twice now, it became fairly easy for us … Shutting down is a lot easier that reactivating."
Finding a place for virtual fitness while managing reopening
Fitness research firm ClubIntel reported that 74 percent of gyms now offer on-demand and livestream group workouts, up from 25 percent in 2019. And data from our State of Fitness survey showed that 85 percent of consumers were using digital workouts.
For Gonzalez and his team digital was always a part of the roadmap, but the pandemic and its stay-at-home implications were a push to move their digital product up. Their Zoom-based digital classes gave them valuable data they wouldn't have had access to otherwise.
"It was very informative in helping us build strategy for our digital product which we planned to launch this summer," he said, describing the Barry's X product. "It will be similar to what we have today. It's a camera-on, camera-sharing experience where people can see us as instructors, but also be seen, which we felt was a big hole in the industry, so you can give people corrective feedback in the moment."
Social justice and the return to studio fitness
And it's hard to emerge from 2020 and the first half of 2021 without recognizing that consumers called for transparency on diversity, equity, and inclusion following the murders of George Floyd and Breonna Taylor and the Black Lives Matter movement. Because consumers are gathering in these fitness spaces and finding a sense of community, they expect them to set strong examples.
Resources like Decolonizing Fitness (around before 2020) found a hungry audience in fitness professionals whose audiences were telling them that equity was a requirement, not a nice-to-have. And after tone-deaf, insensitive and racist statements from the founder and former CEO of CrossFit, Gyms like Lumos fitness Collective in Austin removed CrossFit entirely from its name after cancelling its affiliation with the national franchisor.
Gonzalez shared Barry's commitment to equity work with me, noting they've been very LGBTQ-heavy in terms of the work they've done. Since last summer's calls for social justice, they've built out their Diversity, Inclusion and Belonging department, helmed by Victor Self, VP of DIB at Barry's.
"He does an amazing job of working cross-functionally with the marketing teams, the curriculum teams, with hiring, with training," Gonzalez shared. "He and my head of people and culture are constantly doing an analysis of how diverse our teams are and looking for ways to not only help improve that, but also help improve the lived experiences of marginalized people at Barry's."
So as we reenter the studios we loved, hungry for life as we knew it, Barry's shows a directional shift towards a better future for fitness, fueled by unprecedented challenges and opportunities to learn.
We're excited to hear from you: what are you hoping to find as studios fill their spaces once again?