February 15-20, 2021: Join Us for the Virtual #SweatworkingSummit
In January of 2020, we checked one of our team's big goals off our bucket list: hosting a weekend-long summit where we brought in experts in nutrition, career, travel, and self-care to help our community create plans to go after their biggest goals.
We had plans to do the same thing again this year, but then the other eleven months of 2020 happened.
Like the rest of the world, we pivoted, and if possible, we're even MORE excited about what we'll be able to offer our community this year. Save the date for February 15-20 for our all-virtual #SweatworkingSummit, with several brand-new elements that will engage our audience (that's you!) even more.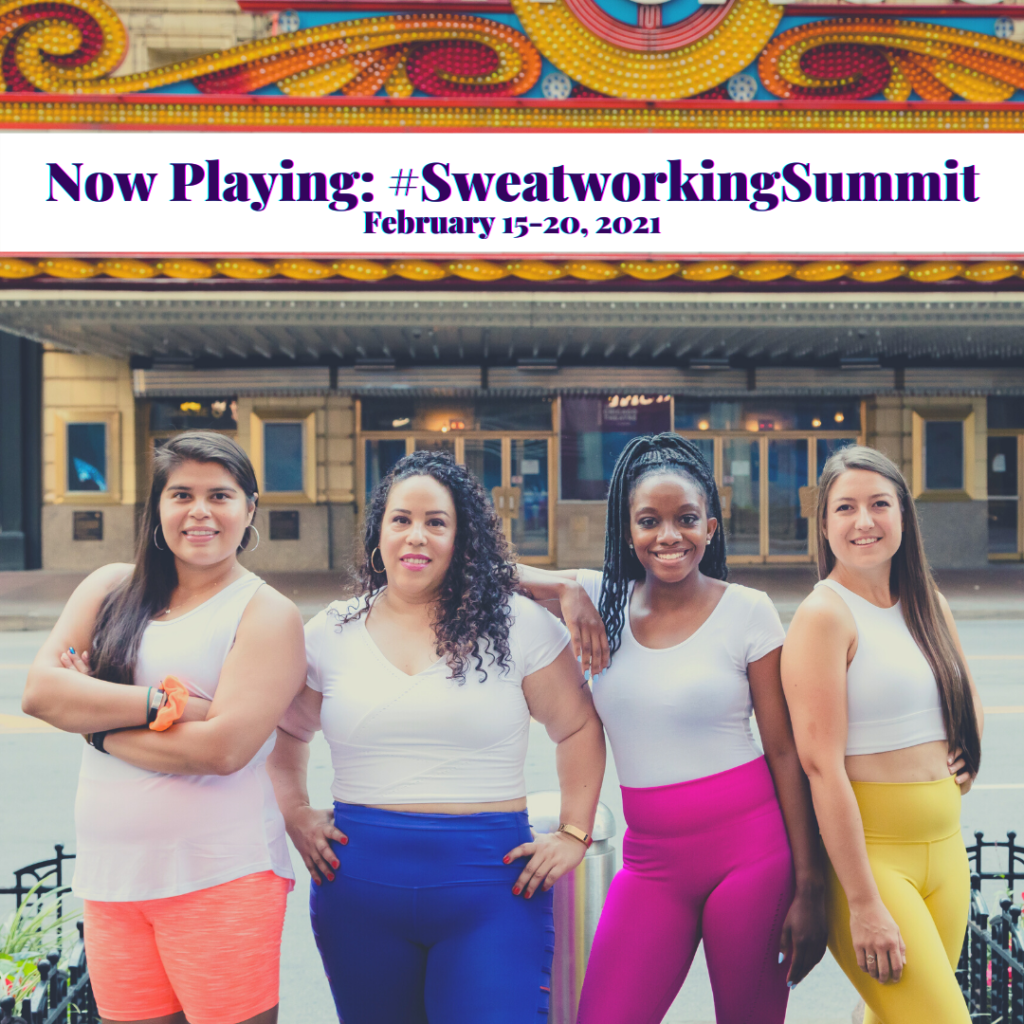 What happens at the virtual #SweatworkingSummit
To start, each day of the Summit will have a different theme: finding inspiration in movement, healing your mind, fueling your creativity to make a better world, and gaining perspectives make the world a better place.
But while each day has a different theme, they'll all have the same three elements: ways to build community, ways to try new fitness classes or platforms, and a way to learn (a panel, keynote or workshop). Expect these three aspects to anchor each day of the Summit. Throughout the week, you'll have the ability to attend sessions that are most exciting to you (we'll also record them for viewing later, in case your schedule doesn't allow you to attend something).
And while the Summit will be virtual, we'll be incorporating different ways for you to feel like you're there IRL. One of those is the Summit Box, which you'll be sent ahead of Summit Week. These boxes will have samples, swag and products from aSweatLife's partners (including a pair of shoes from OOFOS—yes, new shoes!).
This year's big idea: Making a more inclusive wellness world.
The murder of George Floyd and the protests and conversations that happened afterward rocked everyone's world. We're grateful to the aSweatLife community for the ways they've stepped up to lead in the aftermath, especially with our Better With Friends committee. Thanks to that group, we've been able to make changes to our own policies and create new experiences that celebrate our differences and address inequity in the fitness and wellness world, like our Race in Wellness series.
Now, with the help of the Better With Friends committee, we're centering our virtual #SweatworkingSummit around the idea that wellness needs to be inclusive to everyone. We'll be working with speakers, panelists, and workshop leaders to ensure we represent a diverse range of race, age, gender, geographic location, and experience. Our goal is that you walk away from the Summit with actionable plans and ideas for creating a more inclusive environment in whatever wellness world you inhabit.
And, in an effort to make sure our community is represented in the Summit, we let our audience lead us in selecting speakers, workshops, panels, and more. Every aspect of the Summit is being created by you, for you.
Introducing the aSweatLife Pitch Competition
To help you bring those ideas and plans into reality, we'll be hosting our first-ever pitch competition on Friday, February 19. We're encouraging our community (both businesses and individuals) to submit their biggest goals that touch studio fitness, digital fitness, endurance sports, healthy eating, and mental health. The winner will receive a $2,500 grant to bring that dream to life.
For more details and requirements for submitting a pitch, click here.
Meet our partners
Of course, none of this would be possible without our partners. You'll be hearing about them more during the Summit, but here's a quick preview of who's backing the Summit and why we're excited to hear more about their vision of inclusive wellness.
Tonal, the home strength system and smartest home gym around, will lead our keynote workout on Saturday and offer our attendees special discounts for their products.
Boon Health, the flexible, approachable mental health platform for businesses, will offer a free first time appointment to all #SweatworkingSummit attendee
OOFOS, the leader in recovery footwear, will lend their expertise in a recovery-focused session. Linda Jaros will lead attendees through self massage along with a meditation and deep, stretching yoga. You'll also get an extra-special surprise from OOFOS in your Summit Box (a.k.a. your swag bag).
Register NOW for early-bird prices
Learn more about everything we have planned and register for tickets here!