How to Cook Every Type of Fall Squash
The fall season is most synonymous with apple picking and pumpkin everything, but the fall harvest yields more than just apples and pumpkins. There are plenty of other gourd-geous fall foods to enjoy. (See what I did there?). Here's a breakdown of all of the different fall squash varieties, including how to know when they're ripe and tips for cooking them.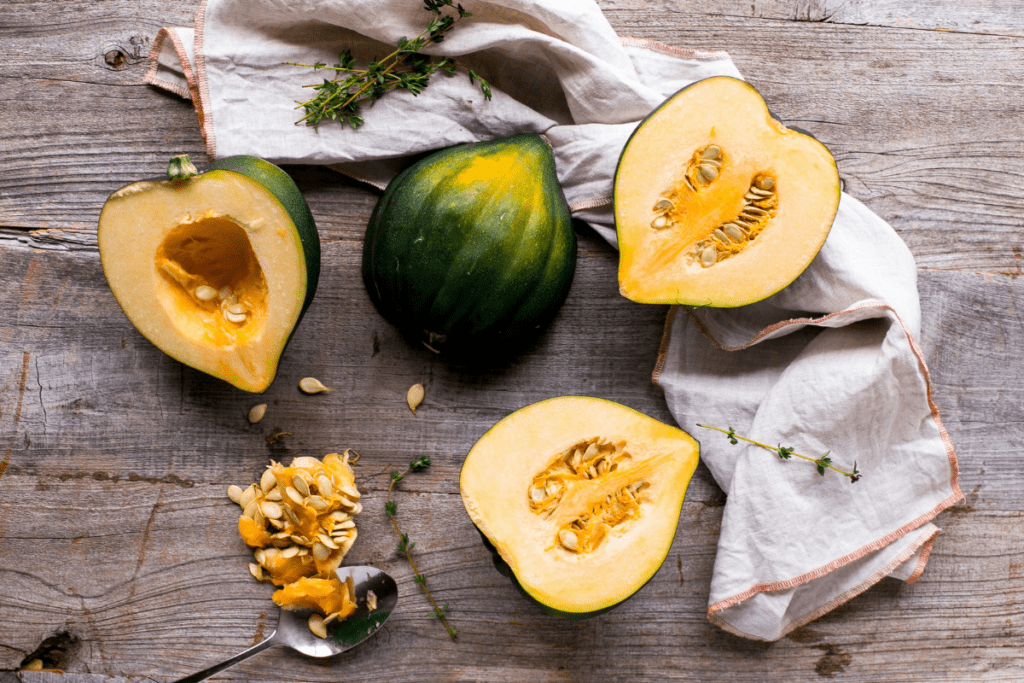 Acorn squash
Acorn squash has a mild, nutty, and subtly sweet taste that has a slightly more fibrous texture than butternut squash.
"This winter squash is unique from other winter squash in its versatility to be both sweet or savory. It is also smaller in size than many others making it easier to cut and maneuver," says Lisa Richards, nutritionist and author of The Candida Diet.
When selecting an acorn squash, pick an acorn squash that is dull in color and heavy in weight. Be sure to avoid any with cracks and soft spots.
How to cook acorn squash
Due to its beautiful shape, acorn squash is most commonly cooked and served in itself. To cook an acorn squash, cut in half lengthwise and apply a generous layer of cooking oil then roast at 400 degrees for about 45-60 minutes. If you want to create an acorn squash "bowl," check out this recipe for Mexican Stuffed Acorn Squash.
Butternut squash
Butternut squash is buttery in both flavor and texture and has a subtly sweet taste. Incredibly versatile, butternut squash can be substituted for any recipe that calls for pumpkin, so if you're over pumpkin, grab a butternut squash from the local community farmers market.

Amanda A. Kostro Miller, RD, LDN, who serves on the advisory board for Fitter Living, says you can spot a ripe butternut squash when it has a matte finish on the skin and is totally beige in color.

Need some butternut squash recipe inspiration? Try this Butternut Squash Mac and Cheese or make a bowl of this Butternut Squash Soup.
You can also use butternut squash to replace bananas in all of your muffin recipes. Trista Best, MPH, RD, LD at Balance One Supplements, raves, "The texture of butternut squash that has been baked makes any muffin recipe instantly more interesting. It's best in muffins made with carrots and nuts. One serving of butternut squash provides 40 percent of the daily vitamin C recommendation and 100 percent of the daily requirement for vitamin A. These two nutrients are just the tip of all that butternut squash provides, but are possibly the most important for its ability to boost the immune system," touts Best.
How to cook butternut squash
When cooking butternut squash, simply slice the butternut squash lengthwise down the middle. Scoop out the seeds and save them for roasting, just like pumpkin seeds. Then, place the butternut squash cut-up side on a parchment-lined baking sheet. Drizzle with avocado oil and a sprinkle of pink Himalayan salt then roast at 350 degrees for 45-60 minutes or until the butternut squash is golden brown and soft.
You can also cube the butternut squash before roasting and mix with your favorite seasonings and spices like cinnamon for a touch of sweetness or herbes de Provence for something a little more savory.
Delicata squash
Delicata squash is a nutty and sweet fall squash that crazily enough, tastes like corn. Yes, corn! The gorgeous green striped skin of the Delicata squash is edible, which makes it the perfect squash to bake up in beautiful roasted rings.
To make sure your Delicata squash is nice and ripe, use your fingernail to gently press down on the skin. If the skin does not dent, it's ready for harvest. If it dents, then move on and make another selection.
How to cook Delicata squash
To prepare Delicata squash, first slice off the top and bottom of the squash, then cut into rings. Choose your desired width, around ¾ of an inch. Remove the seeds and stringy bits, then toss with oil and your favorite combination of flavors. Maple syrup creates a sweet treat while sea salt gives a savory flavor
Kabocha squash
Kabocha squash, also known as Japanese pumpkin, may be fun to say, but it's also incredibly delicious to eat, says Pol Bishop, expert gardener at Fantastic Gardeners in London. This hearty green globe is most commonly added to broth in Japanese recipes and has a sweet taste similar to yams.
Kabocha squash can be prepared just like a butternut squash and since its skin is edible (as long as it's cooked all of the way through), you can also use it as a bowl just like acorn squash. I mean come on, that means less dishes here, people!
Miller recommends selecting a Kabocha squash that is dark green in color and feels heavy for its size.You can even use the seeds similarly to pumpkin seeds."
Spaghetti squash
Over the years, spaghetti squash has grown in popularity due to its spaghetti-like appearance and texture as well as the fact that it's Keto-friendly. It's also a great fall squash for those looking for a more mindful pasta alternative. Choose one that is heavy and is void of cracks, missing stems and soft spots.
How to cook spaghetti squash
To cook spaghetti squash, simply cut the spaghetti squash lengthwise. Scoop out the seeds and stringy parts then coat with the oil of your choice and a dash of salt, but don't use too much salt which may cause the spaghetti squash to become soggy. Roast it, cut side down, at 400 degrees for about 40-45 minutes or until the edges become golden brown. Once it's done roasting, let cool for 15-20 minutes before gently scraping the halves with a fork. Voila!
This fall, get creative and choose one of these five fall squash varieties instead of pumpkin and whip up a culinary masterpiece perfect for the fall season. Happy cooking everyone!
Let us know!
Did this post help you get closer to achieving one of your goals?