The Lunch Bunch: Mexican Stuffed Acorn Squash Recipe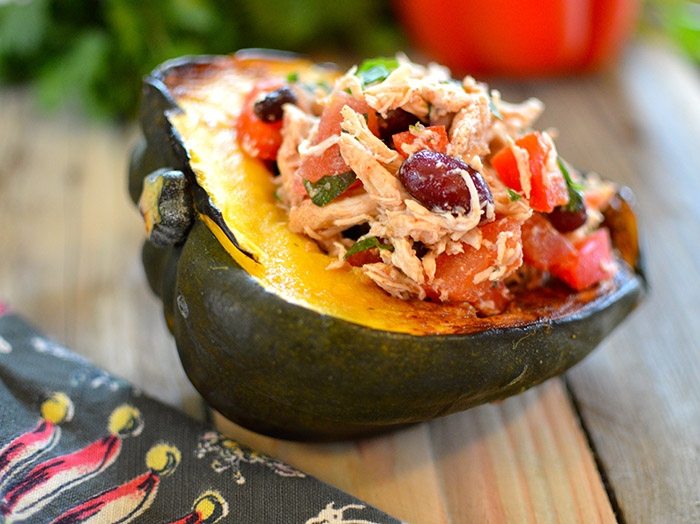 Spring has sprung! Outdoor season for Chicago's farmers markets is about a month away and already has me excited for all those sweet, fresh veggies. My fiancé and I fired up the grill last weekend for the first time this season, so for me, I'm officially in warm-weather mode. Who said we had to wait until Memorial Day for a kick-off BBQ?
I came up with this stuffed acorn squash recipe for next week's lunch bunch since I'm already craving some of that crunch from summery red peppers and salads. The shredded chicken mixed with peppers, fresh tomatoes, beans and cilantro can be a perfect (crunchy) center to any meal. If you don't have access to a microwave for lunch next week, don't worry! This salad is just as tasty served cold! Simply find a mason jar, fill the bottom with the shredded chicken salad and top with avocado, extra tomatoes and greens for a perfect salad mix that will stay fresh in your fridge all week!
As you can see in the recipe's name, I took a risk last week by trying out the combination of the buttery acorn squash with these tex-mex flavors. I liked the idea of using this squash as a "bowl" for our chicken salad to switch up the vibe and make our carbohydrate a bit more interesting. Also, I like to make things as easy as possible in my kitchen and acorn squash doesn't take too much muslce to cut in half … promise! Each half of the acorn squash can be used as your first two lunches of the week and the warm, gooey texture pairs perfectly with the crunch from the Mexican chicken salad. I can tell you first hand from my kitchen – it's pretty delicious.
Another big win with the acorn squash is that this vegetable is an especially high source of Vitamin C. I'm not sure if you're experiencing allergy or cold symptoms like I am during this change of seasons, but I'm trying to take in as much of this vitamin as possible to keep my immune system strong!
The following is the recipe for my Mexican Stuffed Acorn Squash. I prepared my chicken on Sunday afternoon by following my slow cooker pulled chicken recipe (here). This allowed me to spend just 10 minutes on the chicken before heading off to work to let it cook while I was away – talk about easy meal prep! If you don't have access to a crockpot, poaching chicken (simmering in a large pot of water) is another route to take. However, for safety you will need to be home and near the kitchen for this alternate cooking method while the stovetop is on. This chicken salad is warm and delicious stuffed into acorn squash, makes easy taco leftovers and stacks well into weekly jarred salads.
Get the printable packing and prep guide here. Happy lunching!
Grocery List:
Produce:
1 acorn squash
1 red pepper
Fresh cilantro
Fresh tomato salsa (found with premade/pre-cut items by produce)
Protein/Dairy:
5 lbs. boneless, skinless chicken breast
Pantry:
1 can black beans
1 can red kidney beans
Salt and pepper
EVOO
Optional add-ins:
Shredded cheese
Avocado
Corn tortillas
Mixed greens
Recipe:
Ingredients:
5 lbs. boneless, skinless chicken breasts

Ingredients: low sodium chicken broth, cumin, chili powder, paprika, garlic powder, onion powder, salt, pepper

1 acorn squash
1 cup black beans, rinse and drained
1 cup red kidney beans, rinsed and drained
1 red pepper, finely diced
1 cup fresh salsa
3 T. fresh cilantro
Salt and pepper
If vegetarian, substitute chicken with tofu or seitan
Directions:
Cook chicken via crockpot and shred. If you do not have a crockpot, you can poach the chicken by simmering in a large pot
Preheat oven to 425°F
Cut squash in half and scoop out the seeds. Lightly rub the insides with olive oil.
Place squash face down on baking sheet. Bake for about 25-30 minutes, or until the inside edges are browned.
While the squash is baking, add the shredded chicken to a large mixing bowl. Stir in chopped pepper, beans and salsa (1/2 cup at a time). Season with salt and pepper, and toss in fresh cilantro.
Once tossed together, divide the mixture between the two squash shells. Scoop out some of the squash to make a bigger "bowl". Save leftover chicken mixture in Tupperware for later meals.
Place stuffed squash back in the oven at 425°F for 5 minutes, until bubbly and browned. (*Optional – top mixture with shredded cheese before placing back in oven.)
Let us know!
Did this post help you get closer to achieving one of your goals?