Lunch Bunch With Fall Flavors: Butternut Squash Soup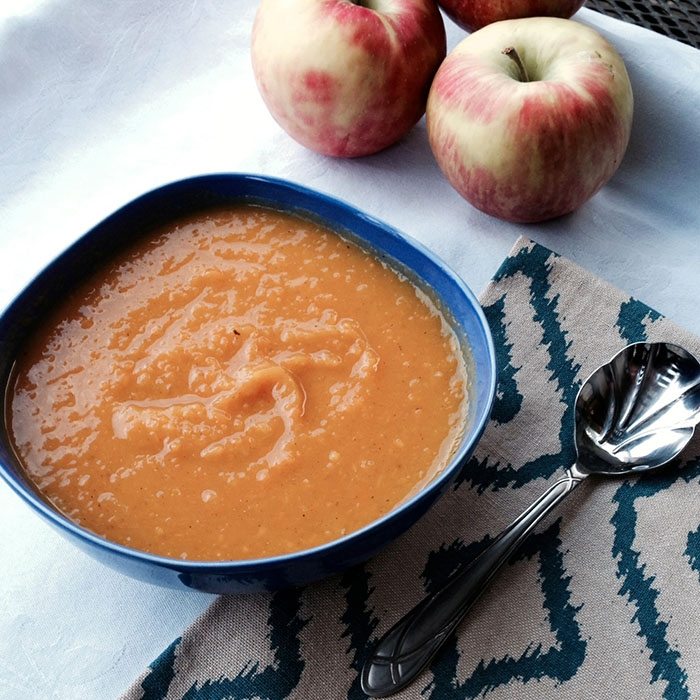 During the past month, I feel like I've been on my own personal squash challenge. From roasted acorn squash, to making pasta out of spaghetti squash to butternut squash soup. I have yet to restrain myself from picking up a gourd or two at the local farmers market each week.
This past Sunday morning, my boyfriend and I walked the two miles to Logan Square's farmers market. Maybe it was the perfectly warm fall sunshine, or the artsy coffee shop that we discovered on the way, or even the funny baby blue Volkswagen "shopping bus" with odd paintings parked across the street, but I immediately fell in love with the unique vibe of Logan Square.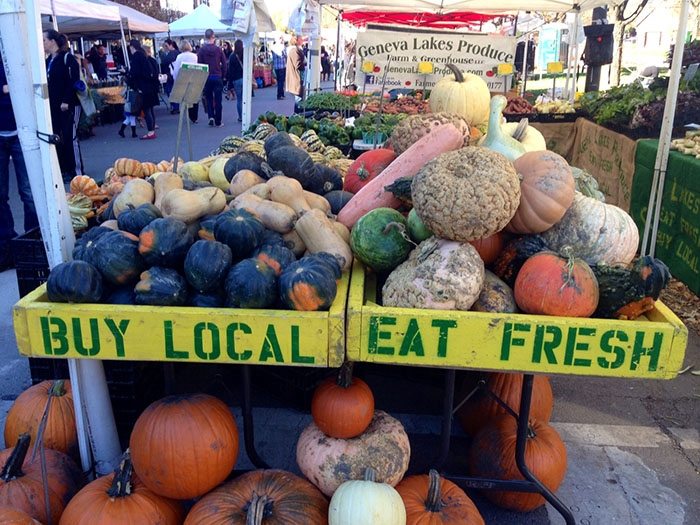 There were stands and stands of all the fall-harvest favorites – varieties of squash, pumpkins, apples, carrots and greens galore. We walked past a "dog bar" full of treats for the pups running around, sampled some cider, and treated ourselves to the most delicious blueberry muffins that we've ever had (the batter was actually blue from the berries and YES I treat myself every once in awhile). I was in my own foodie heaven.
At the farmers market, I picked up butternut squash, onion, carrots and apples – ALL the produce you need for this recipe for less than 8 dollars! Butternut squash is a complex carbohydrate that is high and fiber and low on the glycemic index scale, and surprisingly, VERY filling with such few calories.
So when I say that not all carbs are created equal, this is a perfect example. Butternut squash is a fantastic addition to your daily diet. This gourd's most notable health perk comes from the yellow-orange color, which contains Vitamin A in the form of beta-carotene. This powerhouse nutrient is particularly known to aid in eye-health, immune function and protection against various forms of cancer.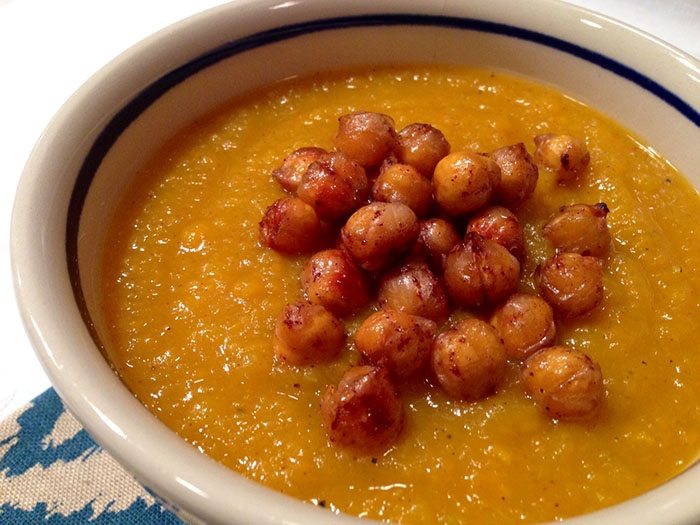 The only time consuming part of this recipe is the prep. Once you get through the cutting and peeling on Sunday, it's crock-pot ease and you are set to go! Definitely try the roasted chickpeas as well, a recipe adapted from Two Peas and Their Pod. They add a sweet crunch and delicious, healthy twist to a standard crouton. Happy Halloween!
Print out your recipe guide and get cooking.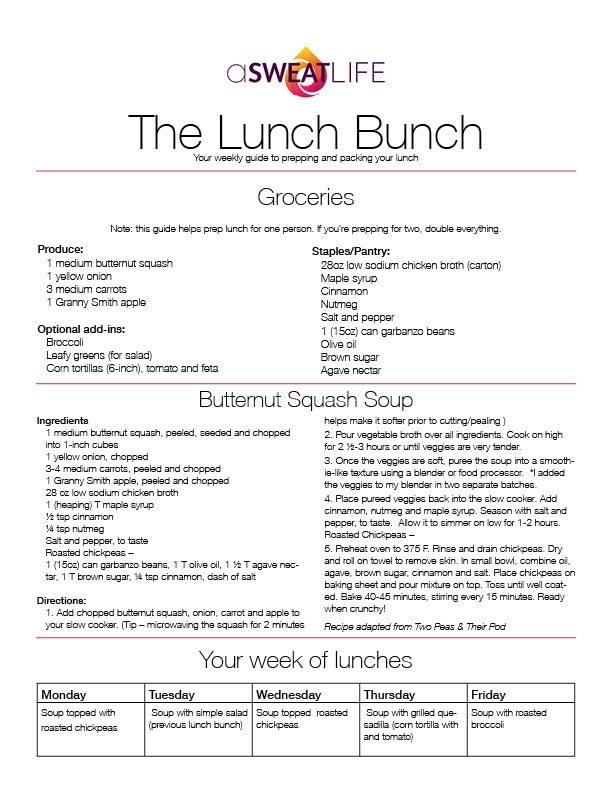 Grocery List:
Produce:
1 medium butternut squash
1 yellow onion
3 medium carrots
1 Granny Smith apple
Pantry:
28oz low sodium chicken broth (carton)
Maple syrup
Cinnamon
Nutmeg
Salt and pepper
1 (15oz) can garbanzo beans
Olive oil
Brown sugar
Agave nectar
Optional add-ins:
Broccoli
Leady greens (for salad)
Corn tortillas (6-inch), tomato and feta
Recipe: Butternut Squash Soup
Ingredients:
1 medium butternut squash, peeled, seeded and chopped into 1-inch cubes
1 yellow onion, chopped
3-4 medium carrots, peeled and chopped
1 Granny Smith apple, peeled and chopped
28 oz low sodium chicken broth
1 (heaping) T maple syrup
½ tsp cinnamon
½ tsp nutmeg
Salt and pepper, to taste
Roasted chickpeas –

1 (15oz) can garbanzo beans, 1 T olive oil, 1 ½ T maple syrup, 1 T brown sugar, ¼ tsp cinnamon, dash of salt
Directions:
Add chopped butternut squash, onion, carrot and apple to your slow cooker.

Tip – microwaving the squash for 2 minutes helps make it softer prior to cutting/pealing

Pour vegetable broth over all ingredients. Cook on high for 2 ½-3 hours or until veggies are very tender.

Once the veggies are soft, puree the soup into a smoothie-like texture using a blender or food processor. *I added the veggies to my blender in two separate batches.
Place pureed veggies back into the slow cooker. Add cinnamon, nutmeg and maple syrup. Season with salt and pepper, to taste. Allow it to simmer on low for 1-2 hours.
Roasted Chickpeas –

Preheat oven to 425 F. Rinse and drain chickpeas to remove skin. In small bowl, combine olive oil, maple syrup, brown sugar, cinnamon and salt. Toss chickpeas until well coated and then spread evenly on baking sheet. (Pour any excess mixture on top). Bake 30-40 minutes, stirring halfway through. Ready when crunchy!

Recipe adapted from Two Peas & Their Pod http://www.twopeasandtheirpod.com/slow-cooker-butternut-squash-soup-with-maple-roasted-chickpeas/
Week of Lunches:
Monday – Soup topped with roasted chickpeas
Tuesday – Soup with simple salad (previous lunch bunch)
Wednesday – Soup topped with roasted chickpeas
Thursday – Soup with grilled quesadilla (corn tortilla with feta & tomato)
Friday – Soup with roasted broccoli
Let us know!
Did this post help you get closer to achieving one of your goals?