The Lunch Bunch: Butternut Squash Mac and Cheese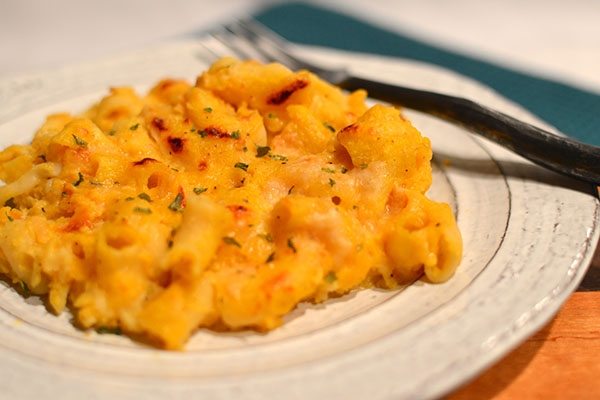 I want to get straight to the point this week … this butternut squash mac and cheese is the BOMB.com. I don't think I've seen a bigger smile from my boyfriend since Christmas morning than when he sat down to be my taste tester last Sunday!
As we're easing out of the holidays, this is the perfect week to reinvent a favorite comfort food into healthy, guilt-free meals. We have discussed our New Year's resolutions and goal setting, now the hard part has actually set in … we have to follow them! For me, making the leap back into my normal routine is the toughest part. This recipe is a great kick-start back into healthy meal planning because it is simple and gives you the same satisfaction of those (not-so-healthy) family recipes that you may have splurged on throughout December. Both nutritious and delicious – nothing beats that!
This mac & cheese is a winner because it is high in protein and will give you an abundant amount of beta-carotene, a powerful cancer-fighting antioxidant that your body converts into Vitamin A.
I was originally inspired to make this recipe from a post in Cooking Light. The recipe was created by another RD back in September of 2011, so I decided to bring it back to the surface with some minor tweaks! What is most impressive – how much fat and calories are cut by omitting the cream based sauce found in most homemade macaroni dishes (known as béchamel) and substituting this with nutrient-dense squash. The squash is so buttery that you would never miss the fat! The cheeses in this recipe are also extremely rich, allowing us to use a lesser amount while maintaining a powerful flavor.
So here we have a vegetarian, gluten-free, Vitamin-A packed, mouth-watering meal with half the calories and fat as a full cream-based macaroni and cheese. Now simply remember, immediately split this into your appropriate lunch portions (1 ½ cups max serving size) so you're not tempted to eat half the pan at once!
Happy grocery shopping.
Download your printable lunch-packing guide!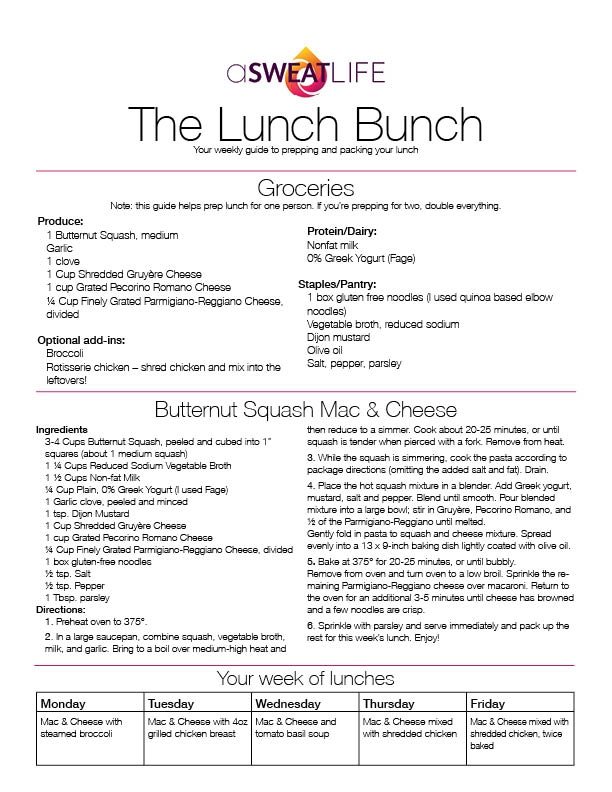 Grocery List:
Produce:
1 Butternut Squash, medium
Garlic, 1 clove
1 Cup Shredded Gruyere Cheese
1 cup Grated Pecorino Romano Cheese
¼ Cup Finely Grated Parmigiano-Reggiano Cheese, divided
Protein/Dairy:
Nonfat milk
0% Greek Yogurt (Fage)
Pantry:
1 box gluten free noodles (I used quinoa based elbow noodles)
Vegetable broth, reduced sodium
Dijon mustard
Olive oil
Salt, pepper, parsley
Optional add-ins:
Broccoli
Rotisserie chicken – shred chicken and mix into the leftovers!
Recipe:
Ingredients:
3-4 Cups Butternut Squash, peeled and cubed into 1" squares (about 1 medium squash)
1 ¼ Cups Reduced Sodium Vegetable Broth
1 ½ Cups Non-fat Milk
¼ Cup Plain, 0% Greek Yogurt (I used Fage)
1 Garlic clove, peeled and minced
1 tsp. Dijon Mustard
1 Cup Shredded Gruyere Cheese
1 cup Grated Pecorino Romano Cheese
¼ Cup Finely Grated Parmigiano-Reggiano Cheese, divided
1 box gluten-free noodles
½ tsp. Salt
½ tsp. Pepper
1 Tbsp. parsley
Directions:
Preheat oven to 375°.
In a large saucepan, combine squash, vegetable broth, milk, and garlic. Bring to a boil over medium-high heat and then reduce to a simmer. Cook about 20-25 minutes, or until squash is tender when pierced with a fork. Remove from heat.
While the squash is simmering, cook the pasta according to package directions (omitting the added salt and fat). Drain.
Place the hot squash mixture in a blender. Add Greek yogurt, mustard, salt and pepper. Blend until smooth. Pour blended mixture into a large bowl; stir in Gruyere, Pecorino Romano, and ½ of the Parmigiano-Reggiano until melted.
Gently fold in pasta to squash and cheese mixture. Spread evenly into a 13 x 9-inch baking dish lightly coated with olive oil.
Bake at 375° for 20-25 minutes, or until bubbly.
Remove from oven and turn oven to a low broil. Sprinkle the remaining Parmigiano-Reggiano cheese over macaroni. Return to the oven for an additional 3-5 minutes until cheese has browned and a few noodles are crisp.
Sprinkle with parsley and serve immediately and pack up the rest for this week's lunch. Enjoy!
Let us know!
Did this post help you get closer to achieving one of your goals?