How to Make the Most of the Farmers Market
Farmers market trips are one of our favorite ways to spend a weekend morning. Call us #basic, but there's something wonderful about strolling around various stands, chatting up farmers, trying new-to-us fruits and veggies and enjoying a local treat or two. It's also a great way to support local farmers, gather recipe inspiration and spend some time in the sun doing something that's good for you.
aSweatLife's recent trips to farmers markets have had us wondering, is this actually the cheapest option? And will farmers market purchases promote a healthy lifestyle? We researched to find out how to get the most out of a farmers market trip and which purchases are best left for somewhere else. Our research confirmed that farmers markets have some overwhelmingly positive aspects to them but when you visit, you have to be a smart shopper, just like visiting a conventional grocery store. To help make sure you do just that, we've compiled our favorite tips below.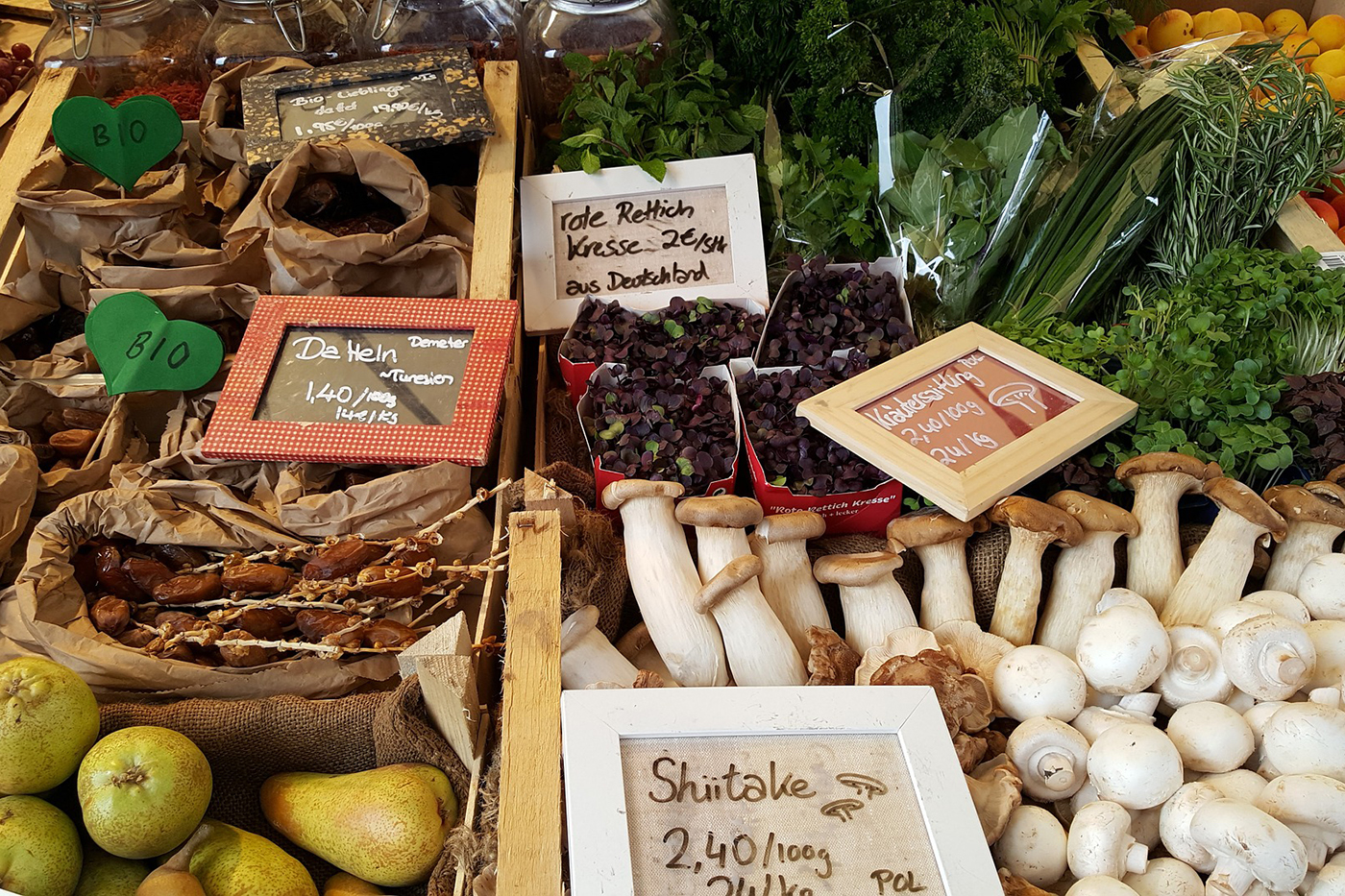 1. Go with a plan.
Yes, part of the appeal of farmers markets is strolling around and finding inspiration in what you see so don't lose this aspect of shopping seasonally and locally. Alternatively, visiting the market with a loose purchase goal, e.g. "three vegetables to use as side dishes," "two fruits for snacking," "two fruits to add to oatmeal" or "flowers for the living room" is helpful. Arriving with a plan will keep you from getting distracted and buying everything in sight. Limiting yourself ensures that you not only keep your spending in check but that you don't overbuy and let produce go to waste.
2. Buy produce that's in-season.
Local food is healthier because it's fresher, not because it has traveled a shorter distance. When you buy local produce that is in-season, it gets to ripen in the field and is picked at peak freshness, ready to be devoured by you. When you're shopping, don't be shy about chatting with the farmers to learn more about where your purchase was grown and how recently it was picked. Aim to purchase produce that was picked in the last few days and avoid anything that isn't seasonal or local to your area. Here's a list of produce that's in-season now.
3. Grab some honey, but only if it is local.
Locally-produced honey is a great farmers market purchase. Not only is it tasty, it can also help combat seasonal allergies by building up your tolerance to local pollen. Be sure to ask where the honey was produced because a lot of times you will see sellers offering honey that has been rebranded and actually originated across the country.
4. Avoid non-produce purchases.
A recent study of farmers markets in Bronx County, NY, found that about a third of what was for sale was not local produce, but baked goods, meats, eggs, clothing, soaps, etc. While these items can be intriguing, be especially wary of what you're buying and how it is being sold.
Baked goods are often sold at farmers markets as well as in town and can be marked up to make up for the price of selling at the market.

Grass-fed meat is tempting but be cautious about how it is stored when you purchase it. Meat should be stored in a concealed cooler with adequate ice to make it safe for consumption. If the meat is frozen, avoid it altogether – that bypasses the point of buying it fresh at the farmers market.

Farm-fresh eggs are really delicious. If you're mulling over a purchase, talk to the farmer and understand what you're getting when you hand over your cash. Farmers market eggs can be more than five times the price of what you find in a conventional grocery store. This might be worth the splurge but just be sure to evaluate before you grab them (and then enjoy every fabulous bite!)
5. Be willing to shop around.
When you arrive at a farmers market, you'll likely be overwhelmed by all the beautiful and bountiful produce and be tempted to stop at the first stand. This is a mistake – don't buy the first thing you see. Spend some time shopping around for the best deals. And keep in mind that the best deals at the farmers market may not be the best deals in town. If your gut tells you the strawberries you want from the farmers market are too expensive, they probably are. Use the USDA's guide to cross reference the average price for grocery stores.