Sweat the Vote with Our Digital Workout Schedule for the Week of September 7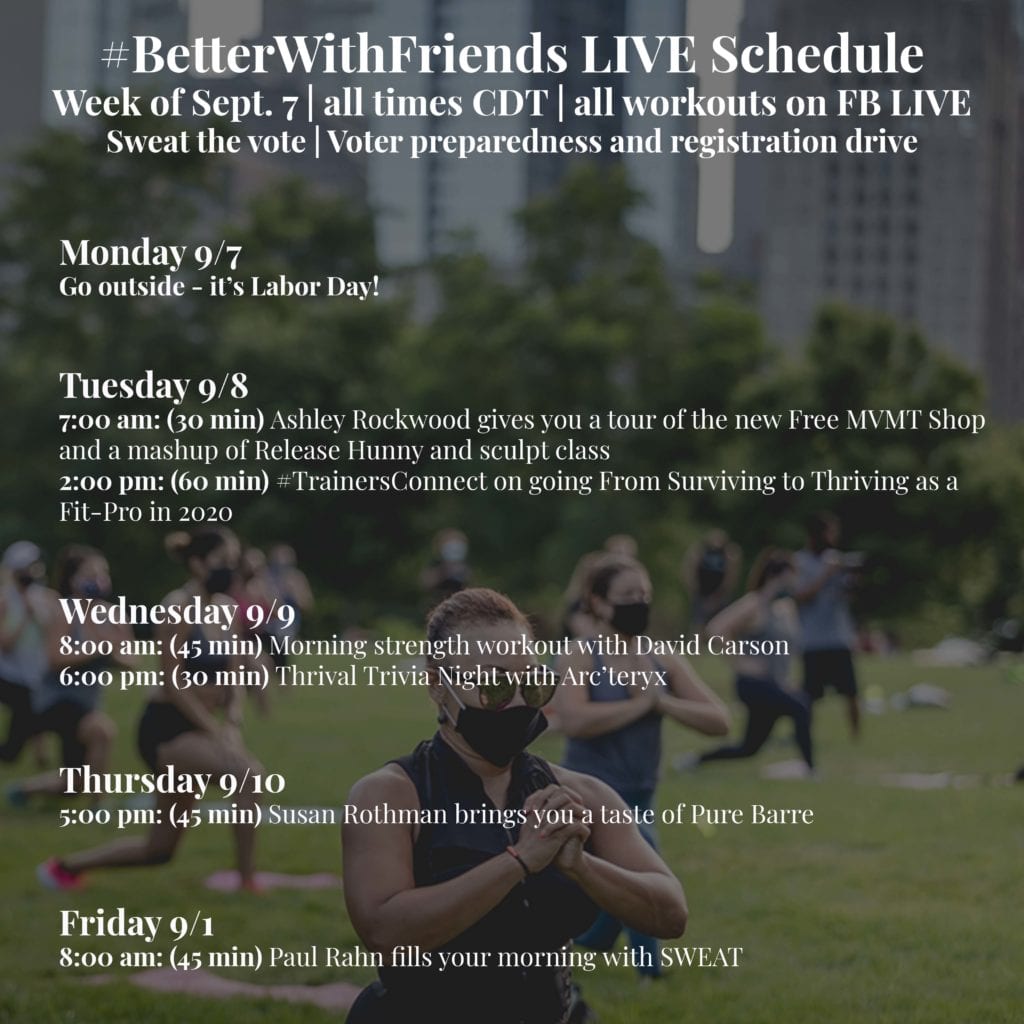 Four years ago, we brought people together for something we called Sweat The Vote where we registered people to vote and worked out together.
And in the time of COVID-19, we had to think of a new way to do the same thing. Because voting is important and doing it with fitness gives us an excuse to talk about it.
We're bummed we can't be together, but we're excited that we can reach even more people with an important message and resources to register to vote, request a mail-in ballot, and even sign up to work the polls.
Next week, we kick off every workout with three calls to action:
Your weekly workshops
We'll feature two very special workshops next week – one to help our favorite fit pros and another to help you prepare for adventure.
Training looks A LOT different these days. Change can be difficult but when there is a massive upheaval to an entire industry, we must find solutions quickly. If you are navigating digital training, working on scaling your business, or could use some business advice – this workshop is for you!
How to Go From Surviving to Thriving as a Fit-Pro in 2020
How to go from reactive to proactive within the digital space
How to make your pivot most profitable
How to create additional revenue streams and make your business recession-proof
Whether you're an outdoor expert or you're getting ready to take your first hike, this outdoor adventure trivia night is for you! We'll test how prepared you are to take on all sorts of adventures with a Thrival Trivia Night with Arc'teryx. Get ready to show off your nature know-how or learn everything you need to be prepared and thrive outside!
Bonus: Everyone who participates in answering questions LIVE on Instagram will get a prize from Arc'Teryx – right or wrong (if you're right, it might just be a little sweeter 😉).
Sign up and learn more about it here.
Here's your digital workout schedule
Remember – all of these workouts will take place on aSweatLife's Facebook LIVE and all the times listed at Central.
Monday 9/7
Go outside – it's Labor Day!
Tuesday 9/8
7:00 am: (30 min) Ashley Rockwood gives you a tour of the new Free MVMT Shop and a mashup of Release Hunny and sculpt.
1:00 pm: (60 min) #TrainersConnect with Jayel Lewis
Wednesday 9/9
8:00 am: (45 min) Morning strength workout with David Carson
Thursday 9/10
5:00 pm: (45 min) Susan Rothman brings you a taste of Pure Barre
Friday 9/11
8:00 am: (45 min) Paul Rahn fills your morning with SWEAT