What Tree Pose Taught Me About Growing Roots
Vrksasana, or Tree Pose, is not just for balance, I learned recently at a yoga retreat. While I was standing on my left leg, my right leg perched above my left knee, my arms outstretched towards a grey and expansive sky, I looked out over the valley as fog rolled around the deep green trees in the space below.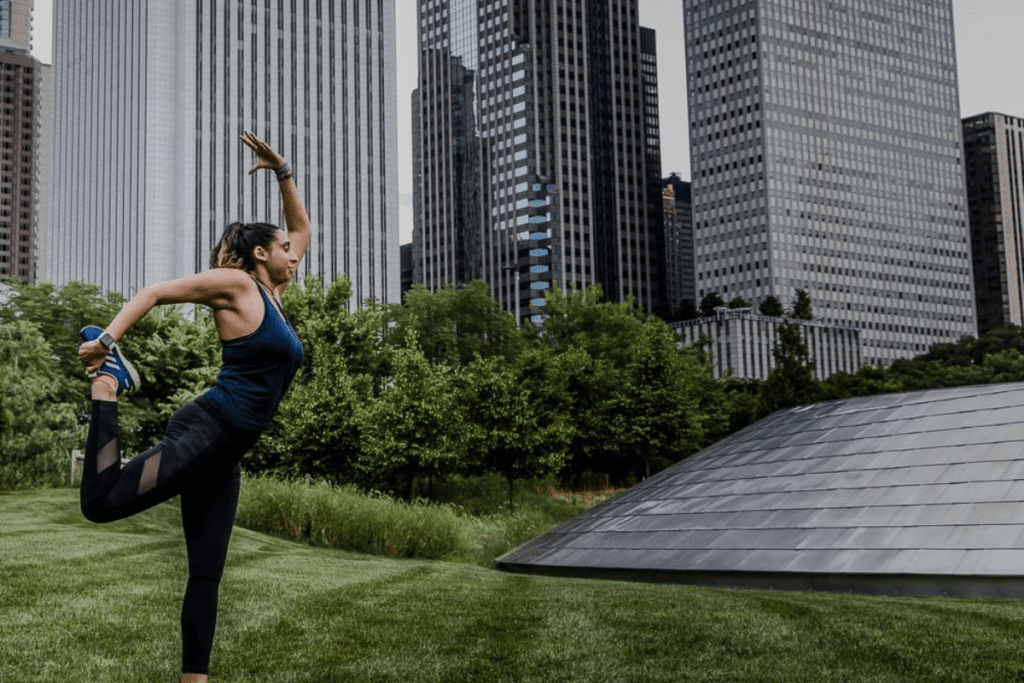 "To be immersed in a Chinese experience and to commit to two nights of silence"
I had traveled to Honghe in Yunnan Province in the People's Republic of China with my yoga instructor and two other yogis from Shenzhen. When we landed at the airport in Kunming, we met up with a dozen other friends-to-be from Beijing to take a 6-hour van ride to the tented resort, Vinetree, where we would practice yoga for five days together. 
While I have done two yoga retreats in the past, this retreat would provide new opportunities: namely to be immersed in a Chinese experience and to commit to two nights of silence. 
I have been living in China for the past four years, but my world as an international school teacher is generally quite insular; I am surrounded by many expats and the area in which I reside caters to all of us so that I can get away with speaking English, using translation apps, and eating a good deal of Western food. 
As I stood in Vrksasana on this evening at the beginning of our retreat, Zhao, a yoga instructor from Beijing, guided us through our practice in both English and Mandarin. I do not think that I had ever felt that either language was as beautiful as it was when Zhao spoke in her firm but soft way. 
After we finished the evening's practice, we dined together, dividing between two large round tables filled with many Chinese dishes. Growing up in the United States, my understanding of Chinese food before moving to Asia was a vision of fortune cookies and saucy sweet and spicy orange chicken. 
What laid before us on the dinner table throughout the duration of the retreat were sauteed or steamed green leafy vegetables, lotus root, steaming bowls of rice noodles in delicious broth, tofu cooked three ways, and, my personal favorite, long strips of pork belly. Lord, I know pork belly is not traditional food for yogis, but oh how it melts in your mouth. 
When I caught my first glimpse of this dish, I turned up my nose at it; the pork belly appeared (or rather is) pure fat, but like avocado, does not taste fatty at all. Suffice it to say, I came back from my last yoga retreat my most svelte, and I returned from Honghe my most full-figured. I appreciate both of these versions of my body, and I have no regrets about savoring any of those strips of pork belly. 
"One resolution surfaced time and agin: rootedness."
As each evening slowly gave way to a new dawn and dawn gave way to dusk, when Zhao asked us to set an intention before each morning and evening practice, one resolution surfaced time and again: rootedness. For the past number of months, I think most of the world can relate to a feeling of being uprooted, from routines, from a sense of calm, and from normalcy at large. 
For me, the most important thing in the way of rootedness, is the understanding that I am rooted within myself. For much of my life, I have often sought safety and security outside of myself, spinning nearly out of control at times of highest stress or before making some of my biggest decisions as I asked nearly everyone I trusted for their advice on what I should do. 
As I have reflected over the years, I see how rather than asking everyone else what I should do, which can actually sever my own roots, sitting in silence can allow me to feel my roots winding their way through my own rich soil. 
Zhao offered all yogis on this trip an invitation to engage with silence and the self during the retreat. After the last two evening practices, we all put our devices away, and abstained from speaking to others so that we might listen most closely to our inner voices. 
I carried my moleskin journal around the resort for these two nights, sitting near my two favorite ducks in their pond, or sitting at the infinity pool, gazing out towards the mountains, as I jotted notes to myself. It became clear during these two nights how often my phone becomes a distraction of a thousand sorts. This is not surprising so much as the depth of the distraction struck me, the way that frequently checking Instagram, the weather, the air quality, Instagram, and then my email is taking away from just breathing into many moments, connecting to myself above all else. 
Following your own intuition
Recently, I came across an Instagram post from @themotherspirit that read, "The immature feminine asks permission, the mature feminine follows her own intuition." I know that I am a deeply intuitive being, and yet I have spent so much of my life mired in self-doubt. It has been through yoga, and weekly therapy sessions, that I have engaged in the deep work of trusting the Self. 
During those daily practices overlooking the valley, I continued to breathe oh so deeply into my own roots, those that connect me to the earth below my yoga mat. Vrksasana, more than a challenge of my balance, has become a meditation on my own strength and rooted wisdom.
Let us know!
Did this post help you get closer to achieving one of your goals?