8 Skin Care Gadgets That Aren't Worth the Hype
With all the extra time you're spending at home these days, you might be tempted to purchase a few new high tech skin care products and really up your beauty game. While cleansers, moisturizers, and serums are always a safe bet to give you a healthy glow, there are some skin care gadgets you should avoid using at home. Some of them simply aren't powerful enough to be effective, while others can actually leave your skin in worse shape.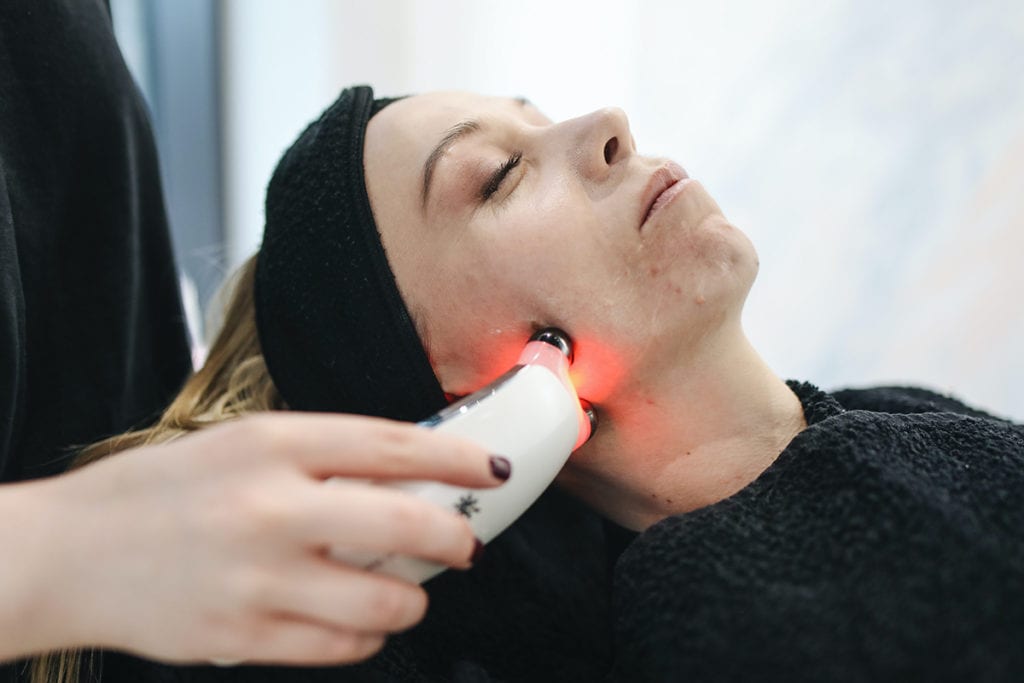 Before you shell out any of your hard-earned money, experts explain which high tech skin care devices aren't worth the at-home hype. 
1. Facial Cleansing Brushes
While facial cleansing brushes claim to offer a deeper clean, they can really do a number on your skin. "The bristles can cause tiny tears on the skin that aren't visible to the human eye, but over time can lead to sensitizing skin," says Joshua Ross, celebrity esthetician and founder of SkinLab in Los Angeles. 
With continued use, you'll likely notice signs of sensitive skin, including redness and irritation, notes Ross, adding that facial cleansing brushes can carry bacteria. "I would recommend a washcloth, which you can wash after each use," suggests Ross. 
2. Derma Rollers
Microneedling (when itsy-bitsy needles are used to prick your skin to stimulate collagen production) is one of the most popular skin care treatments of the moment, but at-home microneedling tools (called derma rollers) shouldn't be used at home.
When performed by a professional, microneedling can lead to an improvement in fine lines, wrinkles, and acne scars, says Marie Hayag, MD, dermatologist and founder of Fifth Avenue Aesthetics in New York City. But "while the results of microneedling can be great, they can also be disastrous when the procedure is performed by an uneducated or inexperienced person," she says. 
Since the needles actually puncture the skin, it's essential for derma rollers to be properly cleaned before and after use to prevent harmful bacteria from getting into your skin, says Hayag.
"Medical professionals are trained in proper sterilization techniques to ensure safety," she explains. What's more, dull, damaged, or bent needles can cause tears in skin, leading to permanent damage like scarring, says Hayag.
And finally, technique is crucial, says Hayag. A trained expert will know exactly how much pressure to apply for best results. 
3. Microdermabrasion Kits
Microdermabrasion is an intense form of exfoliation that has serious skin benefits including brighter, smoother, and clearer skin. But beauty experts warn against at-home microdermabrasion kits.
"As with any form of physical or mechanical exfoliation, the danger is of using too much pressure and causing injury to the skin, which can lead to inflammation, redness, hyperpigmentation, and even infection and scarring," says Hadley King, MD, New York City dermatologist. 
4. Laser Hair Removal Devices
At-home laser hair removal devices might sound like a bargain compared to hitting up a trained professional's office, but this is one tool you should skip using at home. That's because at-home lasers are pretty ineffective, says Josie Holmes, esthetician at SKINNEY Medspa in New York City. 
"The idea behind most lasers is to send a certain amount of energy into the hair follicle to slow and stop hair growth," Holmes explains. "These at-home laser tools will not have nearly enough power or energy to make an impact." That said, they can come in handy for removing a stray hair or two in between appointments, says Holmes. 
5. Metal Pore Extractors
It can feel oh-so-satisfying to extract a pimple, but this is yet another tool best left to the pros. "Save your cystic, painful spots for your board-certified dermatologist," advises Caren Campbell, MD, dermatologist in San Francisco. "Doing at-home extractions can cause scarring or infections." Campbell adds that in-office cortisone or steroid injections are sometimes preferable for cysts or cystic acne spots. 
Holmes adds that sanitization is key in the use of metal pore extractors, and if you're not doing that at home, you could seriously mess with your skin. "It's very easy for bacteria to spread on the skin, and even more so when you are opening up the skin from extractions," she says. Plus, too much pressure or incorrect positioning of the extractor can cause scarring, hyperpigmentation, and broken blood vessels, explains Holmes. 
6. Microcurrent Devices
You've seen the infomercials for those at-home microcurrent devices that supposedly tighten and smooth skin. But experts say you should save your money.
"The energy required to actually see visible results is not high enough from the at-home devices," says Campbell. "Even in-office procedures that use much stronger radiofrequency and ultrasound waves provide subtle results."
Campbell says in-office Thermage and Ulthera procedures are a better bet, but you should still have realistic expectations as results take time and are subtle. 
7. Blackhead Vacuums
You don't need a fancy blackhead vacuum to clear your pores of gunk. While a blackhead vacuum can superficially remove dead skin, makeup, and oils from the skin's surface, so can good ol' facial cleansing, says Hayag.
"The vacuum can suck up some of the debris, although not very effectively, from the pore," she says, "but keep in mind the pores fill back up within a few days so this is just a temporary fix and not a great one." 
Plus, these devices can cause damage like bruising, redness, and inflammation, adds Hayag. There are much more effective (and inexpensive) strategies for keeping blackheads at bay, including OTC salicylic acid cleansers, topical retinoids, charcoal face masks, and washing off your makeup before bed, says Hayag. 
8. Facial Steamers
"I do not recommend facial steaming," says Campbell. "I would definitely advise against it for patients with rosacea and inflammation of the skin, as dilation of the blood vessels in the skin would make irritation and redness worse."
If your goal with facial steaming is to unclog pores, Campbell suggests a few other strategies instead. For example, washing your face with a benzoyl peroxide cleanser a few times a week will kill bacteria and unclog your pores, while using a retinoid at night will help remove pore-clogging dead skin cells from the top layer of your skin.