August 27, Meet Us For a Chicago City Adventure #Sweatworking with CLIF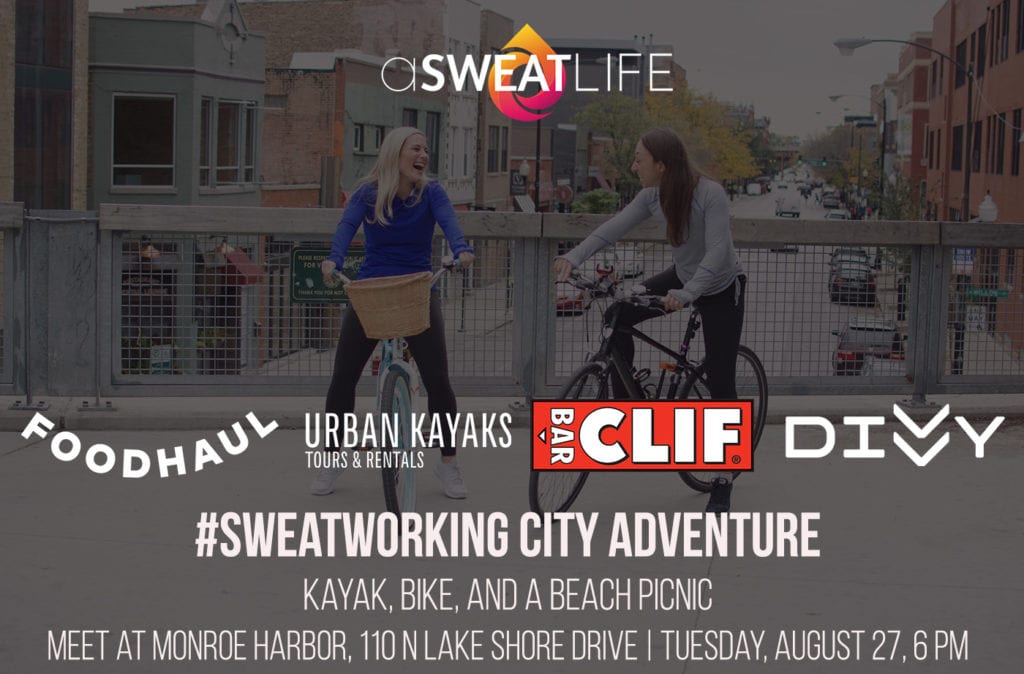 (Get tickets to the summer #Sweatworking Chicago City Adventure)
Time after time we walk near the lakefront path, the gorgeous harbors along Lake Michigan, and the picture-perfect riverfront scenery of Chicago on our way to and from work, but rarely do we ever stop to really experience some of the best things that Chicago has to offer.
Raise your hand if you can relate.
At aSweatLife, we're fans of spontaneous adventure, but we're also fans of productivity. And this summer, we've been up to a lot. We put together 36 events in June and July between #Sweatworking and #SweatworkingWeek, #TrainersConnect, Erin Oprea takeover weekends and Ambassador events. It suffices to say, we've been busy. And while we love it all, it's hard to stop and smell the roses (or, the geraniums if we're being specific about what's in bloom during the summer months in Chicago).
And that's precisely why we created this very special #Sweatworking city adventure along the lakefront path on August 27! We hope you'll join us as we combine two essential summer Chicago bucket list items: biking the lakefront path and kayaking.
What's happening on August 27?
Tuesday 8/27 at 6 pm, we'll convene at Monroe Harbor for a kayaking excursion powered by CLIF Bar that will take us out for skyline views of the city while we meet new friends in true #Sweatworking fashion. Get ready for a Whole Lotta fun.
We'll dock back at Monroe Harbor and grab Divvy bikes (they'll bring an entire truck of bikes for us to select from), take a ride to Shedd Aquarium's picturesque backdrop to snap a photo, then bike north along the lakefront path up to North Avenue Beach (in total, a 30-minute ride).
Once we drop off our Divvy bikes off, we'll enjoy a picnic on the beach brought to you by CLIF Bar.
Ready to take on this city adventure with aSweatLife and CLIF? We can't wait to see you there! Grab a ticket right here.
More about CLIF Bar
Our friends at CLIF keep on creating and innovating, and we keep loving them for it. Their latest addition to the CLIF Bar family? Whole Lotta bars that are gluten-free, dairy-free, no sugar added and with 10 grams of plant-based protein.
More about Urban Kayaks
Urban Kayaks is a local-to-Chicago outdoor water sports company with two locations along the water – along the Riverwalk and at Monroe Harbor. Kayak or grab a stand-up paddleboard to experience Chicago on your own from the water, or pick any one of the guided tours provided by Urban Kayaks for an unforgettable experience.
More about Divvy
Chicago's very own bike sharing program is sharing their bikes with us for the evening and we couldn't be more excited. If you've never Divvy-ed before, you're in for a treat. And when the evening wraps up, you'll have a discounted Divvy membership waiting for you so you can keep on riding throughout the rest of summer. Read more about the popular rides in Chicago with Divvy stations throughout right here.

Get the details for the city adventure 8/27:
When: Tuesday, August 27 from 6-8:30 pm
Where: Meet at Urban Kayaks at Monroe Harbor, 110 N Lake Shore Dr.
What to expect: A casual 60-minute kayak experiences from Urban Kayaks, and an all-levels 30-minute bike ride up the lakefront path brought to you by Divvy.
Will there be food? Yes! A picnic will follow after the workout.
Where do I get my ticket? Right here, thanks for asking!
Let us know!
Did this post help you get closer to achieving one of your goals?