I Ate Breakfast Salads for a Week – Here's How I Felt
Confession – I hate salad and rolled my eyes when I first heard about the breakfast salad trend. That is, until I saw one of my favorite food writers singing their praises awhile back and got just a tiny bit curious. So this week, I challenged myself to eat breakfast salads every day. Here's what happened.
Day One – Wednesday
With my fridge stocked from the farmer's market and the day off from work, I woke up excited to start this challenge. I mixed arugula and kale and topped them with homemade balsamic vinaigrette. On top of that I shredded fresh parm and topped everything with a soft-boiled egg and a couple slices of toasted baguette from my favorite bakery. It was delicious.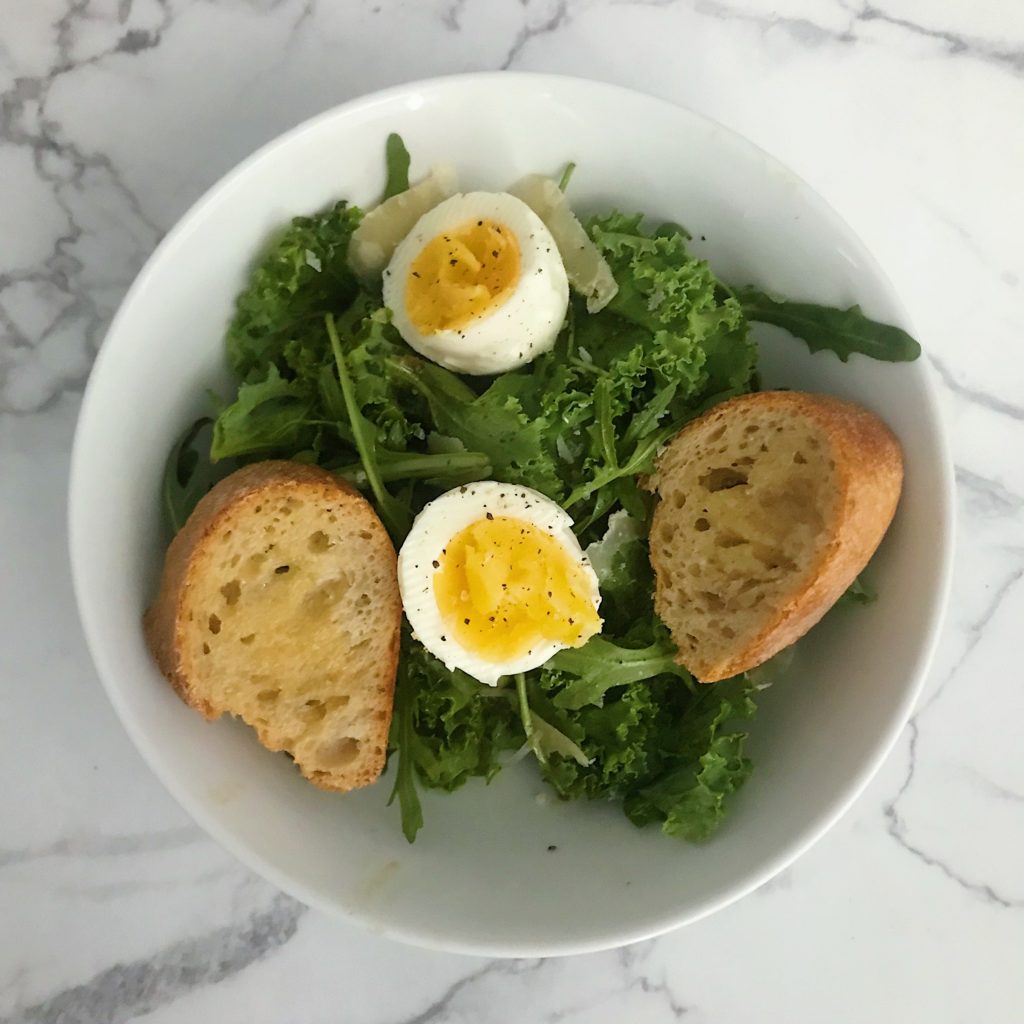 It could have been the breakfast salad or the fact that this was my first day off work in seven days and I had finally gotten over a cold, but I felt like I could take on the world. I went straight to spin, giving my body its first workout since pre-cold almost a week earlier. I came home and rather than using my day off to watch Netflix all day, I knocked out a bunch of much needed writing. It was a good and productive day.
Day Two – Thursday
Another day off (and the first time in weeks that I'd had two days off in a row), I knew I had to do something special for this pseudo-Sunday. I went for a kale base and topped that with avocado, blood orange, and chopped walnuts dressed with balsamic vinaigrette. To make sure this got the breakfast treatment I threw a poached egg on top. As aesthetic as that egg was, this would have been better with a hard-boiled egg. Runny yolk + balsamic vinaigrette = not great.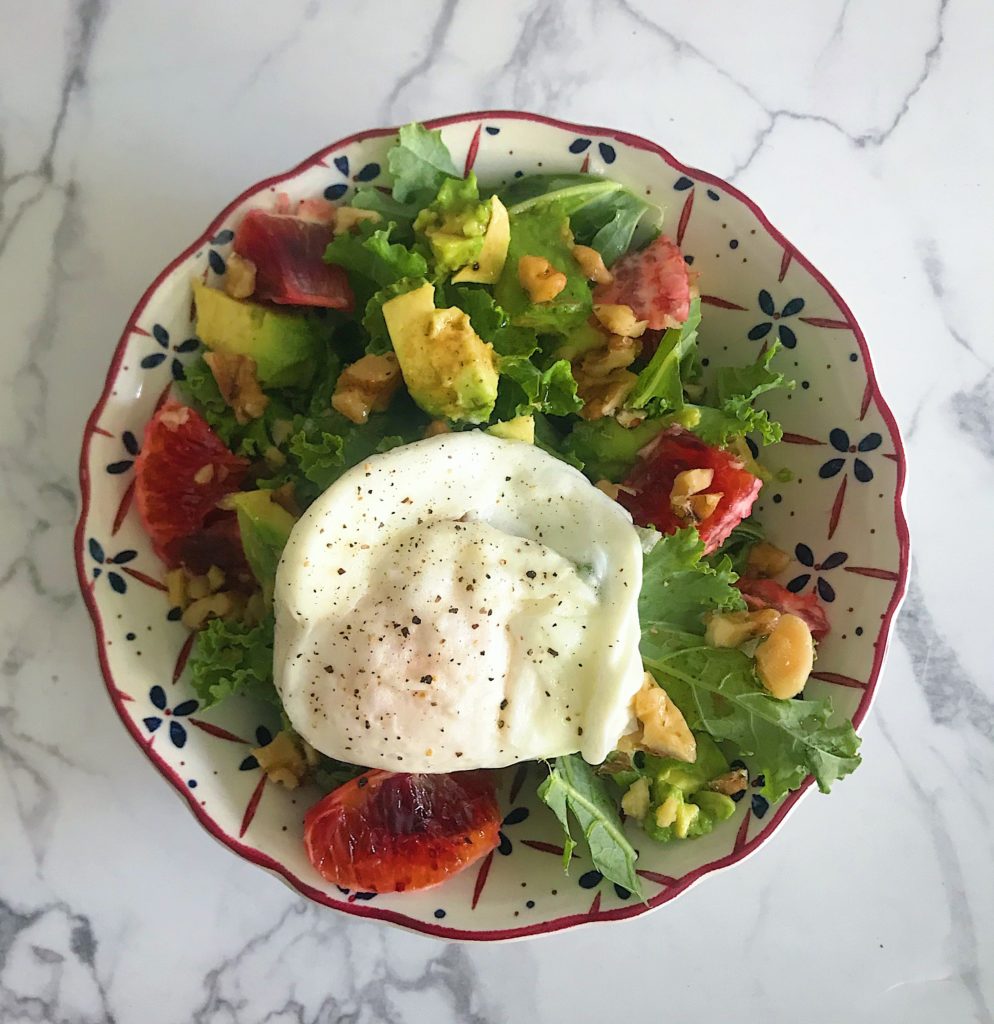 This salad left me feeling pretty good, though oddly not as full as it should have. I spent most of the day working on a project in the kitchen that doubled as meal prep and caught myself snacking more than usual while I cooked. This salad was full of healthy fats and protein, but for some reason it just didn't fill me up as much as it should have.
Day Three – Friday
Back to work, this time at 6 am, I wasn't feeling breakfast. Dedicated to eating breakfast salads, I threw a handful of arugula in my mouth washed down with a handful of walnuts. That's like a salad in my mouth, right?
I noticed that this kept my hunger at bay throughout my morning work shift and I was able to hold off taking my lunch break till way later than normal, so I'm chalking this almost salad up as a success!
Day Four – Saturday
Feeling defeated from the state of my mostly wilted greens, I threw some chopped walnuts, cherry tomatoes, and balsamic vinaigrette on lettuce and ate it on the side of a croissant sandwich my roommate brought me.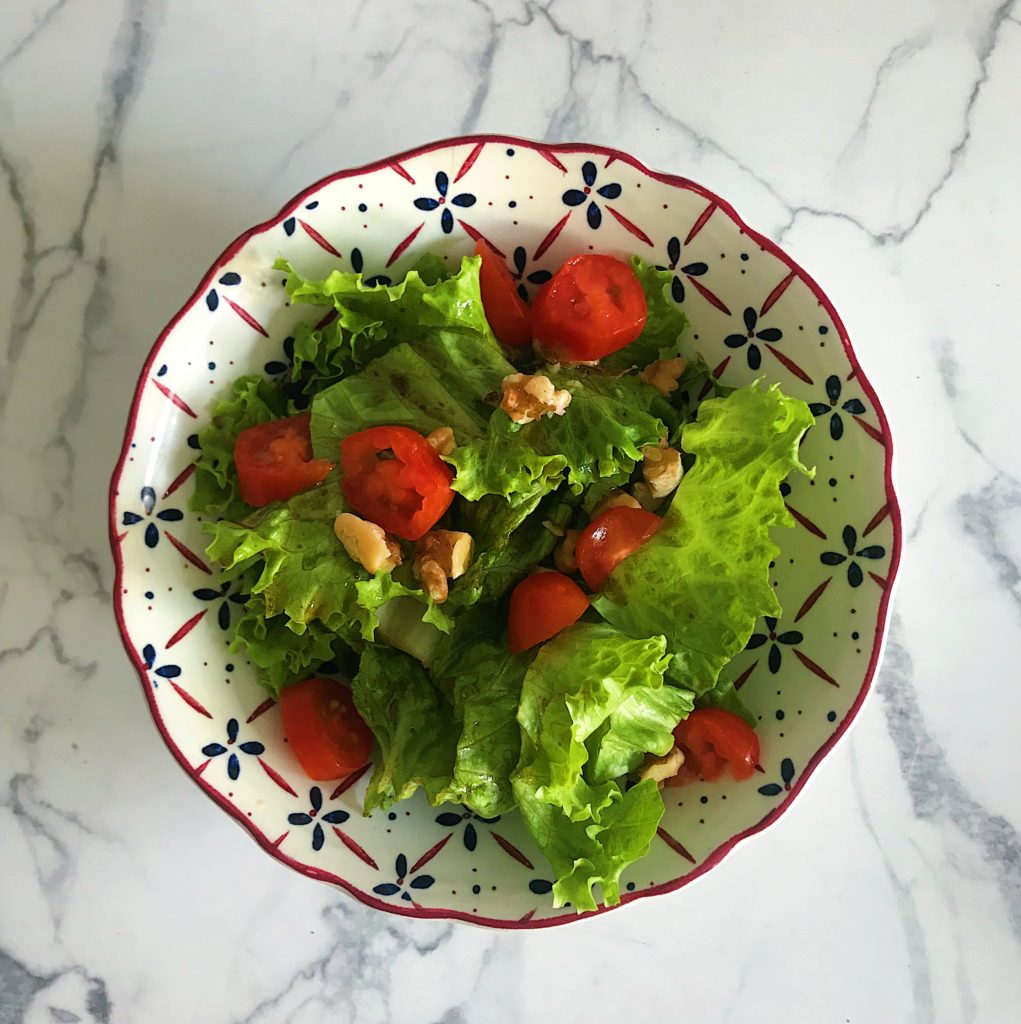 This kept me full throughout work and I felt good about having some veggies on the side of what would have been a not so healthy breakfast – but this is the day that I came closest to giving up on breakfast salads.
Day Five – Sunday
By this point I was definitely starting to grow sick of eating salad every morning, especially since I was still out of greens. Luckily, roomie let me have some of her arugula, which is the one leafy green that will always turn my tastebuds into being pro-salad. I went similar to day one's salad and just topped some arugula and spinach with balsamic vinaigrette and a soft-boiled egg.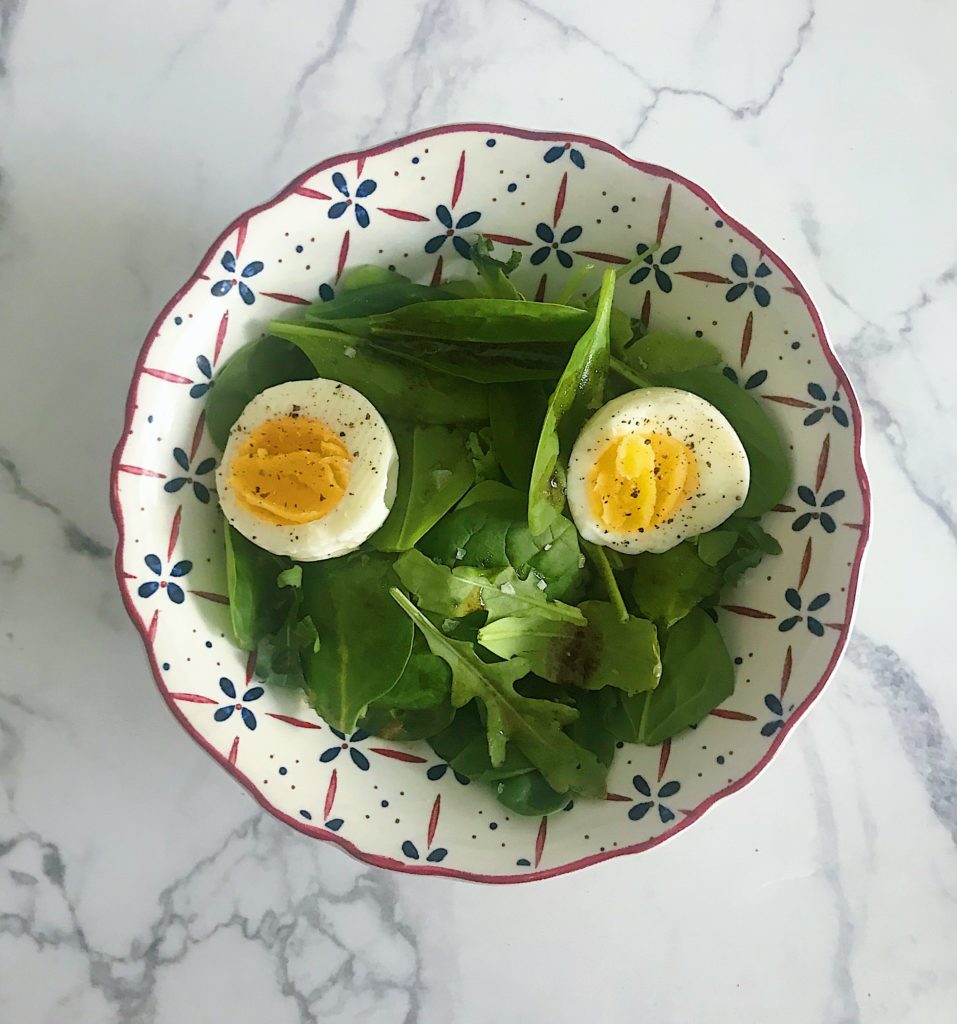 This salad had me back on board the breakfast salad train in no time. Serious shout out to arugula for always having my back! I felt amazing and headed back to spin for the best workout I've ever had at a spin class. That could have been the instructor's amazing pre-2011 playlist, but I also just felt great. I came home and did some writing before work, which just might be the most productive pre work morning I've had in weeks. I credit the arugula.
Day Six – Monday
With no arugula to perk me up this time, I decided to change things up and do a quinoa and fruit breakfast salad. I made a big batch of quinoa that doubled as meal prep for the week, tossed it with lime honey vinaigrette, and topped it with banana, kiwi, blood orange, and walnuts.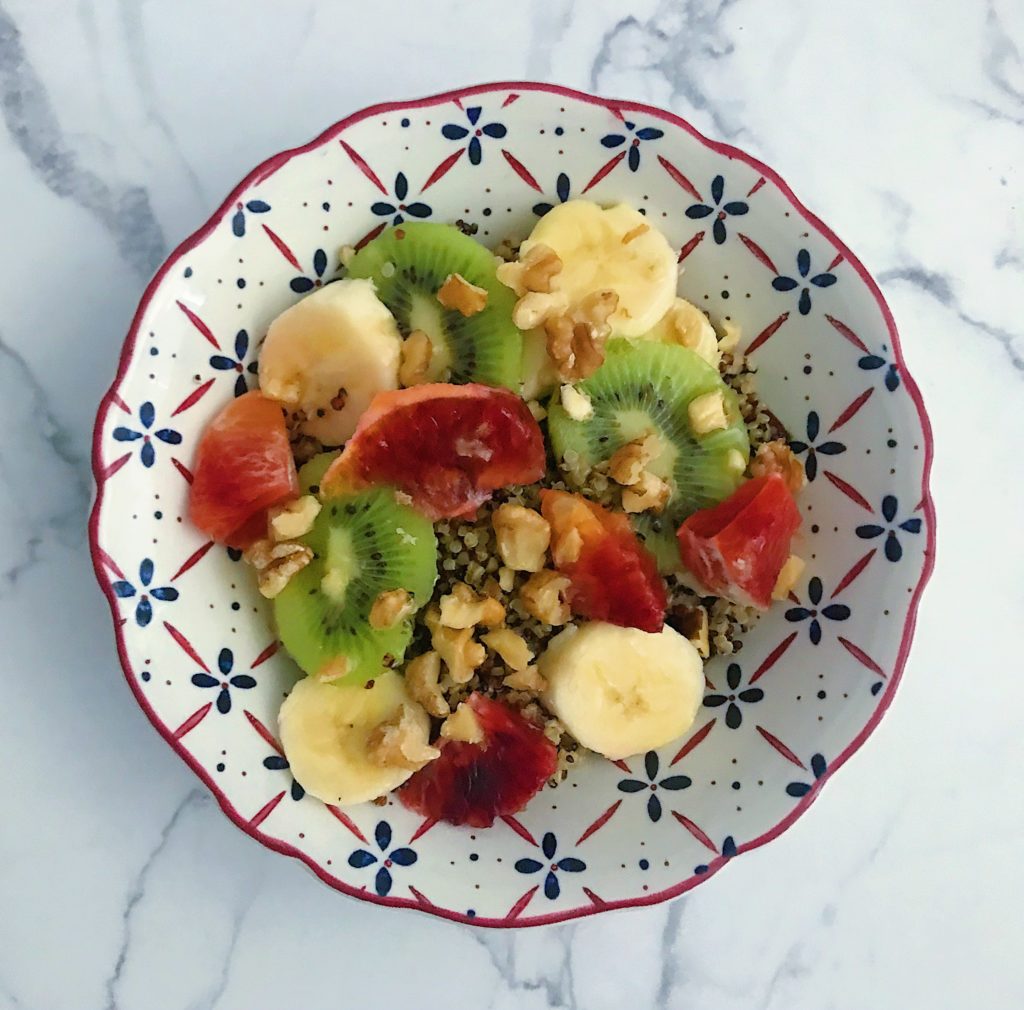 This salad was so delicious and kept me full for hours. I think fruit breakfast salad is something I can definitely get used to.
Day Seven – Tuesday
Not wanting to prep anything new I recreated day six's salad with similarly positive results. I had so much energy and laser focus to knock out more writing, run much needed errands, and spend time enjoying the non-freezing temperatures by taking a walk through Central Park. The only downside of feeling so energized was how impossible it was to fall asleep by 9 pm before the next day's 6 am work shift. Even though the week was over – I found myself throwing some arugula and walnuts in my mouth to get me through that shift and it worked.
So what's the verdict on breakfast salads?
Now that I've finished this project, I think I'll be going back to my favorite overnight oats and homemade granola bars most days – but throwing in the occasional quinoa and fruit salad. That being said, I learned more than I expected from a week of breakfast salads. I've been guilty of skipping breakfast if I don't have anything prepped, but this week reminded me how good I feel when I eat a healthy breakfast. Moving forward I'll be recommitting to making breakfast a priority. And most importantly, this week taught me that it's never too early for arugula!