3/30: Doing Things is Better With Your BFF at the #Sweatworking Tennis Social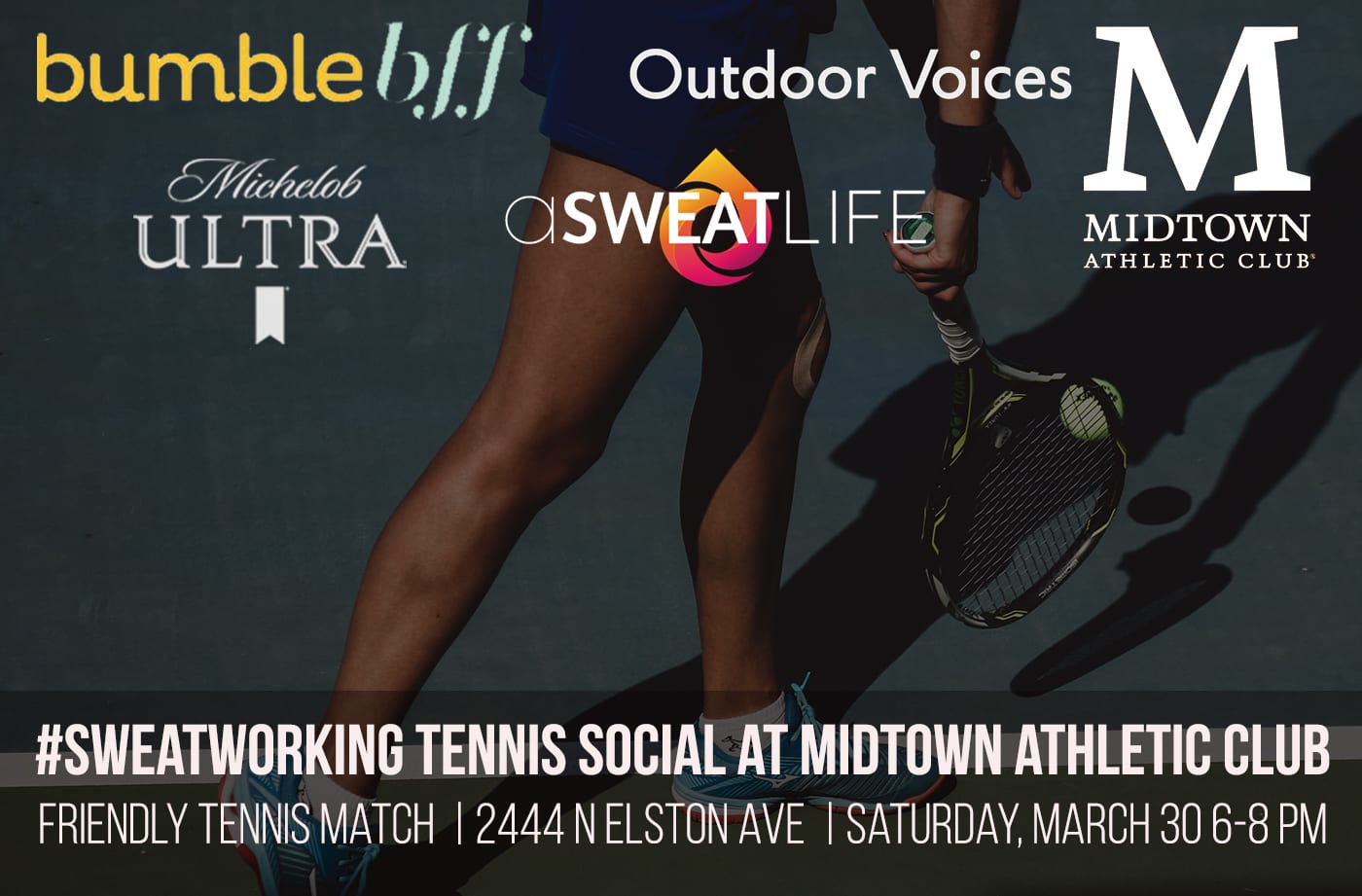 (Get your tickets for this special #Sweatworking right here)
At aSweatLife, we mean it when we say we're all about trying new things and meeting new people—so this March, we're planning a #Sweatworking workout mixer that we've never, EVER done before and that was made for you to bring a pal or meet a new friend. In fact, we think it'll be an "ace," if you get our drift.
Join us for a tennis-inspired #Sweatworking on March 30!
Making new friends is one of the hallmarks of any aSweatLife event, and tennis is one of those social sports you can enjoy at any age. Whether you grab one friend to rally with or team up to play doubles against a fun-looking duo, we love tennis as a fun way to break a sweat while catching up with our pals. That's why we're hosting this tennis #Sweatworking: to get out of our comfort zones and find a new doubles partner, because #everythingisbetterwithfriends.
We're teaming up with Outdoor Voices and Bumble BFF to mix things up and take #Sweatworking to the courts—Midtown Athletic Club's stunning tennis courts to be exact. On Saturday, March 30th, their tennis pros will lead us through various tennis games and drills to improve your ground stroke, your volleys, and more.
If that last sentence left you wondering what the heck a volley is, we've got good news: all levels are welcome at this tennis #Sweatworking, where the focus will be on FUNdamentals. Whether you've got a serve as powerful as Serena or you've never picked up a racket before, you're ALL invited come get your (tennis) game on!
No racket? No problem! Midtown will have some available for participants to borrow—make sure you arrive a little early to find a racket suited to your tastes.
What else can we expect from this #Sweatworking?
After we've dropped shots and worked on our agility, we'll hang at Midtown, take in the insta-worthy views, and enjoy some well-deserved drinks and bites with Michelob Ultra. Bring your ID!
We can always count on Outdoor Voices for the best Doing Things apparel and tennis is no exception. They will be sharing an exclusive in-store discount to all ticket-holders prior to the event. After you purchase a ticket, you can hit up their new storefront in Lincoln Park and gear up – just show your confirmation email at the register!
Bumble BFF will be on-site with all of the tennis swag you could ever want, so be sure to download the app and bring your BFF!
The Important Stuff
When: Saturday, March 30, 6 – 8:00 pm
Where: Midtown Athletic Club, 2444 N. Elston Ave
Tickets: Right here and below!
Uh, do I have to know anything about tennis? NOPE. Just come with a good attitude and willingness to learn something new—we'll take it from there!
What to bring: A racket if you have one, your ID for happy hour, your Bumble BFF, and a winning attitude!