The #WeGotGoals Podcast Anniversary Special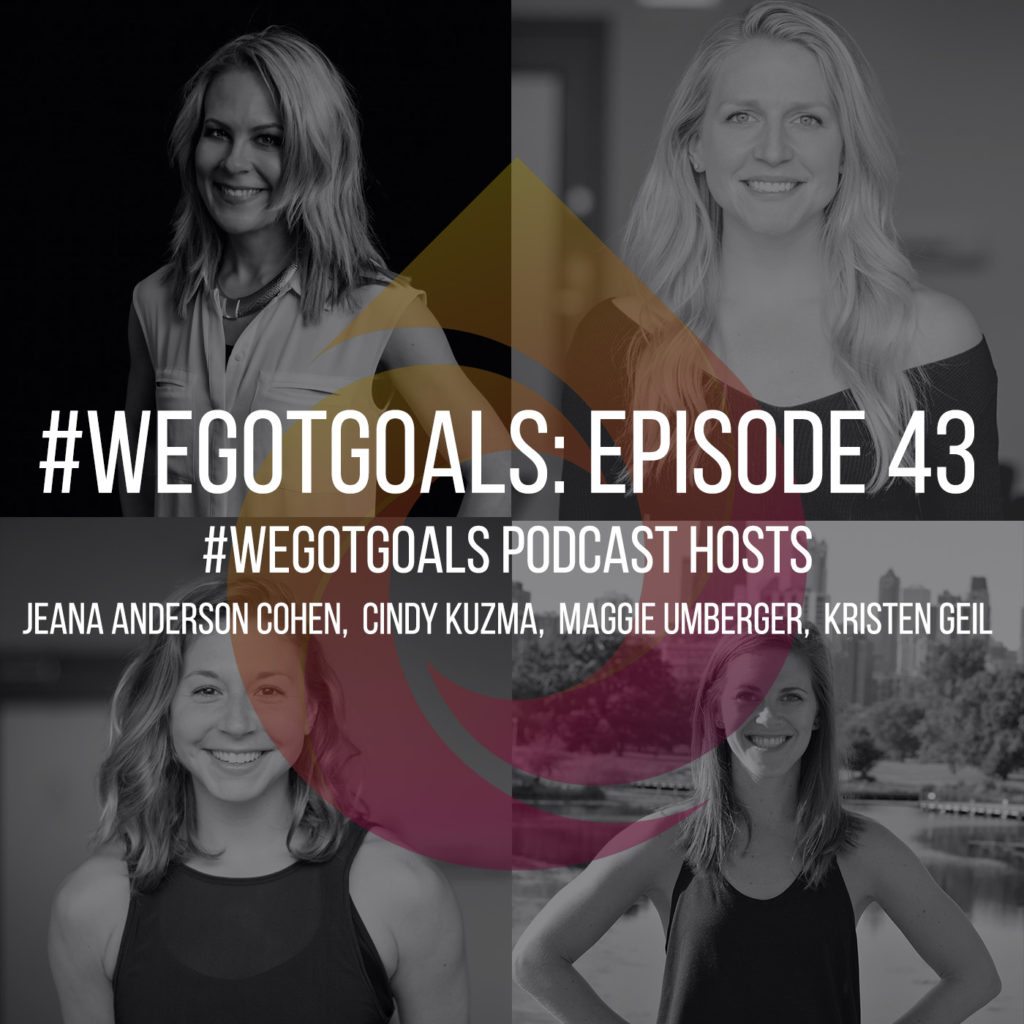 This episode is presented by Chicago Sport and Social Club, reminding you that summer is just around the corner. Get into a summer volleyball league now and use code "GOALS" to get 5 percent off until March 31.
We've evolved into a team that's obsessed with goals – how people think of them, how they set them and then how they ferociously pursue them. When we set out to ask people about those things, we thought we'd given our #WeGotGoals podcast guests the perfect platform to talk about their life story.
What we actually found was that we'd created a master class in goal-setting with high achievers across the country and the team that produces the podcast each week learned a whole lot along the way.
As we cross into our second year with the #WeGotGoals podcast, all four hosts look back on the two big questions we ask all of our guests and we threw in one extra question.
And so, hosts Cindy Kuzma, Maggie Umberger, Kristen Geil and I all took a dose of our own medicine and put each other on the spot to say our big goals aloud.
In this episode, you'll hear us discuss three big questions:
What's a big goal that you've accomplished over the past year?

 What's a big goal you're striving to accomplish in the future?

What's one big takeaway from any of our guests on the #WeGotGoals podcast? 

 
Which episodes did we really learn from?
The episodes that really changed our views on goals span the year and come from incredible people.
Kuzma recalled her interview with sports interviewer and reporter Taylor Rooks who was excited by the distance between herself and her big goals, rather than dismayed by it.
"Instead of thinking, oh gosh, I have all these things I want to accomplish, I'm so far from my goals. I don't know how I'll ever get there. This is really overwhelming and disillusioning," Kuzma recalled of her interview with Rooks. "She looks at that and thinks, wow, how exciting that I get to work toward that big goal."
Umberger brought up an early episode with Dawn Jackson Blatner and a quote that is often referenced at HQ.
 "If you're enthusiastically doing the work, the opportunities will come," She quoted. "If I'm doing the best I can and if I'm doing that authentically, there's nothing more than I can do than that."
Geil referenced a recent episode with Jessica Zweig who touched on the art of trusting your gut.
Geil astutely took away, "I feel like with goal setting, a lot of people are so driven by achievements and watching the numbers grow and hitting certain milestones that it can be really easy to ignore your gut or your intuition along the way in favor of going after what you think you should be doing. 
For me, there were two major takeaways, one on the art of visualizing and dreaming big from Matt Matros – founder of Protein Bar and Founder/CEO of Limitless Coffee and Tea – and the art of dedication I learned from Jen Ator, Director of Fitness at Women's Health, who set out to accomplish something absolutely ridiculous at the IRONMAN World Championship at Kona.
Of Matros' interview, I remembered:
"Visualization, as we know and as science has shown us is a powerful tool to help you prepare yourself for coming up against an obstacle, a goal, a situation. Athletes use it. CEOs use it because it prepares your brain to actually encounter that thing. It prepares your brain to encounter success. It prepares your brain to encounter failure. So if you're thinking about success every single day, you're more prepared to succeed."
And when it came to Ator, I marveled at the joy she experienced during something so grueling as crossing the finish line at the IRONMAN world championship. 
"She loved that experience, but it was also the hardest experience she'd ever been through and I think that if you talk to anyone who's accomplished anything great, that is something that they have in common."
Thank you for joining us for a year of #WeGotGoals – we can't wait to see what we'll learn from goal-getters next.