Jessica Zweig Followed Her Passion to Create the SimplyBe Agency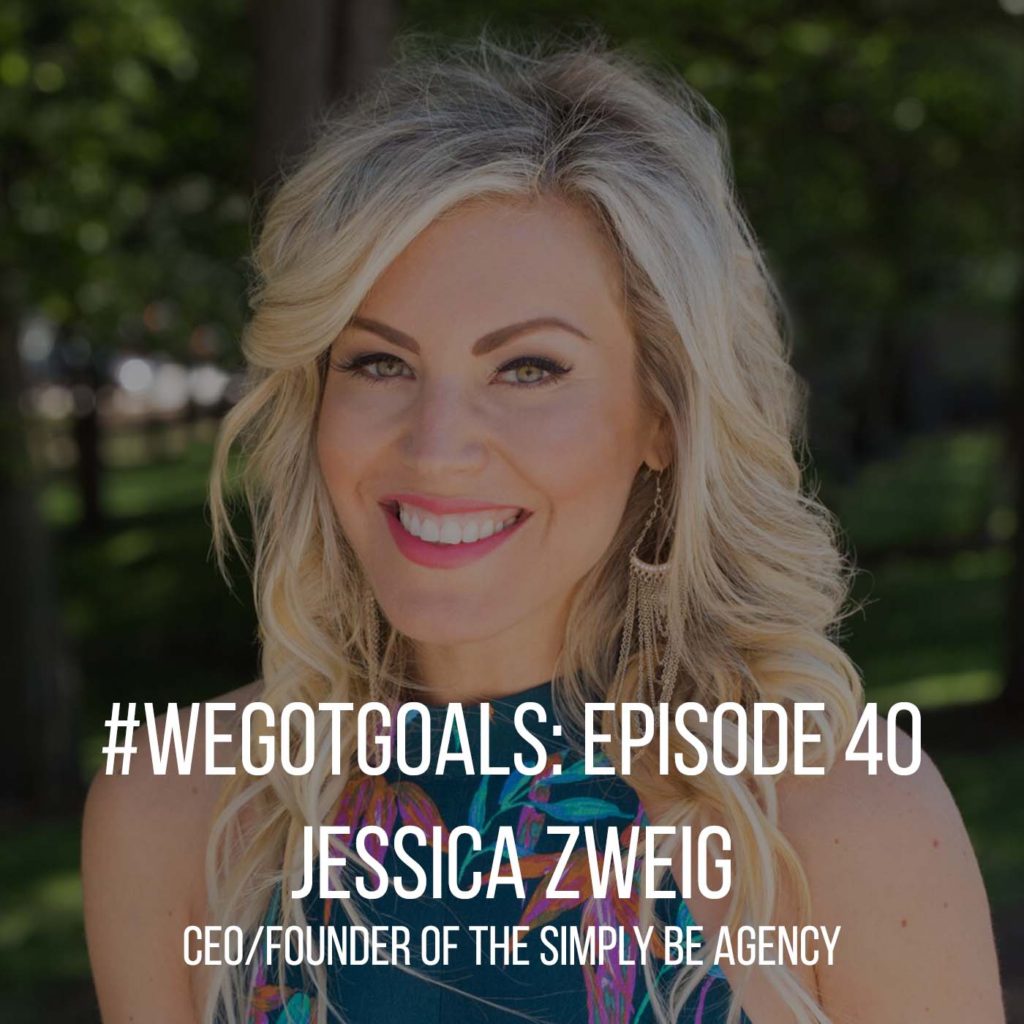 Sick, tired, lonely and lost. That's the point where Jessica Zweig, founder and CEO of the SimplyBe Agency knew her path with Cheeky Chicago had ended and something needed to change.
The story of changing paths – especially when it means shuttering something that's gained public recognition the way that Cheeky Chicago had – may be a topic that some guests on our podcast #WeGotGoals would avoid.
But for Zweig, her willingness to share this journey was the perfect mix of authentic emotion and magic for the live audience in attendance for our recording of this episode during January's #SweatworkingWeek.
Zweig shared the inception and co-founding of the online lifestyle magazine that gave women nightlife, restaurant and lifestyle tips as well as deals and events in Chicago. Behind the events, the nights out and the years of hard work, Zweig told the audience that she was suffering during what should have been high moments.
"I ran Cheeky for six and a half years and I was really burnt out by the end," Zweig said. "Inside I was miserable, especially for the last year or so."
In a downtrodden moment following chronic sickness and surgery, Jessica understood a nearly universal truth: that if she moved on, she would almost certainly be OK.
"If you've ever created anything, right, it like, doesn't feel like it's something that's separate from you. It's you, it's your creation. And that's how I felt about Cheeky."
The ability to learn from moments like that – we've found through episode after episode of #WeGotGoals – is what makes guests on #WeGotGoals successful. The lessons that you'll hear Zweig share are useful for anyone not interested in learning them the hard way.
1. When you're a leader, respect is much, much more important than friendship. 
"I wanted to be friends. I wanted to hang out, I wanted them to think I was the coolest boss," she shared. "You can't be liked first. You have to be respected first."
2. You might already be working on your next project. 
During her time at Cheeky Chicago, she built her personal brand, becoming a go-to and an expert in all things Chicago, nightlife and lifestyle. 
She realized that her experience creating her own voice was something she could translate into helping other business owners create value for their customers or audience.
"Know that when people go to the internet or social media or their phones, they don't go to see how cool you are or skinny you are or what you ate for breakfast. They come to help themselves," she said. "So, knowing that when you create content, don't just add to the noise, provide something of value." 
3. Acknowledge your team for the value they add. 
"Every Monday morning we hold a 90-minute meeting. It's all about what's on deck for the week. It's a very intense meeting," she said. "At the end of every meeting we do a core values roundtable where I have every one of my staff go around and acknowledge in the other team members where they witnessed that particular person demonstrating a core value from the week before."
As Zweig describe this exercise, no less than three team members teared up. The simplest of rituals can bring your team together and make all the long hours worthwhile.
Listen to this week's episode, produced by Cindy Kuzma. And if you like what you hear, subscribe where ever you get your podcast and leave us a rating or a review on Apple Podcasts.