Pits and Peaks With Aaron Wolf After His Wilderness and Friendship Tour
Last fall, we boarded a bus trusting Aaron Wolf of Adventures Accessed to show what exactly drove him to quit his perfectly good job to spend more time in nature. The peace, community and happiness he found all drove Aaron away from his desk and into the expansive and unexplored world just outside the city limits. His business takes city-dwellers out to be challenged, to explore and to create a deeper connection to the wilderness.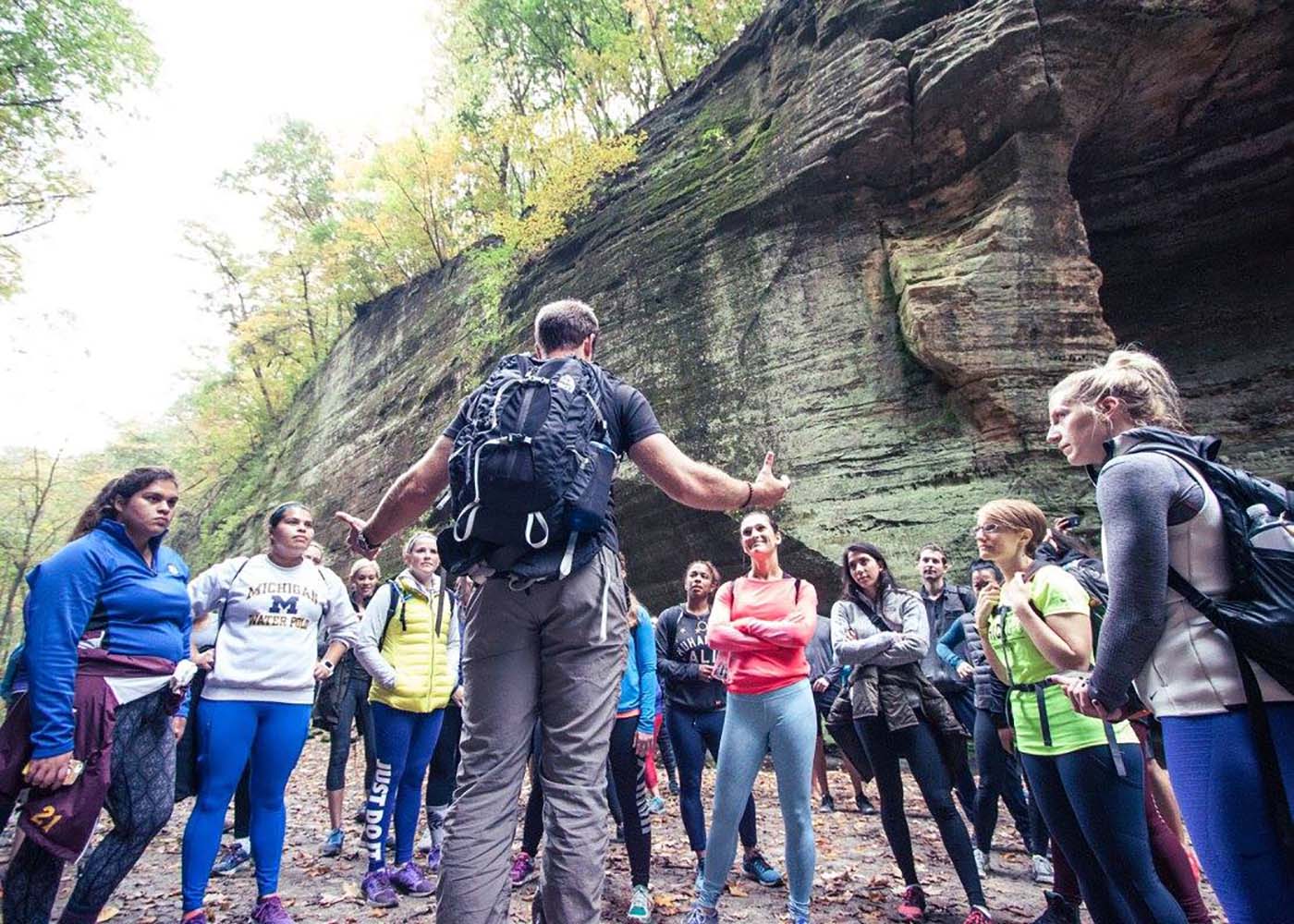 Aaron's business, serving the Chicago market, follows similar seasonal patterns to that of the city. In the winter, Chicago goes insular, seeking warmth and increasing overall consumption of Netflix. Aaron, rather than battling that trend, got out of the city for his slower season to complete something he called "The Wilderness and Friendship Tour."
On his tour, Aaron also had a higher calling outside of just getting the heck out of Chicago.
"The goal other than spending time with people was to raise awareness for our public lands and to sit down with people who give us the opportunity to go to these places like district rangers, or park interpreters or even anyone I met on the trail," he said.
Aaron explained how his two months away, crossing the country in a van, were spent.
"I hiked in three different mountain ranges – I hit the Rockies three different times," he said. "There were 10 different states that I hiked, backpacked or stayed in."
Given the up and downhill nature of Aaron's trip, we asked him to share in a tradition my family and friends grew to love over the years: pits and peaks.
Peak: Big Sky Country.
"I spent like three weeks in Montana," Aaron said, before describing the expansiveness of the sky.
Pit: Being alone on the road
Not one to mince words, Aaron said, "I hate driving – I hate it. Driving sucks. Definite low."
Peak: Visiting the Gila Wilderness
"One of my favorite places that is very important to me and anyone who has any knowledge about conservations is the Gila Wilderness. It's 3.3 million acres of designated wilderness that it has taken an act of congress to set it aside and make it untouchable forever. The Gila Wilderness is the first wilderness ever in all of the national parks," he said.
In that large wilderness, Aaron set off on a hike to find a hot spring and got lost in the expansiveness of the preserve.
"It's 1.3 million acres within the 3.3 million acres of the Gila National Forest," he explained.
After taking this photo and then sliding down a canyon wall, he inevitably found his way and took a soak "for like two days."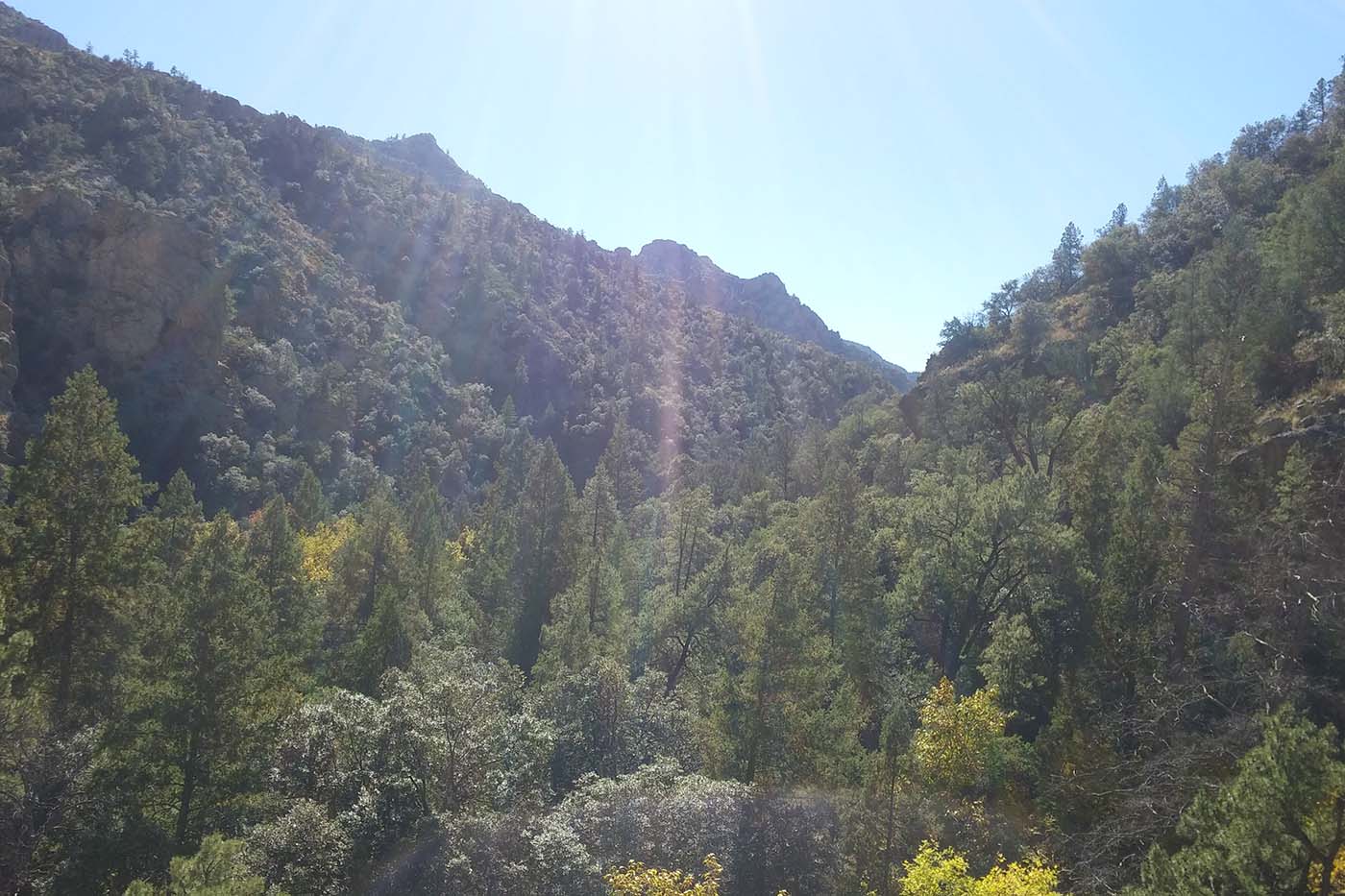 Pit: Waking up after Election Day.
Aaron described that early in his trip, the nation voted. He said that he listened to early polling numbers as he was driving into Davey Crocket National Forest and woke up to the results the next day.
"I wake up in my van the next [day] under some Loblolly pines, which is nice but then I find out our new president is Trump and I almost cried because I am in this beautiful natural space because I've dedicated the next few months of my life to spending time in these beautiful spaces with all of these people and I don't know what he's going to do with it," he said.
Peak: "I met an interesting young woman." 
Aaron described a chance encounter on the banks of the Buffalo National River, "the first river to earn its national scenic designation," he explained. "It's also one of the few free-flowing rivers lefts in the country."
 Their meeting consisted of her "twirling her staff and reciting Henry David Thoreau," so the only logical thing for Aaron to do was to go back to her campsite to hang out with her friends.
During his trek cross-country, Aaron begged the question "why it's important we have these places, from an ecological standpoint and a social standpoint." His adventures through the wilderness fueled his personal passion for being outdoors, but he stands firm that there's something to the joy he finds in nature. It's there for everyone, and with the current divide among our country, it might be one of the few common grounds we can all stand on.
And perhaps the most inspiring takeaway from Aaron's trip isn't even what he did while he was on the road, but the impulse to dive head first and surround himself in his passion.