Our Top 10 Recipes of 2016
I don't know about you, but I ate well in 2016. To be clear, "well" in this context doesn't necessarily mean healthy. Was it the right decision to eat churros and street popcorn in quick succession in Rio? Was it wise to make Dairy Queen a weekly habit in August? Did it make sense to chow down on alllll the chips and guac while in San Antonio for a conference? Yes, yes and yes again.
While I partook in my fair share of indulgences, I also spent a lot of time in the kitchen, trying new recipes, tweaking them to my satisfaction and adding them to my ever-growing binder of recipes. (Literally, I had to buy a bigger binder this year.) Here are my 10 new favorites of 2016. I hope you enjoy them in 2017 and beyond!
Psst: Get more recipe inspiration from last year's roundup of favorite recipes here.
This 400-calorie bowl packs major flavor and texture. Top ½ cup of warm cooked brown rice with ½ cup warm shelled edamame, ½ cup shredded carrots, ½ cup thin cucumber slices, several toasted nori seaweed strips (use wasabi-flavored strips for an extra kick!) and a third of a diced avocado. For the dressing, whisk together 2 teaspoons reduced-sodium soy sauce, 1 teaspoon of honey, 1 teaspoon of rice wine vinegar and ¼ teaspoon of minced ginger (I substitute ginger powder, and that works fine). Grab your chopsticks and dig in!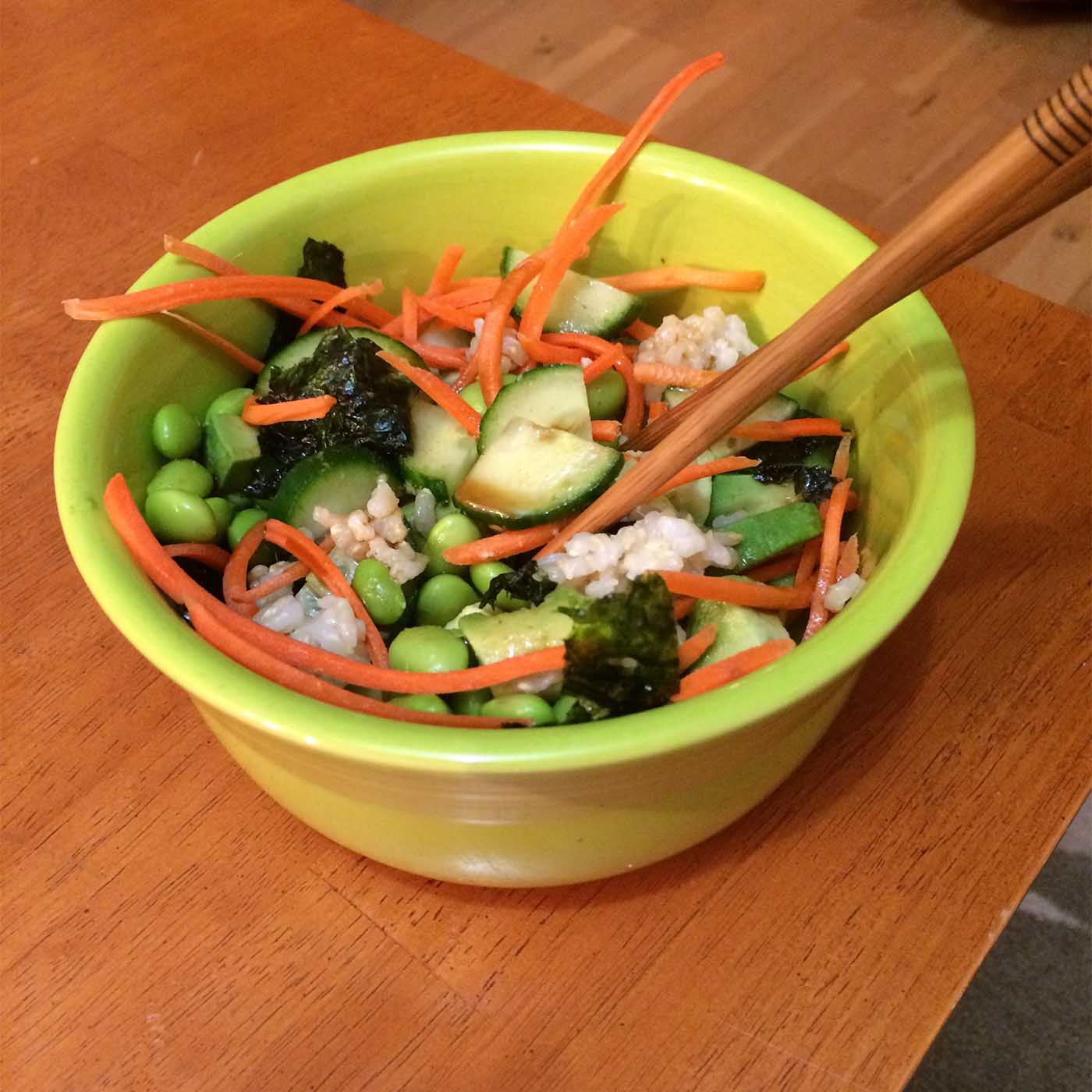 If you haven't tried cauliflower rice yet, let me be the first to tell you – it's fantastic. As bizarre as it may sound, rice-sized pieces of cauliflower do indeed become an incredible replacement for regular rice once you pile on all the tex-mex fixings you can imagine. A way to reduce calories and increase your vegetable intake, all at once? I'm in. Pro tip: Buy riced cauliflower from Trader Joe's to speed up the prep process. I also use their pre-marinated pollo asada in this recipe.
Speaking of rice, here's a recipe that uses it (but I bet it would be good over cauliflower rice, too!). This recipe was passed around among my friends this year, and we've all put our personal spins on it. For example, one friend substituted bison for the pork. I've always made this recipe with ground turkey, but choose whichever meat you prefer. After making the rice, this is a one-pot (or one-wok) wonder, making it super easy for a weeknight meal.
I've heard that turmeric is a hot spice right now (as in popularity, not heat level), and based on this dish alone, I think it's worthy of our praise. I absolutely love these yummy chickpea stuffed pitas. They are filling, tasty and a cinch to whip up. Plus, you can freeze any leftovers. I actually halve the recipe to make six or seven pitas at a time, which is more than enough for a week of lunches and then some.
Can you tell I was on a mission for quick and easy recipes this year? Here's another one that you can make ahead and freeze. This burrito is jam-packed with all sorts of goodness: broccoli, cauliflower, carrots, onions, black beans, chicken, rice and cheese. Plus, you can customize it to your liking; swap tofu for chicken or leave out the cheese, as I did. The hardest part is rolling all the ingredients into the tortilla! In fact, I ended up making two or three extra burritos because there was so much filling.
What's a papillote, you ask? It's a French word for parchment. Basically, this recipe asks you to make cute little parchment packets of salmon, broccolini, red chiles and lemon slices. Stick them in the oven for 15 minutes, and when you pull them out, you'll have a perfectly cooked, fancy-looking fish dinner. Pro tip: Don't use as much olive oil as the recipe calls for. A little drizzle should do the trick.
Not only is "spinach shakshuka" fun to say, it's also fun to make, and, of course, eat! Maybe it's just me, but I think it's fascinating watching a huge bag of spinach shrink down into practically nothing. How does it happen? It's like magic … (clearly, I missed some key science courses in high school). Anyway, this is another one-pan masterpiece with minimal prep time and clean up. Don't forget to sprinkle feta on top – it makes the recipe.
I stumbled across this recipe after I'd recently tried crispy chickpeas for the first time (on the chicken and baby kale salad from Nando's Peri-Peri), so I was excited to give it a shot at home. The key is to completely dry the chickpeas before roasting them, and you may need to keep them in the oven a bit longer than prescribed. The rest of this salad brings together quinoa, red onion, bell peppers, salad greens (I used arugula) and a super-easy hummus and lemon juice dressing for a flavor trip to the Mediterranean.
If you gravitate toward huevos rancheros at brunch, like I do, this salad is right up your alley. A mixture of cumin, lime juice and garlic gives the beans a nice kick, while a runny fried egg, sliced avocado and crisp arugula provide the finishing touches. Enjoy for breakfast, lunch or dinner – it's that versatile.
10. Sweet and Spicy Party Wings from Taste of Home
These wings are finger-licking good and would be a welcome addition to a New Year's Eve party, Superbowl bash or just a regular weeknight dinner. The original recipe makes 10 servings, but I halved it; the 5-serving recipe is listed below.
Ingredients:
3 lbs. chicken wings (about 12), tips discarded and wings split
2 cloves garlic, thinly sliced (I substituted minced garlic; read the label for the correct proportions)
¼ cup unsalted butter, melted
¼ cup honey
1/8 cup green hot pepper sauce
1 ½ tbsp. grated ginger (I substituted ground ginger; read the label for the correct proportions)
½ tsp. kosher salt
2 jalapeños, seeded and chopped
Directions:
Preheat oven to 450 degrees. Line a baking pan with foil. Spray with nonstick spray.
Bring a large pot of salted water to boiling. Add chicken and garlic. Simmer 8 minutes; drain. Pat wings dry. Transfer to prepared pan. Back 30 minutes, rotating pan halfway through.
Meanwhile, stir together butter, honey, hot pepper sauce, ginger and salt in a small saucepan. Bring mixture to boiling. Reduce heat. Simmer, uncovered, four minutes or just until sauce is thickened.
Place wings in a large bowl. Add wing sauce; toss to coat. Sprinkle jalapeños on top. Serve immediately.