Our Ten Favorite Recipes of 2015
There was a time not so long ago when I regularly ate toaster waffles with peanut butter for dinner. In those post-college days, I ate meals out more often, brought the same strange lunch to work every day (a romaine salad with sunflower seeds, dried cranberries and balsamic vinaigrette) and generally stayed out of the kitchen.
But somewhere in the past five years, I started cracking open cookbooks, venturing online for meal ideas and trading recipes with friends. Why the change? For one thing, I grew tired of the dinner rotation my now-husband and I had going: stir-fry and pasta. I was also getting more serious about lifting at the gym and needed protein. Plus, it was fun! While I always liked baking, I realized that making home cooked meals brought an equally satisfying sense of accomplishment and enjoyment.
Now I'm constantly printing out recipes I find online, clipping ideas from magazines and harassing friends for their favorite meals. As 2015 draws to a close, here are 10 recipes I tried last year that I'm definitely planning to make again in 2016. I think you'll like them too.
Curried Cauliflower Chickpea Wraps from The Muffin Myth
I love this recipe not only for its deliciousness, but because it's totally freezeable. Make the wraps, swaddle them in some aluminum foil, pop them in the freezer and you've got a healthy last-minute lunch or dinner in the coming weeks. Just remember to have some plain yogurt on hand as a dipping sauce.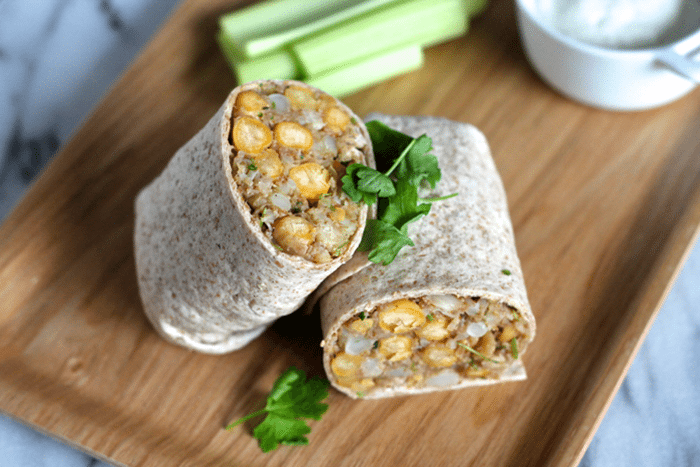 (Recipe and image by The Muffin Myth)
Stir-Fry Rice Bowl from Taste of Home
Okay, so I know I claimed to be "over" stir-fry, but this recipe really kicks it up a notch. It's completely different from the pineapple-chicken-broccoli train I was riding. FYI, I've altered this recipe slightly over time. I omit the bean sprouts and use shredded carrots (instead of julienned), sliced baby bella mushrooms (instead of portobello) and sriracha sauce (instead of the chili garlic sauce). The rest stays the same!
Slow Cooker Jerk Chicken from Hello Healthy
Slow cookers can be extremely handy for make-ahead soups and chili, but sometimes I get tired of variations on that theme. Enter this spicy jerk chicken. You'll be licking your fingers to get every last bit of sauce. Unlike other slow cooker chicken recipes that result in tender but none too crispy meat, this one recommends popping those chicken legs in the broiler for five minutes at the end. It was definitely worth it.
Braised Coconut Spinach and Chickpeas with Lemon from the Kitchn
My mouth is watering again just thinking about this dynamic medley of flavors. The recipe title doesn't even mention one of the best parts: sweet potatoes! I never would have put these ingredients together on my own, but it really works, and the sweet potatoes are a nice substitution for the rice you would expect this sauce to cover. Mmm.
Zucchini Pad Thai Noodles "Zoodles" from White on Rice Couple
A very dear friend gifted me a spiralizer this year, and it's brought my lunchtime game to a new level. Think of a huge bowl of noodles that are secretly veggies – that's basically the power of spiralizers. You can also use a mandolin to get the same thin ribbon-like shape. For this fantastic take on pad thai, I adjusted the quantities slightly: 3 zucchini, 2 tbsp olive oil, 1 pound cooked sesame ginger chicken tenders (grilled for free at Mariano's), ½ tsp garlic chips, 1 red bell pepper, 7 green onions, 1 cup of sliced baby bella mushrooms, 2 eggs, 1 bag (16 oz) of bean sprouts, 1/3 cup roasted peanuts, wedges from 2 limes, ½ cup bottled peanut sauce, sriracha to taste.
Avocado-Basil Zucchini Noodles with Chili-Lime Shrimp & Corn from Inspiralized
Another new spiralizer favorite. In my opinion, avocadoes are one of the best foods ever, so I was super excited to see it turned into a sauce for this recipe. One warning: don't try to double this recipe and make it last all week. The avocado gets icky. Stick to eating it within two to three days of preparation.
Pappardelle with Summer Squash and Arugula-Walnut Pesto from Food and Wine Magazine
Remember that friend who gave me the spiralizer? She also changed my life when she bought me a food processor! For a while there, it seemed like every recipe I wanted to try called for a food processor – granola bars, key lime pie crust, hummus. Only the day before she surprised me with this gift, I had clipped this pasta and homemade pesto recipe from Food and Wine Magazine. It's the perfect summer meal.
Vegetable and Rice Casserole from Hello Healthy
Look, sometimes I just want to throw a bunch of ingredients into a pan and call it a day. This no-fuss stick-to-your-ribs casserole is ideal for cold winter nights. I modified the recipe slightly by using only one onion, three cups of rice and less milk.
Cauliflower with Pumpkin Seeds, Brown Butter and Lime from Bon Appetit
I made this for Thanksgiving, never having tried it before, and waited apprehensively as my husband tasted the first bite. "Wow," he said. "They could serve this at Girl & the Goat!" Considering that's our favorite restaurant in Chicago, I knew I did well.
Butterscotch Brownies from Mark Bittman via Smitten Kitchen
Don't worry, I wasn't about to close out this list without at least one sweet treat. I approached this recipe with caution – no chocolate? What kind of faux dessert was this? A phenomenally yummy one, it turns out. I've made it several times since then with and without butterscotch chips, and surprisingly, I like it best plain (as if any brownie is "plain").
What were your favorites recipes of 2015? Which recipes do you want to try in the new year? Let us know in the comment section below!