Active City Guide: Rio de Janeiro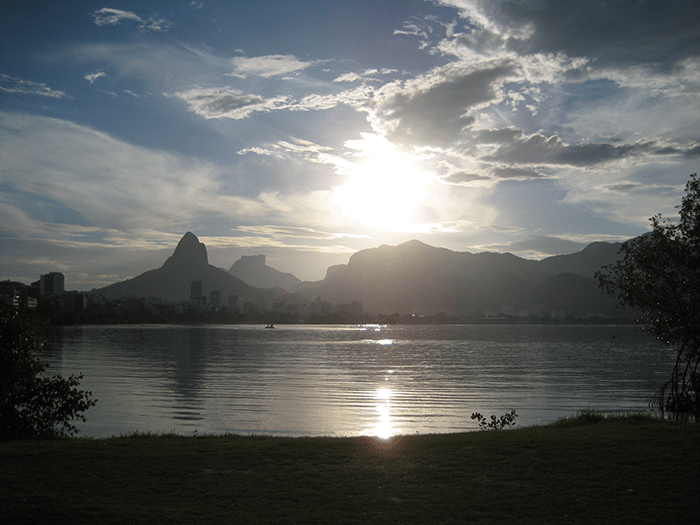 In August, the world's top athletes will descend on Rio de Janeiro for the Olympic Games. Despite concerns over crime, the Zika virus and sewage-infested waters, this huge South American city, which pulled it together for the 2014 World Cup, seems determined to welcome participants and spectators with arms wide open – like those of the Christ statue looming over the city from the top of Corcovado.
While you're probably not a prospective Olympian, you may still be interested in working up a sweat in Rio. (Side note: you'll likely be sweating the minute you step outside – temperatures hovered in the high 90s when I was there in February!) Lace up your running shoes, grab your sunglasses and spray on the DEET because these activities will get you quickly acquainted with Rio's great urban outdoors.
Hike Urca
From below, Urca looks like an impossibly sheer rock face, but a path does in fact traverse this jutting mountain, and it's a great way to escape the hustle and bustle of the city. As you hike through the shady green forest covering Urca's flank, you'll navigate a steep wooden staircase, gnarly tree roots and potentially slick mud. Keep an eye out for lizards of all sizes, as well as marmosets, furry animals who seem part-cat, part-monkey and part-raccoon.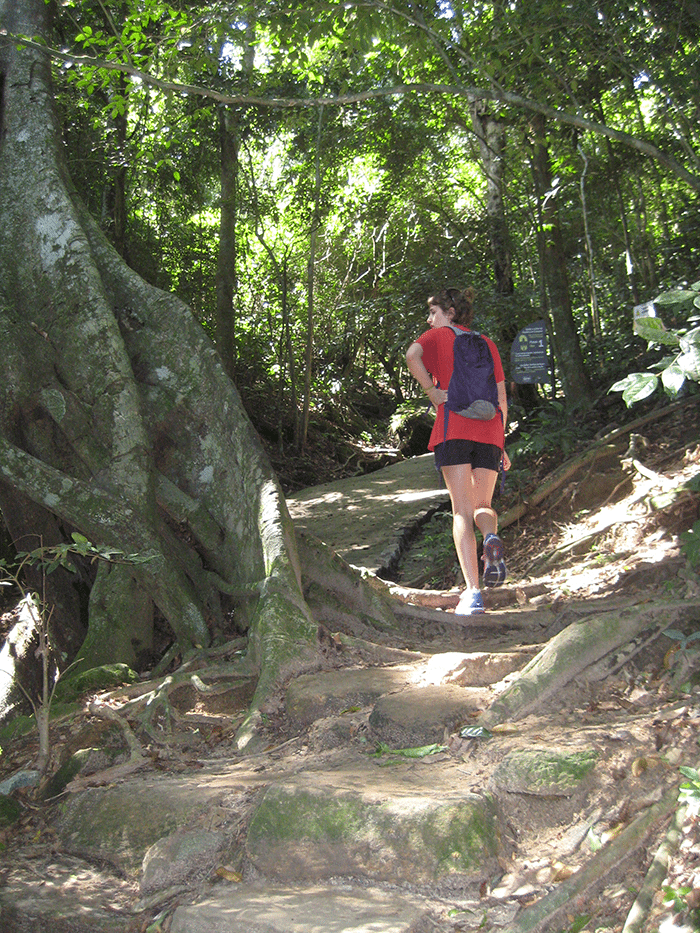 If the vertical climb doesn't take your breath away, the views at the top surely will. At the summit, cool off with a huge acai bowl topped with fruit or blended with ice cream as you admire the city laid out before you and the cool blue of the ocean below. Or elevate the views a notch by taking the tram to Urca's sister mountain, Sugar Loaf, which sits just next door.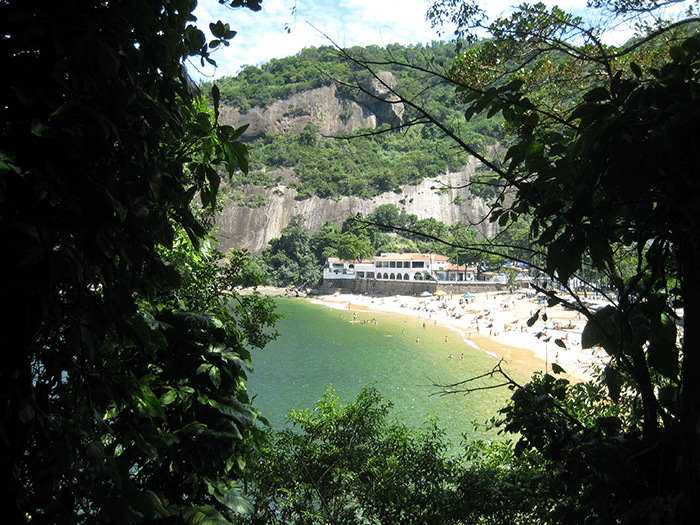 Pump Iron
Peering through a fence above a brightly colored mural of a woman lifting weights, I realized that what I thought was a playground was in fact a collection of lime-green workout equipment. My momentary confusion wasn't totally unfounded: doesn't it kinda make sense to think of outdoor gyms as playgrounds for adults?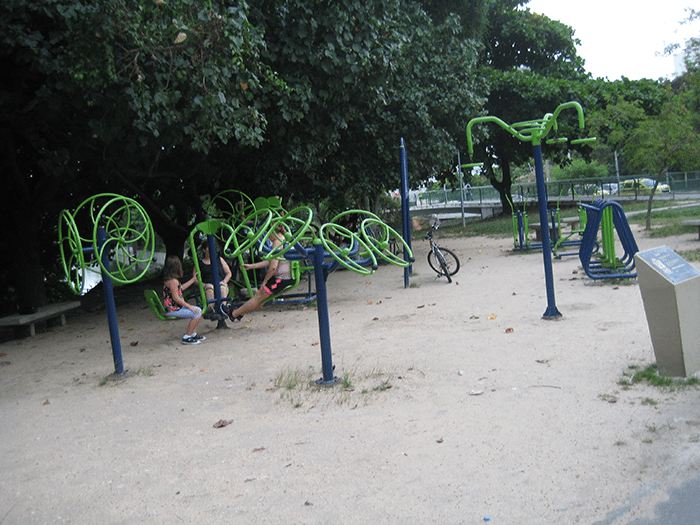 My husband sure thought so. As we were walking through the Laranjeiras neighborhood a few days later, he spied a barbell with massive cement cylinders on each end. Of course, he couldn't resist doing a quick deadlift.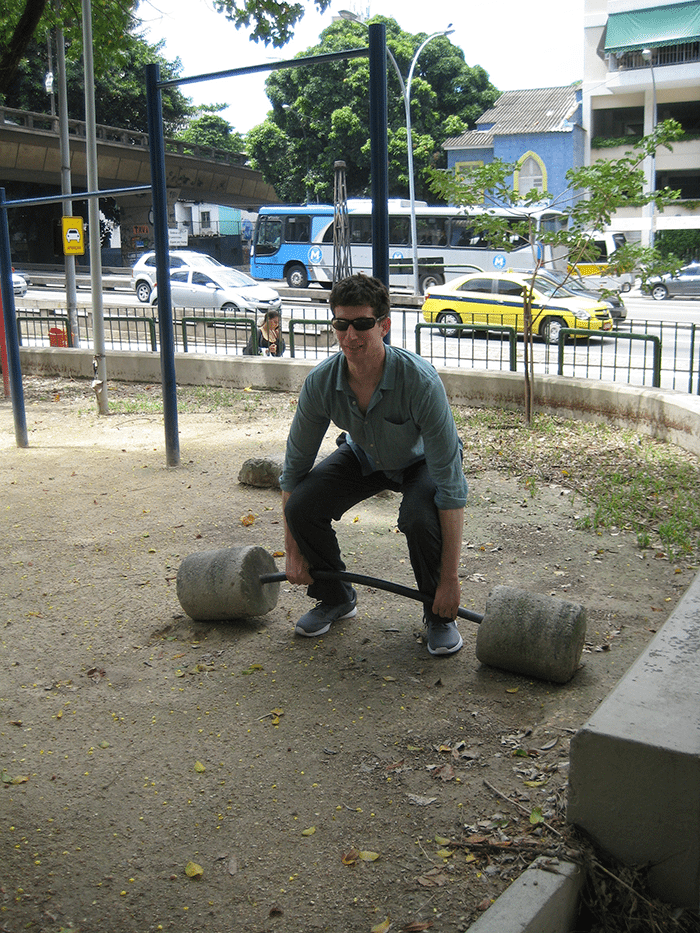 Free outdoor gyms populate Rio's parks, beaches and plazas, turning any location into workout central. I saw people of all ages doing pull-ups, chest presses, rows, lat pull-downs and so on at various outdoor gyms. You don't need a membership; you don't need permission. Just show up and get to work with the sounds of the city (or the ocean – heck yeah!) serving as your inspirational soundtrack.
Loop the Lagoon
The 4.6 mile paved path around Rodrigo de Freitas Lagoon attracts runners, walkers and bikers, as well as tennis players and members of the private sports clubs on its borders. Nestled in Rio's Zona Sul, this lake-like lagoon touches many of the city's vibrant neighborhoods: Ipanema, Leblon, Gávea, Jardim Botânico, Copacabana, Botafogo and Humaitá.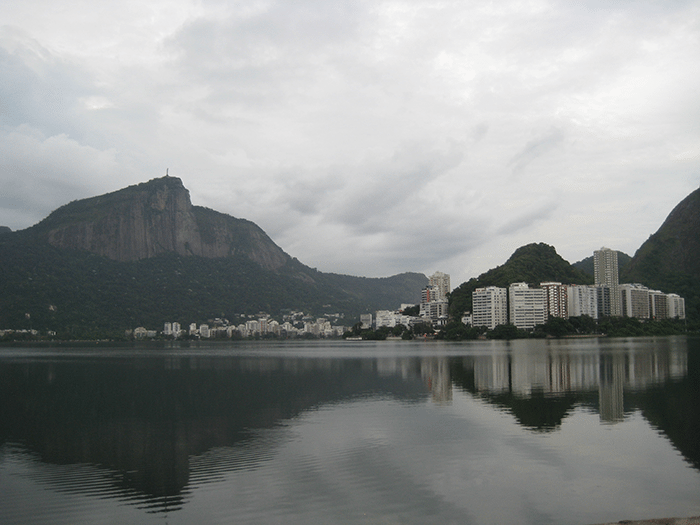 Consider renting a surrey – one of those multi-person bike-cart things – if you're with a group, or just hit the path on foot. When your legs grow tired or the heat becomes unbearable, take a quick pit stop at one of the coconut stands lining the path. Settle down on a bench, sip your sweet drink and watch the world pass by.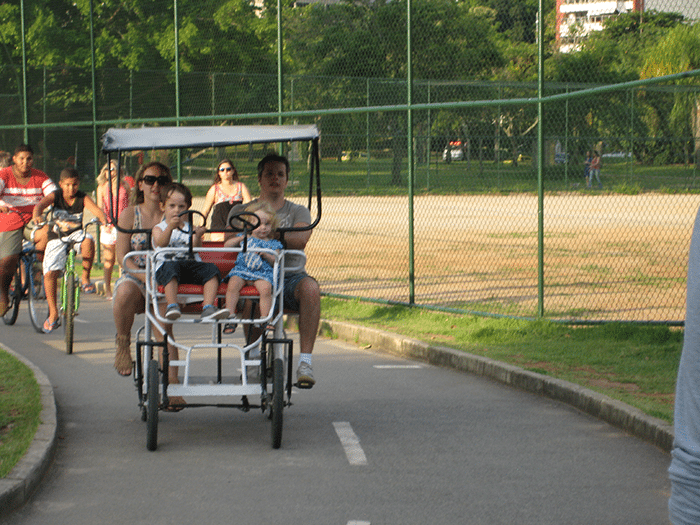 Wave Rider
Get out on the water to experience a full-body workout. At the southern edge of Copacabana Beach, join fellow stand-up paddleboarders for an hour or two of surf and sun. Your abs will burn (but hopefully not your face – put on sunscreen!) as you paddle out beyond Rio's striking skyline.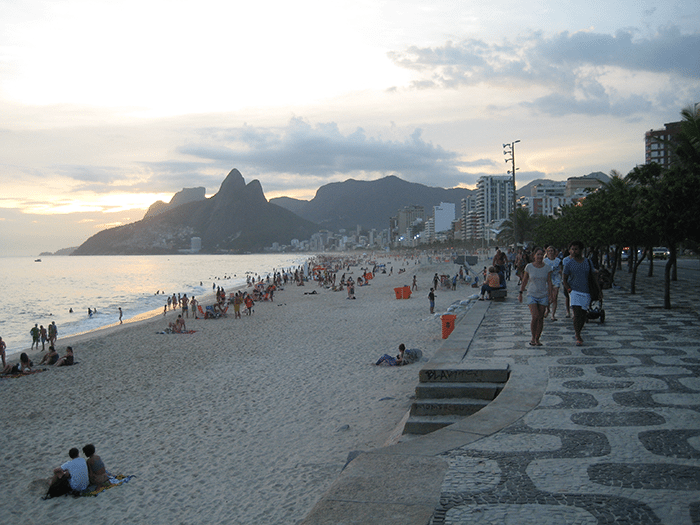 Rent your boards – and tack on a lesson, if needed – at Surf Rio, near posto 6. Thanks to the exchange rate, a one-hour rental plus instruction is less than $20. Ride on!
Have you worked out in Rio? What do you recommend? Let us know below!