Couple Celebrates 2015 Chicago Marathon Engagement at 2016 Race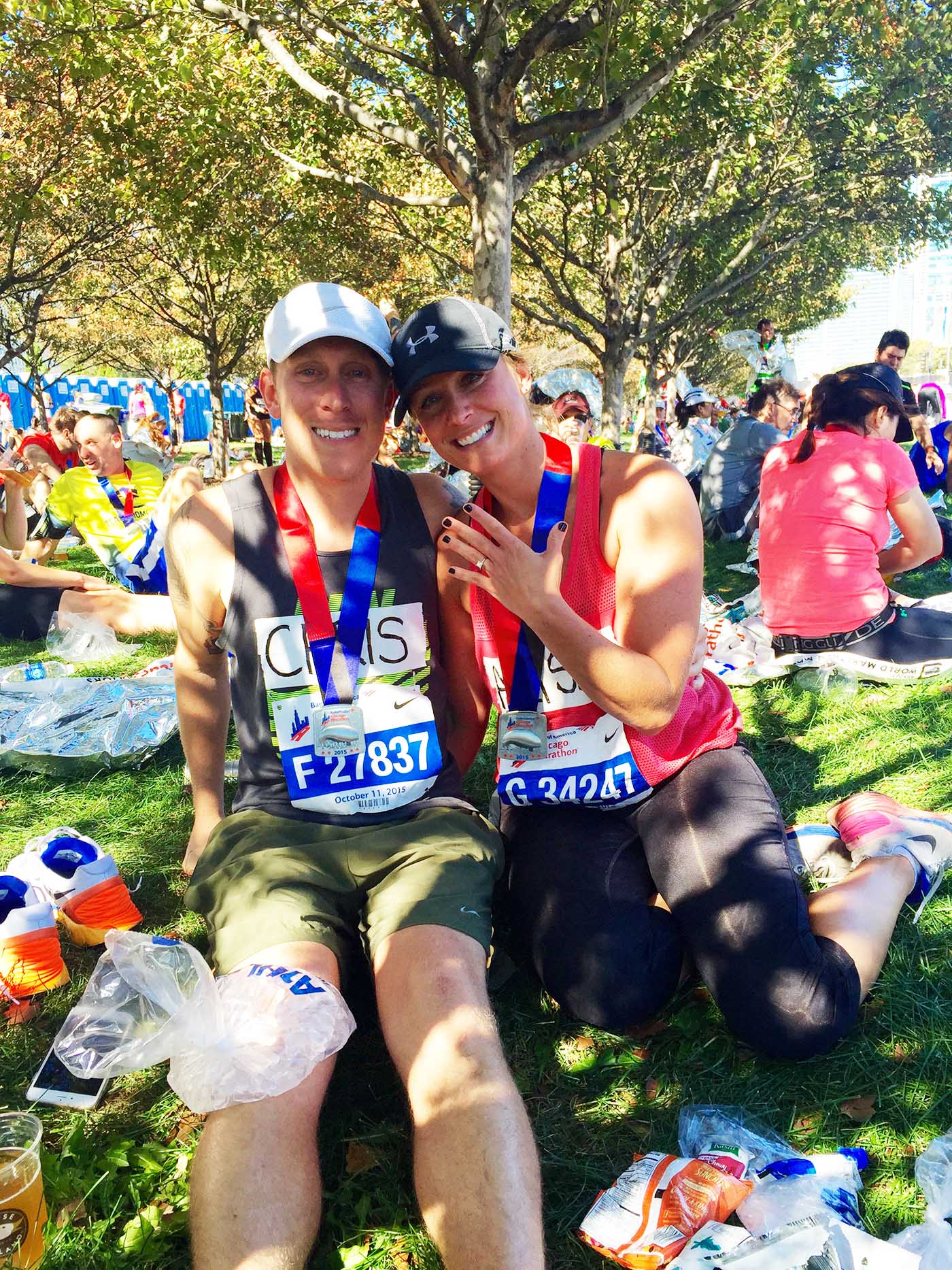 If you've ever talked to anyone who trained for and completed a marathon, you've probably heard the word "emotional" used to describe the experience. For most first-time marathoners, they accomplish that distance for the first time on race day. It's not an exaggeration to say that emotions oscillate wildly between pain, excitement and sheer awe over what the human body can do.
For Alyssa and Chris Harrell, there's another facet to the emotions of the marathon.
If you subscribe to our email newsletters, you've seen our enthusiasm for the act of connecting with strangers. When I saw the Harrells in an elevator wearing their medals after the 2016 Chicago Marathon, I expressed my congratulations.
In a nine-floor elevator ride, the couple shared the special meaning of the Chicago marathon course to them  – they got engaged on it in 2015 and were married shortly before the 2016 race, which they ran together.
I chatted with Alyssa about the couple's love and love of running (this interview has been edited and condensed).
aSweatLife: You were engaged on the Chicago Marathon Course in 2015 and married shortly before the 2016 race. Can you tell us the story of your engagement? Was there a special meaning to getting engaged on the course to you?
Alyssa Harrell: The Chicago Marathon was the first marathon we've ever run and it was a goal that we had set early on in our relationship. We were both runners, in the sense that we used running as morning exercise, and once we started dating we started pushing each other.
In 2014 we ran the Lincoln Presidential Half Marathon in Springfield, Ill. and once we finished the race we decided that 26.2 was the next goal. We kept our training going through the winter and by spring we knew the Bank of America Chicago Marathon was a realistic goal. The marathon was already sold out so we bought our bibs second-hand. Nothing was more exciting or nerve racking as finally telling people that we were indeed going to run Chicago.
Chris had already bought a ring and was trying to figure out the perfect way to propose, and the night before the marathon he knew the next day was THE big day. His best friend, and ultimately his best-man, was at mile 22 ready to record the big moment. Chris got down on one sore knee, asked me if I'd spend the rest of my life with him and the rest is history!
ASL: How was the rest of the race, post-proposal?
AH: The remaining 4.2 miles lasted FOREVER. We laughed, we cried and we fought through every emotion to finish our first marathon. We called our families and friends and told them the news. It's still the most "liked" photo on our Instagram accounts.
ASL: What was different about this year's race after last year?
AH: This year's race was completely different than our first. In 2015 we just wanted to finish, to push ourselves, to struggle across the finish line, get a medal and collapse. This year we wanted to finish without injury and with a time that we felt reflected our training. We ran it together, step-by-step, and finished in 4h 8m 19s.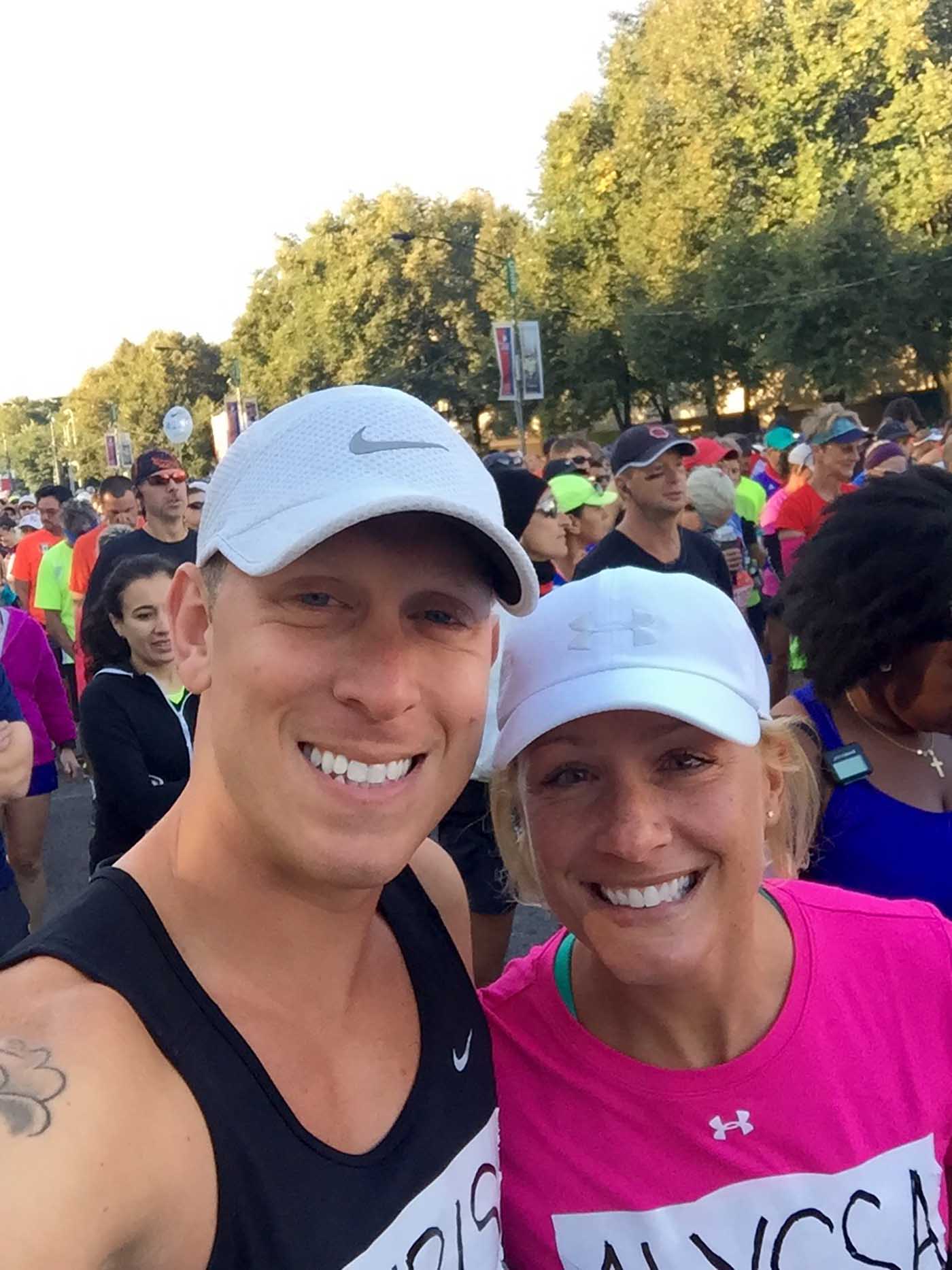 ASL: How did you meet?
AH: We met in high school, grew up five minutes down the street from each other and have been friends for 17 years. At our 10-year high school reunion (which Chris organized) we exchanged info and from there our relationship took off.
ASL: As an active couple, do you train together or separately for races and other goals?
AH: We train together all week every week and have since we met. We walk our dog together, we run together and we work out together. In the winter we usually use the gym in the building and in the spring, summer and fall we are always outside. Most of our friends think we are crazy, and we probably are, but it's just the way we like it!
Have an active love story? Share it in the comments.