Find Your Motivation Through Community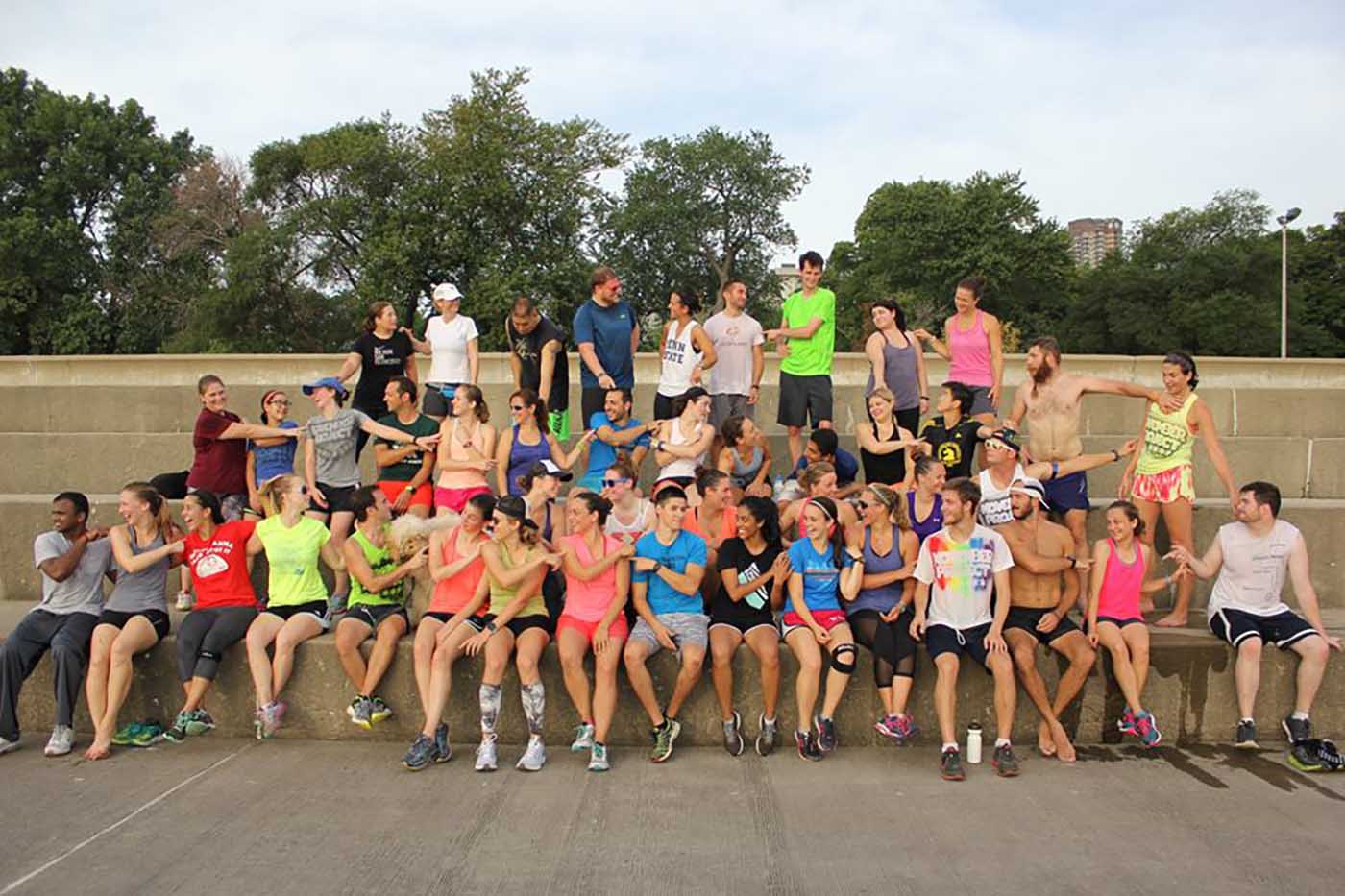 (Photo Courtesy of Emily Rowlands and November Project Chi)
I get asked all the time from friends, family and coworkers looking to add regular exercise to their routine how they can get themselves to the gym every day. My answer is always the same – what motivates you outside of working out? Since I was young, my mom instilled two intrinsic paths to joy in me: getting a good deal and surrounding yourself with friends who become your family. These have been my motivators for everything from shopping for clothes to choosing which city to live in. It's only natural that I taught myself to love fitness the same way.
Three years ago, I was not the same person I am today. Fitness was barely a part of my life.
I don't inherently love running. I couldn't always do a pull-up. I couldn't even ride a bike until a year and a half ago. I had never seen an ab on my own body until late 2014. Wrapping my head around making fitness part of my routine was a serious challenge for me, until presented with a path to applying my motivators to fitness.
The first motivator to kick off my fitness journey was getting a good deal. In 2014, Nike started a "resolution crew," which not only gave me access to three free workouts a week with Gina Caifano, but whenever we visited a gym, they gave us a free week trial to come back. When someone gives me something for free, not taking advantage of it is the equivalent of setting money on fire, so I found myself rapidly hitting the gym three, four, even five times a week to take advantage of all of these new opportunities. After the freebies ended, I milked every first-timer discount and Groupon deal I could find.
A few months passed, and although, even now, I am well known for taking advantage of as much free fitness as I can find, my motivation has shifted. When I started working out, I thought it was supposed to be about making myself physically better. No one ever warned me that fitness was going to improve my soul. No one told me it would make the big city of Chicago turn into a teeny community full of hugs. When I learned for myself about the community fitness brings, that's when I learned to love fitness.
Photo Courtesy of  November Project Chi
Last week, I skipped from my day-job to a meeting with Team aSweatLife, followed by a workout with the one and only Jeana Anderson Cohen and one of our photographers, Christiana Basso. Not because I had to, but because my very favorite thing about aSweatLife is the community it's brought me. The full-time staff, the writers, the photographers, the #Sweatworking attendees: they bring me so much love and motivation. Our workout started and ended with hugs that gave me warm and fuzzies.
I rolled home at 9:30 pm, shoved the fish tacos my amazing husband made for me in my mouth, and crashed hard (and then woke up at 2 am because apparently housing tacos and going straight to bed is not something my tummy enjoys? But that's another story …). I woke up at 5 am, thought about all the fun I'd miss at November Project if I hit the snooze button, biked downtown to the Bean to meet up for NP's 6 am Friday session. Again, I was met with the most love-filled hugs (even from perfect strangers), a good sweat, and by 7 am I could not stop smiling on my way into work.
Everyone has their own motivation. Maybe you're embracing the hour a day that your husband agrees to watch the kids so you can go for a run. Perhaps you had a health scare and need to lose weight to literally save your life. Or maybe, like me, you just need more hugs to fuel your happy. No matter what your motivation is, let it drive you. Let it get you out of bed in the morning. Let it be your sunshine through the cold Chicago winter. And don't forget to share it right back with others and drive their motivation, too.
Let us know!
Did this post help you get closer to achieving one of your goals?