Landing Lightly: One Trick to Save You From Running Injuries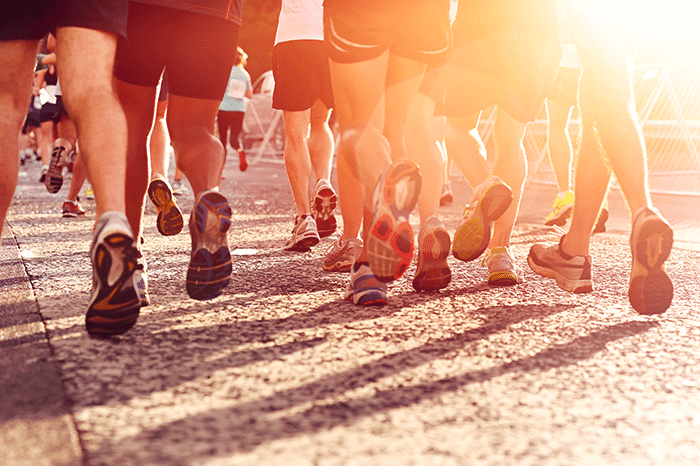 This is a magical time of year. All of the Chicagoans begin to emerge from their homes, where they have been hiding for months, and appear along the Lakeshore Trail. Runner, bikers, even rollerbladers, there are more people moving than the first week after New Year's resolutions. For those of us who kept cross-training all winter, you might suddenly see yourself hitting new personal bests during your first few runs of the year, or feel able to run longer and farther than you could last fall. The flurry of races begin to look exciting and appealing and training for all of them sounds fabulous!
Slow down just a moment. As someone who spent two months of Autumn recovering from injury, I know that getting outside and running three days a week, all of the sudden isn't a great idea. Sure, the sun feels great on your skin, and you love the extra time to think as you jog up to Montrose Harbor, but it's important to be mindful about preventing injury when we run so that we can keep running all season long.
Fortunately, a recent study conducted by Irene Davis, Director of the Spaulding National Running Center showed that just one thing could be the key to injury prevention: landing lightly. For years, we have heard about focusing on where our foot hits the pavement, in particular mid-foot strike over heel strike. We've even heard from those who swear by barefoot running that shoes with thinner soles can encourage mid-foot strike and therefore decrease injury.
In this research, study participants were limited to heel-striking runners. All participants wore neutral running shoes and the researchers measured their gate and the force with which their feet hit the ground. In addition to reporting prior injuries, participants tracked their weekly mileage and any injuries – and whether or not they sought medical treatment – for two years.
The results might surprise you. Of the 249 participants, 21 reported never being injured prior to or during the study period. On the other hand, 103 runners reported injury so severe that they sought medical attention. When comparing these two groups – those who were never injured versus those with an injury diagnosed by a medical professional – the researchers found that the injured group has significantly stronger force hitting the ground with each step. The never injured group could run just as far, or farther, without injury by striking the ground lightly, even though they were striking at the heel.
So what does that mean for you? First, think intentionally about striking the ground lightly. Dr. Davis recommended imagining landing on eggshells or gliding across water as you run. As you stride, think about trying to be lighter on your feet. Just the consciousness of how you land could be enough to help you. Second, the idea of working towards mid-foot strike still might be able to help you. For some people, mid-foot strike may naturally help you land softer.
Finally, pick up a pair of running shoes that are well cushioned and designed for your specific landing pattern. A good running store (I'm a big fan of Fleet Feet) can help measure how you land and help you pick out shoes that will give you the proper support to minimize the force with which you hit the ground. It's important to get new running shoes regularly (I work out six days a week and usually get new sneakers ever 4 months or so), as the cushioning wears down over time.
Once you perfect your light landing, you'll be ready for a long and healthy race season!