Learning to Meal Prep With KitchFix
At asweatlife.com, we embrace almost anything that makes living a healthy life easier. Because of that, we've got a lot of love for KitchFix. So when the healthy grab-and-go and delivery meal service opened its arms and its kitchen to us, we leapt right in for a healthy eating workshop with the brand.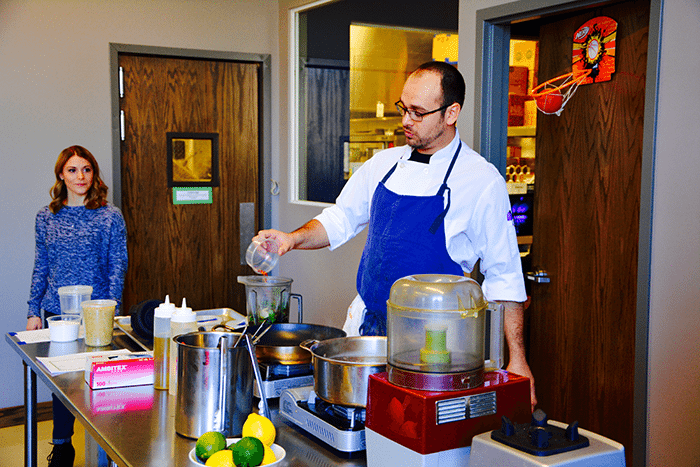 (Photos in this post by Cass Gunderson)
At the helm of this cooking ship was KitchFix's Catering Chef Joe Lessard who was assisted by Registered Dietitian Katie Deboo, who could speak to the nutritional value of what we were eating.
Because almost everyone can think of something they'd rather do than spend an entire day in the kitchen, we focused on foods that can be pulled together quickly. We walked away from our Saturday afternoon with our bellies full of healthy eats and our pockets full of recipes.
The menu was simple and packed with flavor. We made a chicken salad with a homemade aioli,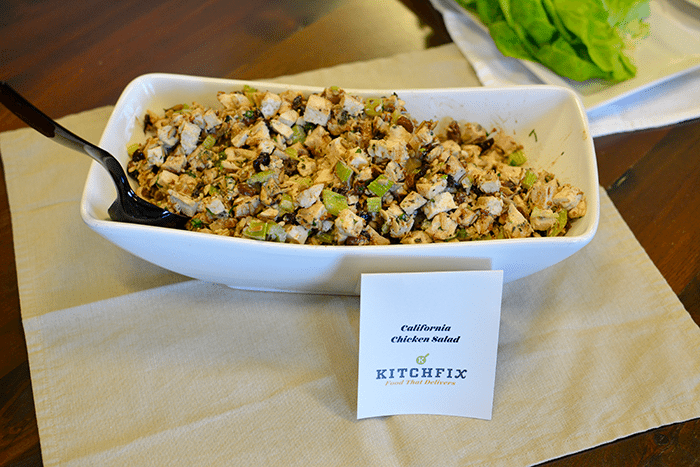 a Power Green Quinoa Bowl (which Lunch Bunch subscribers are eating as a part of their lunches this week)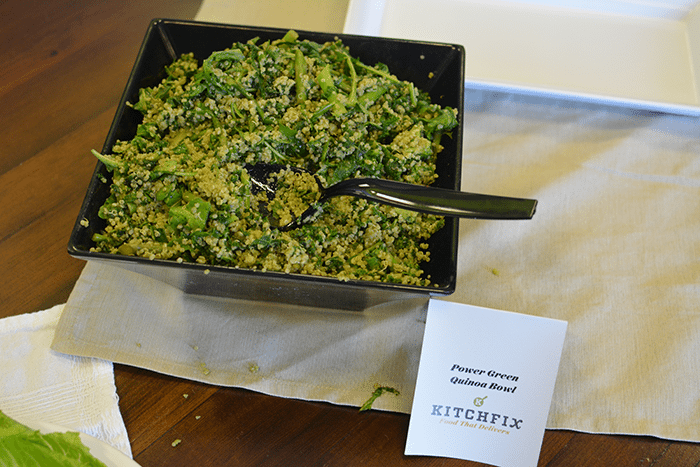 and roasted nuts.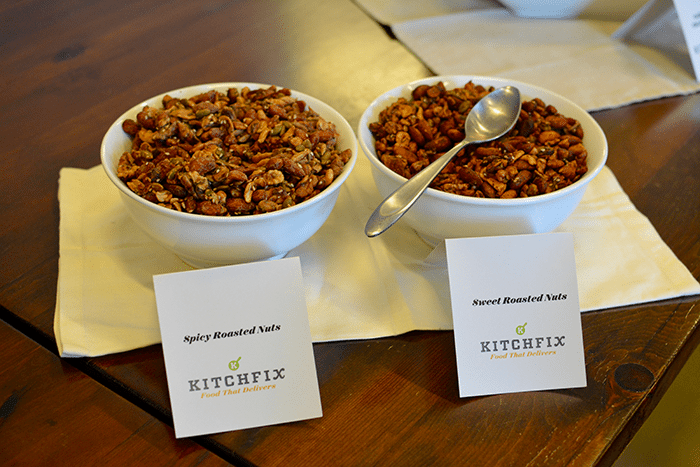 KitchFix also spoiled us with paleo granola and paleo muffins, but those recipes stayed in the vault.
The great thing about attending workshops and events with aSweatLife is that you always get a little something special and exclusive for being there. So attendees have three recipes that will makes their summers brighter and healthier.
But we won't leave you totally in the dark. We're sharing two trade secrets with you.
The magic quinoa method:
Chef Joe taught us a life-changing way to make quinoa that is completely set-and-forget. I know that it's truly spectacular because I've used it in my own meal-prep since the workshop. Prepare your oven. We're making quinoa.
Preheat oven to 350 degrees F
Combine 1 cup quinoa, 1.5 cup water (this is the ratio for this method 1 part quinoa to 1.5 parts liquid) and salt and pepper to taste in a shallow pan. I use a dutch oven with a heavy lid and that works. Cover your pan (if you're not using a dutch oven) with aluminum foil.
Bake in the oven for 45 minutes
Remove cover and fluff with a fork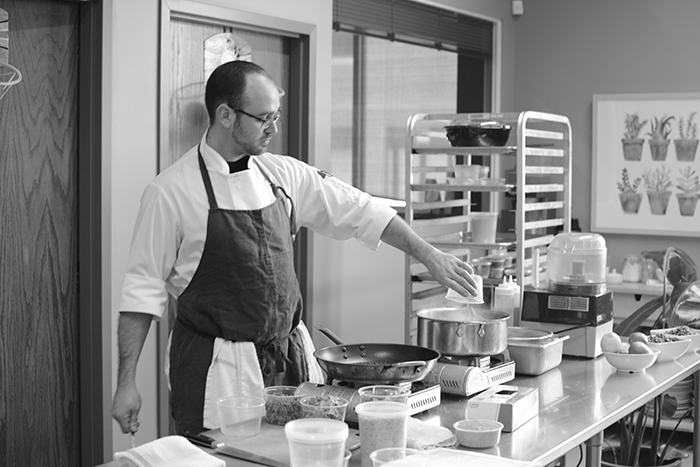 Making an emulsion:
Some of your favorite sauces and dressings are emulsions – or the combination of oil and water that doesn't separate. The trick to an emulsion is to slowly add oil to the mixture. We made aioli – mayo by a fancier name – and a sauce for our quinoa , which both used this emulsion method.
If you love a good sauce the way we love a good sauce, a food processor a high-powered blender (like a Vitamix) is a great investment.
If you like aioli (Mayo), but you wonder how that stuff is shelf-stable (a question you might want to ask yourself about a lot of food in the middle of the grocery store), you can make your own. Here's how.
Ingredients:
2 egg yolks
1 T lemon juice
1 T water
1 clove garlic
1 T Dijon Mustard
1/2 tsp salt
1/2 tsp pepper
2 cups grapeseed oil
Directions:
Combine all ingredients in the food processor – except for oil
Blend
Slowly drizzle oil until you reach your mayo-like thickness. If your food processor has the slow-drizzle attachment – you'll know if you have it if the plug for your lid has a small hole in it – this is the perfect way to use it.
Want to join us for workshops and workouts across Chicago? Join our email list and keep your eyes out.