20 Tips to Keep You From Skipping the Gym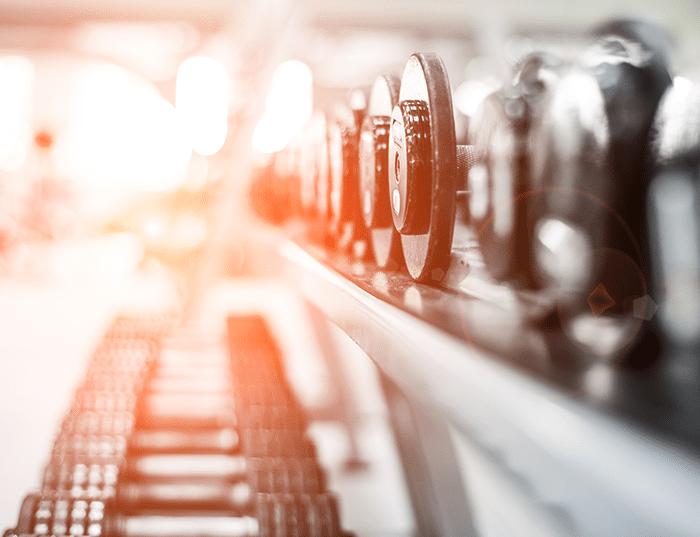 Have you been trying to pressure yourself into getting to the gym ever since January 1 rolled around? I bet you're finding your willpower is shrinking, quickly, and it's only February. One month into the New Year, we're giving you a free-pass to re-set by implementing new strategies that will keep you on-top-of your daily fitness routine.
With some habit-forming tips and workout "fitspo" (aka fitness inspiration), we've compiled 20 gym-enthusiast approved hacks to get you up and out, every day. Try them out over the next month and let go of any particular tips that don't work for you. Getting to the gym is all about building a routine that fits your personality, schedule and preferences.
20 Tips to never skip the gym again:
Make it enjoyable: First and foremost, find something you love. Hate running – don't do it. Love dancing, groove to the music for an hour. Whatever gets you moving, do just that. 
Plan a date: When was the last time you stood your friend up for drinks on a Saturday? Exactly – probably never. Plan a fit-date with a friend, put it on the schedule, show up and repeat. Working out makes for a great weekly catch-up with friends. Or, join us at #Sweatworking – networking, mingling and sweating with like-minded friends in the community. 
Start small: We have a tendency to want to run a marathon before we can even walk. Start small (a great tip from Zen Habits) by implementing a daily walk around the block into your routine. Once that becomes habit after a few weeks, try jogging once around the block; than twice and so on. Build a simple habit that can (and will) transform over time into a more intense fitness regimen.
Be a teacher's pet: When you first set out on your mission to get to the gym consistently, get friendly with the staff and instructors. That way, they know your face and will hold you accountable. If they don't see you for a few days (or say a week), trust us, they'll check in. Read more about that here.
 Make a mantra: This is your word or phrase to come back to when the going gets tough. When you simply have no inspiration for the gym or don't have the energy to get through a run. Take a deep breath and repeat your motivating mantra over and over in your head. This will trigger the endorphins and energy you feel during a workout to get to the gym or push through your workout wall. My mantra: You are stronger than you think.
 Treat yourself: Associate your workout habit with a positive "treat" upon completion of your sweat session. For example, when I run six or more miles on a hot summer day, I treat myself to an iced coffee. If you wake up for that early morning workout, splurge on a green smoothie from your favorite juice bar (like Real Good Juice Co.). Little doses of healthy inspiration will create positive reinforcement for your workout habit.
Acknowledge weaknesses: Willpower doesn't always work. Implement strategies to avoid points in your day that prevent you from getting to the gym. For example, I know that if I go home after work I will never get back out the door to a workout class. To avoid my weakness, I always pack my gym bag so I go straight from work to the gym. When the temptation isn't there, you can't give in.
Prep ahead of time: Pack your gym bag, plan your transit route and set your specific workout routine the day before your workout. When the planning is done ahead of time, the execution takes less thought and energy so you're less likely to give-in. 
Let it be known: Be your own cheerleader. Tell everyone you're going to the gym, share it on social media and don't be afraid to say "no" to other plans because you're going to the gym. It's a date with yourself, and an important one at that.
 Set reminders: Set your alarm for 30 minutes before your workout, schedule it on your Outlook calendar or write a sticky note on your fridge. The more you see your reminders, the more engrained it will be that you need to go to the gym.
 Track your progress: Print off a blank, one-month calendar. Write in every workout completed each day (after it's complete). Rather than forcing yourself to abide by a pre-planned schedule, this documenting style celebrates the work that you actually do. After the month, you can see your progress and identify trends where you tend to skip workouts or get your best sessions in. Next month, plan to take your rest day on days you can't seem to get the energy to get to the gym, and plan your toughest workouts on days you're always feeling committed.
 Leverage accountability: Can't seem to hold yourself accountable? Use an app. like Class Pass to do it for you. It charges you $20 if you skip your pre-scheduled class.
 Let something go: Let's be honest, we can't do it all. Implementing an hour of exercise in your day will require you to give something up (like, maybe watching The Bachelor every Monday night … just saying).
 Implement repetition: Mondays are for yoga. Workout every morning. Attend Thursday run club. Whatever it is, find a repetitive pattern that you can adopt; it will become second nature over time.
 Think positively: Try to focus more on what you love about working out and the overall workout experience. That warm fuzzy feeling will provide more incentive for you to do it again. Truth: I love going to the gym in winter so I can sit in the steam room for 10 minutes when I'm done. On Mondays, I have a spin class I always go to because the teacher has the best playlists. These simple things get me there.
 Set the bar low: Tell yourself you only need to run on the treadmill for five minutes. That seems pretty easy to commit to, right? With a small goal, you're more likely to actually get on the treadmill. Once you're on the treadmill, we promise it will be 10 minutes before you know it. Set the bar low on days you don't feel motivated and in most instances you'll surprise yourself once you get moving.
 Create a to-do list: Chores, errands, exercise. They're all equally as important so they all go on your to-do list. Now, create a schedule that incorporates all the items on your list that is logical and efficient. We promise you'll feel so good when its noon on a Saturday and you've grabbed the dry cleaning on your way to the gym, hit up yoga, stopped at the grocery store on your way home and cleaned the house because you're buzzing with energy after your workout. Saturday accomplished.
 Find a community: There are so many fitness communities that will welcome you with open arms, if you look around. My personal favorite: Lululemon Chicago Run Club. After a few trips to the store, I finally took them up on the offer to join their crew for weekly runs and yoga sessions … all for FREE. I instantly had a schedule, a training plan, a certified (amazing) coach and accountability buddies who helped me finish my first marathon. Find your tribe and love them hard.
 Share it: #FitFam, #UpNOut, #morningmotivation #Pack. Get social with your fitness and share your achievements with friends and family who can cheer you on and hold you accountable. It feels good to finish a sweat session and humble brag about it. Bonus, you're probably motivating at least one other friend/follower to get off the couch and get moving.
 Express gratitude: We tend to forget that running, skipping, jumping, lifting weights, dancing swimming – whatever form of exercise you choose – is a privilege and not everyone has the gift. Cherish your gift and celebrate it every day by moving in some way. Channel inspiration from friends or family who might not have the opportunity to move as freely as you can, and exercise in their honor.
 According to Lifehack.org, making any new habit stick takes time; 30 days to be exact. Repetition and routine will form a habit that's second-nature over the course of a few weeks, however to get your fitness program rolling, use some of these tips and tools to gain motivation, momentum and consistency.
Our biggest and best motivator however, that we'll leave you with:
Always remember, working out is meant to be enjoyable and fun so don't stress over it. Work out and acknowledge how good it makes you feel and that will keep you coming back for more.