Three Times the #Sweatworking Fun at Studio Three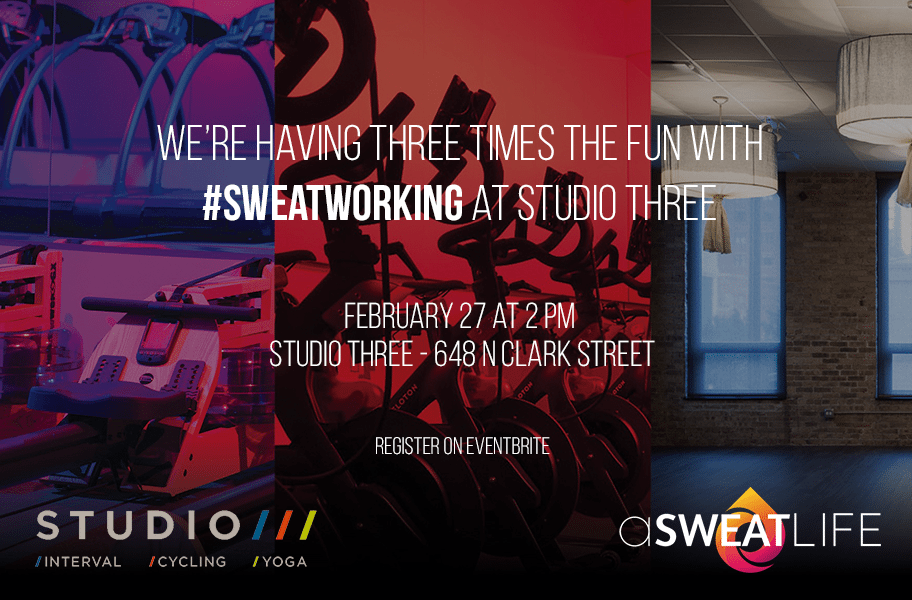 It feels only fitting that in February, the shortest month of the year, we would really kick things up a notch and do as much #Sweatworking as we could muster. We're not just trying to take over your weekends (I mean, we kind of are), we're also trying to keep you on track to achieve your goals that you set in January and have some fun together along the way. And so we bring you #Sweatworking February 27 at the newest gym to take over River North: Studio Three.
Taking over a building, gutting it and turning it into a fitness hot-spot – like Studio Three's team did – takes time and effort, but all of the time we spent walking by the building, peering into the construction and hoping to catch a glimpse was worth the wait.
Once it opened, we were delighted to find the care that was put into the build out. There are three distinct fitness entities on the three different floors within this massive 16,000 square foot building – A floor for interval training, a floor for cycling and a floor for yoga. Each floor, features its own check-in station and set of lockers, so if you only care about interval training, you never have to venture up to the yoga floor.
And we're going to take all three of those floors and all three of those disciplines over for this very special #Sweatworking.
We always try the classes that make up our #Sweatworking events. Here's what you can expect from all three:
In Interval, you're going to use three stations of different equipment, including but not limited to TRXs, treadmills, steps, rowers and more. You're definitely going to get to rock a water rower and you'll definitely spend some time on a treadmill.
In Peloton, you'll experience a brand of cycling that can be described as "technology-abundant." If you love data and crave information on your own performance  (if you're a fitness nerd like I am), you'll feel your heart flutter when you walk into the dark cycling space to find that each bike is equipped with its own tablet.
In yoga: Climbing the stairs to the top floor, Studio Three takes on a noticeably calmer vibe. The yoga studio at the top of the stairs is large, airy and comfortable. Outside of spacious studio, you'll find enough yoga mats for everyone – so if you forget to bring yours, you're covered. We'll flow in that studio, but we won't promise anything totally meditative.
Will we see you there?