When I first arrived in Quito, Ecuador, I was concerned that my fitness routine was going to take a big hit. While I found a place that had a pretty dynamite cycle instructor, the equipment throughout the rest of the gym was antiquated, and there was little of it. Additionally, after some extensive searching, I could not locate a Vinyasa flow yoga studio to write of; having come off of daily CorePower Yoga Sculpt classes, I felt deflated with my meager findings. Lo and behold, though, Quito has offered something even better than gym and studio classes. This equatorial city has proffered up abundant opportunities to get my sweat on in very inspiring surroundings.
My first case in point: Parque La Carolina. Parque Carolina is a bustling place, especially on weekends, with people of all ages filling the many soccer, basketball, volleyball and tennis courts located in the interior of the park. Also notable here are the numerous sit-up and pull-up stations that you will find on the east side of the park; bring your workout circuit outside! If you run your way around Carolina, you have logged about 2.5 miles in your kicks, which, at over 9,000 feet, may be enough for the day. When I am jonesing to sync with, or feed off of, other people's energy, I head there.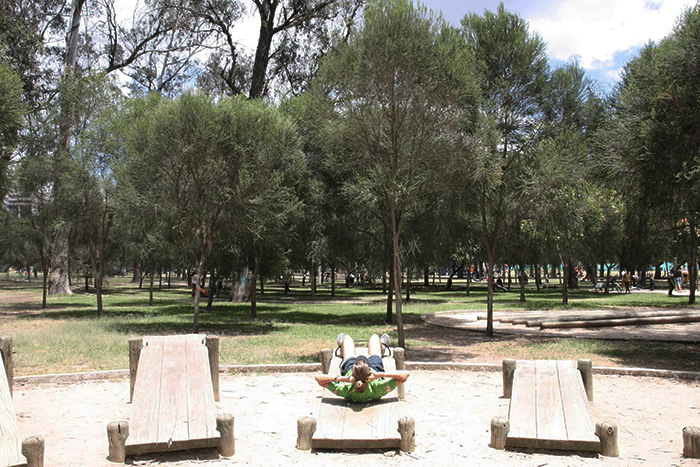 The place to be if a bit more solitude is what you are longing for: Parque Metropolitano. Located above the basin of the city, this park boasts fresher air and amazing views of the valley below, and even of the nearby volcanoes on clearer days. Here you will find 1,376 acres of trails where you can hike or get your mountain bike ride on. As you feel the burn marching up some steeper inclines, you will also cross paths with beautiful structures and sculptures scattered throughout the open spaces, in between the thousands of eucalyptus trees.
Now, if you are looking for more than an incline to trek up, the next place to head to: Rucu Pichincha. Rucu is one of four summits of one of Ecuador's still active volcanoes. Located a stone's throw distance from the center of the city, within 30 minutes you can hail a taxi, hop on the Teleferico and begin climbing. Rucu's summit rises to 15,413 feet, making it a boast-worthy feat. The proximity to the city, and rather quick ascent (in comparison to many of the other Andes you may climb), make Rucu a fine choice for a morning and afternoon trek, followed by a nice siesta and then a celebratory dinner.
One of the most unique activities to Quito: the Ciclopaseo. Starting in 2003, the city began shutting down Amazonas, one of the main roads that runs from the north of the city to the south for people to enjoy a traffic free jaunt or ride. Today, each Sunday the street is closed to cars on one side from 8 am to 2 pm for people to bike, skate or run past Parque Carolina, Parque Ejido and then through Centro Historico, the Spanish colonial part of Quito.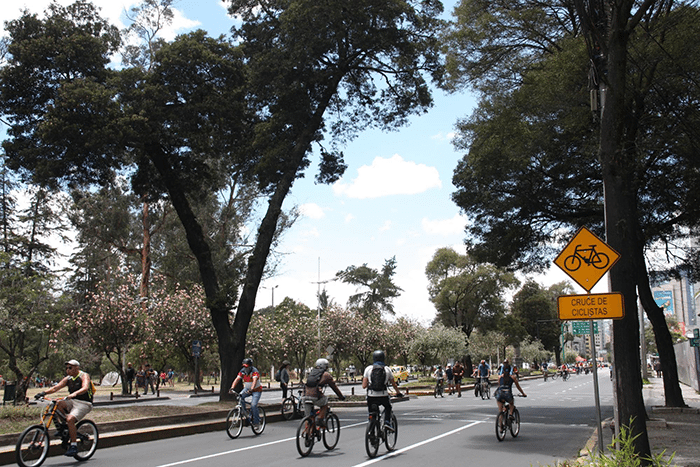 Finally, if you're an early riser, or at least willing to endure the sound of your alarm clock at 4 or 5 am, the thing to take part in: one of Quito's many road or trail races. One of my favorites is the WeRunQuito 10k. As you run through the city, your heart beats with 9,000 other competitors, while hundreds of spectators cheer you on with bells and whistles. If you are an endurance athlete, you may also be interested in partaking in a 20k, or yes, even 50k, organized just outside of the city. And, for those who really want to test their brawn, the Big Kahuna, the Urqu Ultra Trail Race. Either alone, or with a partner, you complete 70 kilometers of trail running around Ecuador's Cotacachi volcano and the surrounding town of Cuicocha. Only in Ecuador, friends, only in Ecuador.
My routine here has changed. After teaching at school, I don't head to the gym. I head home to practice yoga while looking out to Pichincha, or I get to workout in the midst of the pulse and energy of the city. Yes, Quito has presented me with many gifts, perhaps especially so in this vein. And when you are in town, she will share these that get your ticker going with you too.