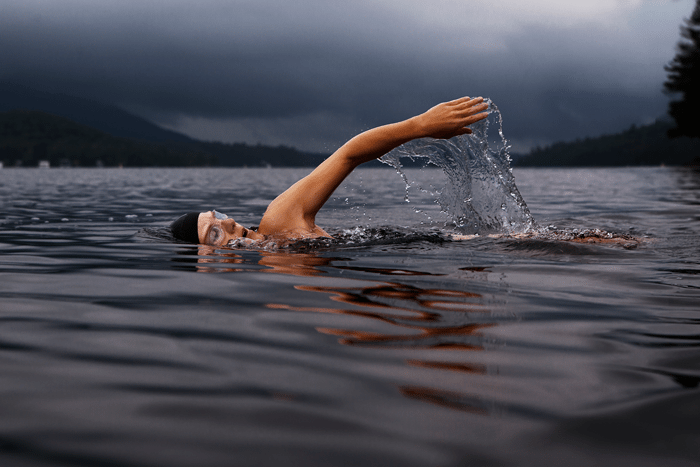 "When things get hard, go back to what brought you here. Remember your 'why' and use that to get you through your class today."
This sentence has come out of my mouth so many times over the past few months – and I mean every word of it. It's important to understand and ground yourself in WHY you're doing what you're doing.
In life and in fitness, finding your reason and having a clear vision of what you'll accomplish by doing something makes it a lot easier to accomplish that thing.
But when people talk to me about aSweatLife, they don't ask me why we're doing it. They ask questions about money and time – things that make pragmatic sense. With all of those questions floating in front of me, it's easy to get separated from the WHY.
When we talk about aSweatLife and why we're doing it, there are a lot different reasons why each writer taps away at the keyboard each week; maybe it's a creative writing background that never gets to come out at work, or a passion for running, or a knowledge of nutrition.
But overarching all of that, there's one big why: we want to help busy people live healthier lives no matter where they are.
Reason one: Stress is not your friend and we want to help you end this abusive relationship. 
At one agency, I went through a month-long period during which my hair was falling out and I had a chronic twitch over my right eye. If that sentence sounds like something you've ever said or thought, you're among stressed-out friends. Stress has long-term impacts on your overall health and wellness. Harvard Women's Health Watch found "on-the-job stress may be one key cause of heart disease in women."
In our piece, This is Your Body on Stress, we broke down what stress does and how you can take stock of what's causing your stress. It's important to understand the long-term impacts of chronic stress on your overall health so you can make the right choices to avoid a life filled with anxiety.
I'm not telling you to walk away from corporate America. I am telling you to find or build a culture that isn't going to burn out its best resources rather than allowing them the thrive.
Reason two: We're sitting ourselves to death and we can't just sit here and watch it happen. 
Strengthened by the increase in jobs that force workers to look at a screen all day, the sedentary lifestyle has spread like the zombie virus on The Walking Dead (one of three TV shows I watch). This connected world might make it easy for a mobile workforce to come together from anywhere, but "anywhere" always seems to be a chair.
And with all of this research on the sedentary lifestyle, it's been found that exercising won't necessarily counteract sitting all day, according to NPR. So, you need to make choices during your day to add activity and standing.
In our piece, What's at Stake For America as a Sedentary Population?, we cataloged the risks associated with sitting at a desk all day, but none stuck out more than this:
"According to Johns Hopkins Medicine, a lack of physical activity has been clearly found to be a risk factor for cardiovascular disease and other conditions, such as high blood pressure. A lack of physical activity can contribute to depression and anxiety and can increase the risk of certain cancers.
Inactivity tends to increase with age, according to Johns Hopkins. Given this, setting bad habits as a child and young adult and not making physical activity a part of ones lifestyle will likely not get better with age. Women are more likely to have a sedentary lifestyle than men, and non-Hispanic white adults are more likely to engage in physical activity than Hispanic and non-Hispanic black adults, according to Johns Hopkins."
And that brings us to our reason number three.
Reason three: kids aren't learning healthy habits and people tend to get less active as they age. 
Kids aren't reading aSweatLife, unless you're a kid reading this, in which case – your media choices are on fleek.
I've never used that word before and I'm not sure that I like how it feels.
Annnnyway. Even though it's recommended by the Institute of Medicine that children get at least 60 minutes of activity during their days, according to the Washington Post, "nearly half (44 percent) of school administrators report cutting significant amounts of time from physical education, arts, and recess to increase time in reading and mathematics since passage of the No Child Left Behind legislation in 2001."
Kids turn into adults who carry those habits with them. These adults have to decide: am I going to accept the life I've had up until now, or am I going to take control and make my own choices?
We want to help people set out on their healthy living journey path – and the beginning is the most personal and treacherous part of the path. We want to be here to help when you're looking for inspiration to get started, to keep going or to set goals – whether you're at home, at work or on the road.
So we're challenging you to find your why. What drives you to be healthy? Is it your family? Something in your health history? Are you getting married this year? Trying to have a baby?
Hold onto that. Remember it when things get hard.