Total Body at CrossTown Fitness

Studio: CrossTown Fitness, 1031 West Madison St.

Class Focus: Each class and trainer is different, but all classes focus on high intensity interval training.
Cost per workout: $25 for a day pass
Money saving offers:
The Fab Fit take:
I believe in doing everything in moderation, but on the morning after a night out with my best girlfriend's (GNO!) it was clear that my beliefs and my actions hard parted ways the night before. I needed to sweat or sleep for the rest of the day. I chose to sweat and finally check out CrossTown Fitness after running by the gym's ad at North Avenue Beach all summer – it looked serious.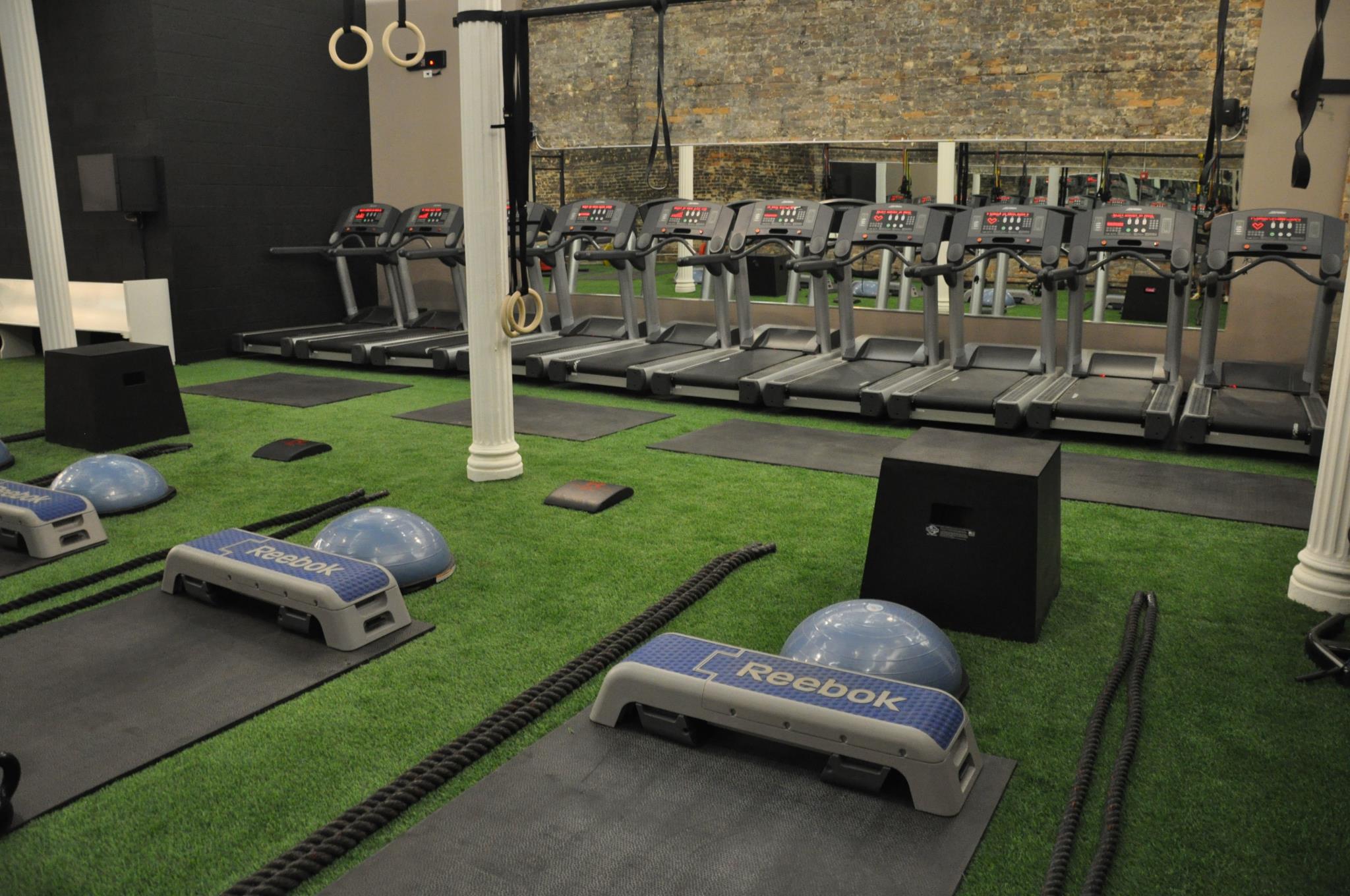 (Image courtesy of CrossTown Fitness)
When I walked into CrossTown Fitness, the turf on the floor and the circuits set up by the trainer, Vince, suggested that my initial impression was right and  I was in for an intense workout. With 10 total circuits set up around the room, Vince walked us through the exercises we'd being doing 4 total times.
30 seconds of walk out push-ups
30 seconds of up-and-overs on a step
30 seconds of planks with opposite knees to elbows
30 seconds of box jumps
30 seconds of planks moving over a step
30 seconds of squats or squat jumps
30 seconds of squats with a sandbag in hand
30 seconds of side wall ball throws
Run around the block, which felt like a 400 at the time, but it turns out it was a little bit longer – .33 miles
I'm a competitive person and there were ways to compete with myself and with others throughout the class. For about half of the exercises, there was a challenge offered – if I wanted to take it up a notch, I could.
I love circuit training, but sometimes when there's too much set up time between exercises, I get caught counting the missed seconds of work I could be doing, but I'm a masochist. That was not the case with this class, it was all work, except for brief rest between circuits. By the time the class was done, I was happy with the workout and I had sufficiently "sweat it out." Success.
The best part about CrossTown Fitness is that the workout that I just outlined will never happen again. I started this blog because I got burned out on routine, and this is a gym that could keep it interesting if you have a wandering eye like I do. Each trainer and each workout is different. Every time you step into the gym, something interesting will come your way. Get there and sweat it out.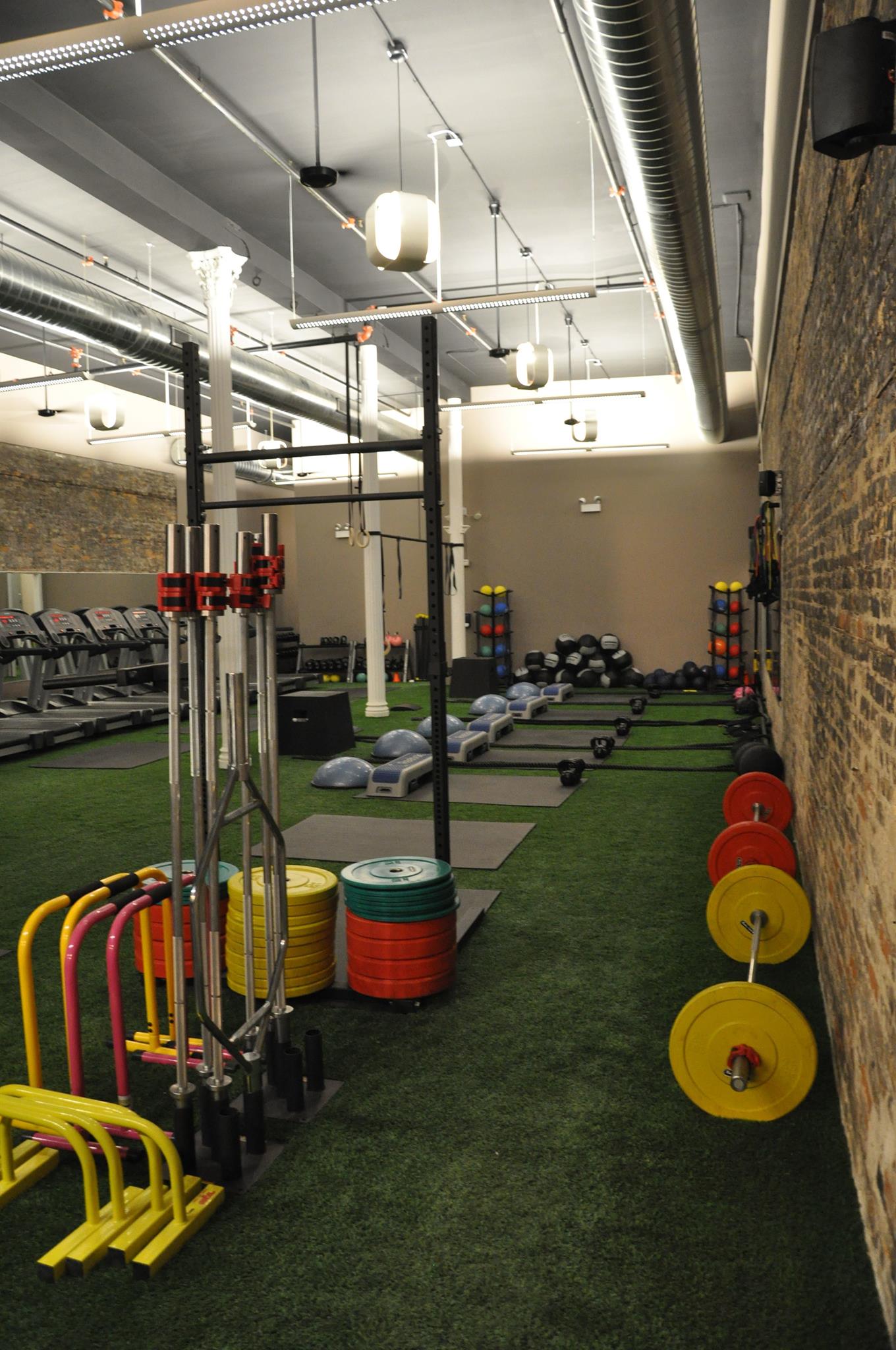 (Image courtesy of CrossTown Fitness)
Attention Parents: CrossTown fitness is family-friendly in a lot of ways. Not only do they offer childcare so Mom and Dad can workout together guilt-free, they'll also start offering fitness and wellness class for kids 3-12 August 12, 2013.  Bring your young fitness enthusiast (it's never to early to start healthy habits) to the open house and free class July 25 and 26 11:00 a.m. to noon. Register by calling 312-550-1063.
Date/time taken: 7/13/13