The Best Plant-Based "Chicken" Nuggets
Whether you're vegan, vegetarian, plant-based, or just plant-based curious, there are a plethora of "chicken" nuggets out there you can enjoy — and I'm ranking the best ones!
Of all the plant-based meat options available today (sausage, burgers, bacon, etc.), I think plant-based chicken is the most like its animal protein counterpart, in both taste and texture. It's been several years since I've eaten actual meat, so I admit my memory at this point might be hazy. Plant-based chicken is also readily available — I quickly and easily found several options at my local grocery store.
I ranked on crispiness, meatiness, and overall flavor. My goal wasn't necessarily to find the best chicken replica, rather the best nugget based on flavor and texture.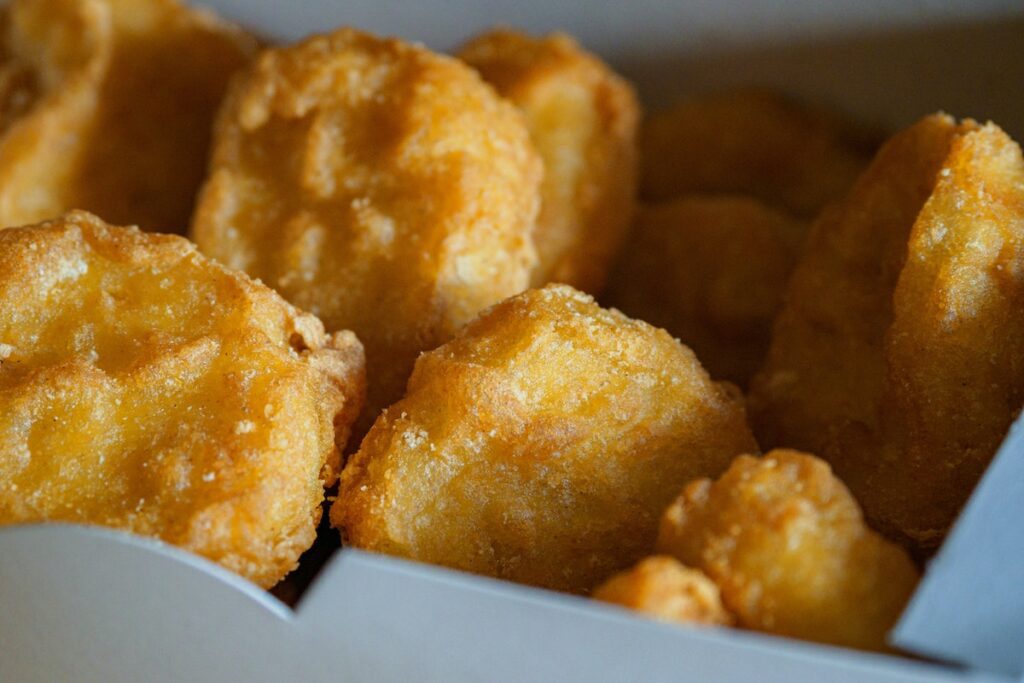 Plant-based chicken nuggets taste test
Visually, these were the most enticing. They looked really meaty and their shape was pleasantly asymmetrical — the most "natural" looking. Unfortunately, that was all they had going for them. I wanted to like these, but they weren't crispy, like, at all. The "meat" was about as firm as yogurt. Finally, while inoffensive, the flavor was boring at best.
Verdict: 2 out of 5 stars
My initial reaction was, "Wow, are these flat." They immediately reminded me of Hanukkah gelt — gold foil-wrapped chocolate coins. But if the Alpha nuggets taught me anything, it's that appearances can be deceiving. These nuggets were crispier than I would've guessed — and despite being flat, the "meat" had a nice chewiness to it. The flavor was blandly indescribable, but I think these would do well with a dipping sauce.
Verdict: 3 out of 5 stars
By the time I got to these, I no longer knew what to expect — the first two entries threw me. So, when these came out of the air fryer browned to perfection, I was excited but resistant to falling in love. Fear not — these were great! Their crispiness was on point, the "meat" had excellent texture, and the flavor was by far the most chicken-like. Honestly, almost too real.
Verdict: 4.25 out of 5 stars
"Oh, great, another cookie-cutter shaped nugget — but at least it's not super flat," I thought to myself. I did have a little hope they'd be crispy — they certainly felt that way in my hand. But after having the Beyond Chicken® Nuggets, I didn't think much of these MorningStar Farms® nuggets. Well, I was fooled again — these were perfect! The ideal amount of crisp, flavorful without being overpowering, and the "meat" had just the right amount of give to it.
Verdict: 4.5 out of 5 stars
Conclusion
For me, it's MorningStar Farms® Chik'n Nuggets all the way! The Beyond Chicken® Nuggets were a very close second but were just too close to actual chicken for me. I like plant-based chicken nuggets but not if they're so realistic I'm slightly concerned I might actually be eating chicken.
Give one — or all —of these and try and share you thoughts below!