The Beginner's Guide to the Air Fryer
There's no denying that fried foods are absolutely delicious. I for one can't resist ordering fried chicken anytime I see it on a menu. But fried foods are often high in calories, fat, and salt, making them not the greatest option for your health. Some studies have even linked fried foods to heart disease and type 2 diabetes.
There is a healthier way to get that crispy taste you crave without all of the health risks. We're talking about the air fryer, which doesn't require any oils or butters to use. It's one that some dietitians even use in their own lives.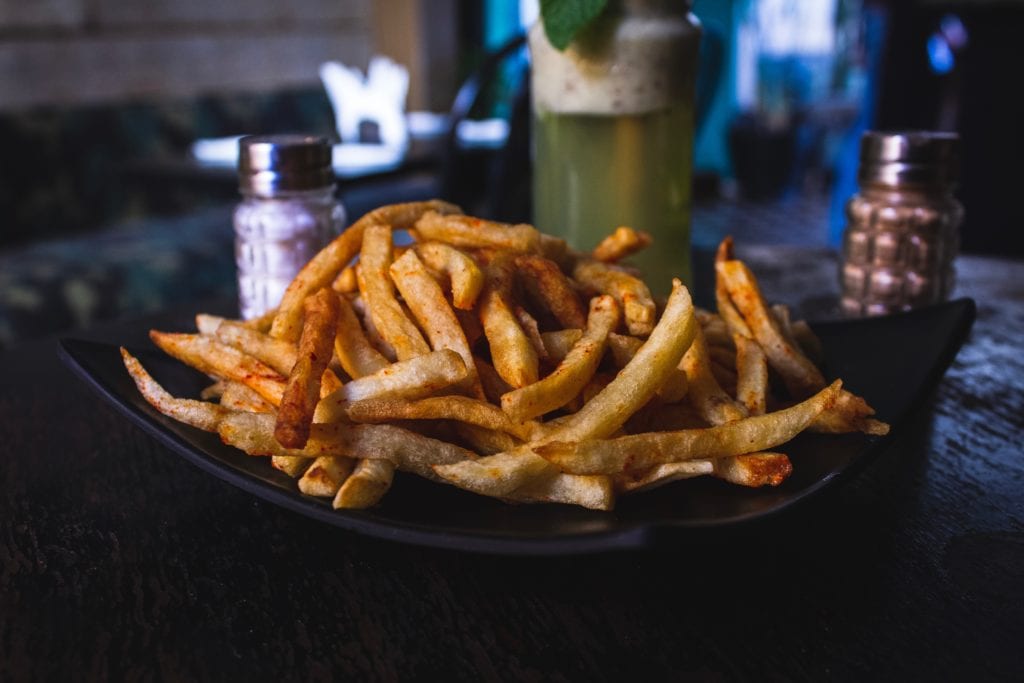 "Everyone was talking about the air fryer, so I finally got one and have found it to be super-convenient," says Kristina LaRue, RD, sports dietitian and founder of Love & Zest. 
Here, learn all about how air fryers work and find tips for getting the most out of your device. 
What is an air fryer, and how does it work?
"An air fryer is a countertop appliance that allows a home cook to achieve the crispy and crunchy texture that is often associated with deep fat fried foods without the added fat," explains Danielle Kronmuller-Harvey, RD, Dietetic Internship Director and professor in the department of Health, Nutrition, and Exercise Science at Immaculata University. 
It works similarly to a convection oven but on a smaller scale that allows food to cook more quickly.
"Generally, air fryers have a heating element at the top of the machine that forces hot air rapidly down and around food in the frying basket," says Kronmuller-Harvey. 
The benefits of using an air fryer
While the air fryer appliance itself doesn't have any health benefits, using one can potentially minimize your calorie intake by up to 80 percent when you compare it to something that's been traditionally fried, says Kronmuller-Harvey.
"Deep fat fried foods are high in calories and fat, especially when hydrogenated oils are being used to fry [the food] in," she adds. "Since an air fryer requires no fat, it can provide a healthier option for crispy foods vs. deep fat frying." 
That said, while air frying is certainly a healthier cooking method than conventional frying, that doesn't mean it's healthy to eat air-fried foods every day.
"Since no fat is used in this cooking method, an exclusive air-fried diet would be lacking in plant-based fats such as olive oil and avocado oil, which provide health benefits when used in moderation," points out Kronmuller-Harvey.
Another benefit to using an air fryer is the convenience factor. LaRue, who has two young sons, uses it much like others use a toaster oven. She'll heat up frozen meals or leftovers in her air fryer, which she said really comes in handy when you have little kids.
Meanwhile, Jenna Appel, RD, owner of Appel Nutrition Inc., notes that an air fryer is a great option for those with limited time and space, as it's easy to use and clean. 
How to use an air fryer
There are a whole lot of foods you can put in an air fryer, including potatoes, chicken, and seafood, says Kronmuller-Harvey.
"You can also try foods that may increase your nutrient intake, such as sweet potato fries, zucchini, roasted cauliflower, and green beans," she adds. (One of LaRue's favorite foods to cook in an air fryer is cauliflower seasoned with Trader Joe's Everything but the Bagel seasoning. Sign. Us. Up.) 
Don't try to cook anything that needs liquids to be absorbed, such as rice, pasta, and grains, into an air fryer, however, says Kronmuller-Harvey.
"While these items can be placed into the air-fryer basket to crisp up a bit at the end, it's suggested to cook these items with more traditional cooking methods first for best results," she explains. 
Before you just throw food inside your air fryer, know that there is a bit of a learning curve.
For even cooking, don't overcrowd your basket or cooking tray, says Appel, and when you're cooking smaller items, you may want to shake the basket a couple times.
While you don't need to use oils to cook food in an air fryer, some recipes may recommend a little bit.
"Aerosol spray cans, like Pam, are known to cause chipping in many air fryer baskets, so I recommend investing in a quality oil mister or bottle," says Appel. 
Be aware that air-frying produces very high cooking temps at a rapid rate.
"Due to this, burning and charring of foods can occur," says Kronmuller-Harvey. "Be mindful that charred foods could potentially be considered a carcinogenic risk." You may want to steer clear of noshing on overcooked or burned foods if this happens to you during the air-frying process. 
Cooking for a big family or a party? Then an air fryer may not be your best option.
"Most of the available air-frying appliances on the market have the ability to cook only one to three pounds of food," notes Kronmuller-Harvey. "This makes larger quantity cooking a challenge." 
How to choose the best air fryer
Kronmuller-Harvey says that some air fryers may contain BPA plastic, so it's important to take your time when shopping and really review the specifications of each product before choosing one. This COSORI model ($99.98, amazon.com) is BPA-free and highly rated. 
Yummy recipes to make in an air fryer
Here are a few tasty air fryer recipes to get you started: