How to Start and Maintain a Gratitude Journal
Gratitude is having a moment. Everyone from Gabby Bernstein to Glennon Doyle is into it, and its effects on your brain are profound. According to the Mayo Clinic, expressing gratitude is associated with a decrease in depression and anxiety not to mention improved sleep, mood, and immunity. But how can we work gratitude into our already busy everyday routines? What are some examples of gratitude lists? Let's get the lowdown as well as some tips from gratitude experts to be able to benefit from this awesome daily practice.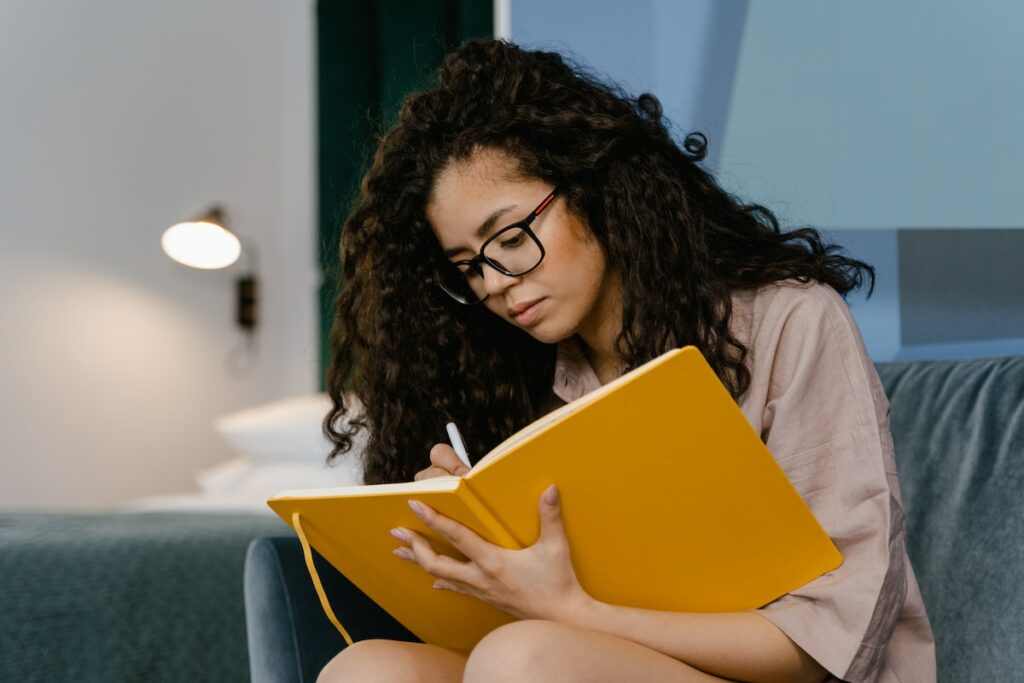 Why gratitude is important
Sydney Kurtz, a master's intern at Chicago-based HumanKind Psychological Services, says gratitude is an important daily practice because it leads to an overall increase in happiness and stronger mental health while also creating stronger social connections by allowing you to become more forgiving, empathetic, compassionate, and helpful. "This happiness can also have a spillover effect into all aspects of one's life including stronger relationships, improved work life, and more optimism for the future," she says.
Kurtz explains that gratitude can help us in therapy too because it helps to build resilience. And since stressors are inevitable at some point in our lifetime, gratitude can really be the key to helping us get out of a funk and move on. 
"It is easy for our minds to default to what we do not have or what is going wrong, but this is not constructive for moving forward," she says. "Gratitude allows us to shift our focus to the positive aspects of our lives that can provide optimism and strength for moving forward."
Marissa Freeman, a Chicago-based marketing and growth consultant for national wellness brands agrees with Kurtz and says her daily Post-It note practice makes her a lot happier. "As you're practicing, it's impossible for your brain to have a negative thought," she says. Well, maybe not impossible, but it's certainly really hard to have a negative thought."
Freeman adds that she's trained her brain to look for the little things she's grateful for and documents them daily. "We're wired to observe our surroundings from a survivalist point of view and a practice like this can help you rewire to look for a baseline of good," she says.  
How to start a gratitude journal
Freeman keeps it simple. She writes down three things she's grateful for daily on a Post-It, snaps a pic, and shares it with the supportive Instagram community she's built. "There's a healthy pressure to hold myself accountable because I know people are waiting for it," Freeman says. "Nobody ever asks me, 'Where's the Post-It?' but they always react to the Post-It."
Freeman says every time she posts her gratitude list, someone reaches out about it, and she thrives on the interaction that it brings out with others. "It makes me feel incredible," she says. "When I am gifted that responsibility, it's a little sense of relief that someone else knows the exact joy I feel for that thing. When people react, it builds one more link. It can really create a sense of belonging." 
How to maintain a gratitude journal
Both Kurtz and Freeman agree that a set time every day, every few days, or once a week (whatever is realistic and manageable for you) is the best time to work on a gratitude practice, with most practicing in the morning, before the rush of the day begins.
"It puts you into a positive mindset that can potentially influence the rest of your day," Kurtz says. "It reprograms your brain to have a positive outlook by focusing on positive information rather than negative information and it can allow you to stop toxic or negative thoughts throughout the day that could arise.
Habit stacking, or building gratitude into an already existing routine that you have, is also a good idea. Kurtz says that once the foundation has been laid and the practice is put into place, it's a lot easier to bring up that awareness in moments of heightened emotion in your day. 
"If things become stressful, it can be helpful to stop and remember our gratitude practice," Kurtz says. "This could look like: pausing, breathing, and focusing back to our thoughts of gratitude. Reflect on these thoughts: What are we grateful for in this moment? What is currently within my control that I can focus my energy on? What reaction do I want to have in this moment that reflects my core values?"  
Freeman says to let the practice be easy for you, do what feels right in the moment, and that if it doesn't happen at the exact moment you've set aside for the practice, that's okay too. 
"[Don't] beat yourself up for stepping away from your routine," Freeman says. "If it doesn't happen every day, it doesn't make you a less grateful person. It's okay if you can't be grateful. Forcing gratitude in a moment when you're not really there is just toxic positivity. When I don't know what to write, instead of fishing, I have to pause and think about why I am having a hard time practicing gratitude. Usually, my head is elsewhere and I haven't been present."
Freeman says to simply set the practice aside and come back to it later or look through older moments of gratitude for inspiration (for her, it's her stash of Post-Its). 
And Kurtz says having a tough time with a new practice, such as gratitude, is sometimes the norm. "Growth is not easy and is often uncomfortable," she says. "Resistance will arise within us when striving for this growth because it is challenging."
Kurtz adds that when we feel resistance to not want to journal or read what we've written, we should analyze where the resistance is coming from and know that resistance is part of the growth process. "Remind yourself that resistance means you are growing and developing new habits," she says. 
Supplies to use for your gratitude journal
Start with whatever feels comfortable to you in terms of supplies. A pretty journal, some fun gel pens, or even a journal made specifically for a gratitude practice can all be part of the process. Kurtz recommends the Self Journal by BestSelf. "It provides a great template for daily reflection," she says. "It is primarily a goal-oriented daily planner, but it incorporates daily and weekly gratitude prompts as well."
Freeman loves her trusty blue Post-Its but says a cute journal is a favorite of many. And while an online gratitude practice may work for some, she really loves the good old-fashioned way. "To press a good pen into good paper on a good surface is so satisfying," she says. 
Kurtz stays grounded by reading Stoic philosophy and says the readings have really helped to hold herself accountable to practicing gratitude every day.
Here's a powerful quote from the Stoic philosopher Seneca that encapsulates the principles of gratitude very well, says Kurtz: "True happiness is to enjoy the present, without anxious dependence upon the future, not to amuse ourselves with either hopes or fears, but to rest satisfied with what we have, which is sufficient, for he that is so wants nothing. The greatest blessings of mankind are within us and within our reach. A wise man is content with his lot, whatever it may be, without wishing for what he has not."