3 Feel-Good Holiday Traditions to Share With Your Family
There's a meme on social media that resurfaces every year around Thanksgiving and Christmas: "One of my biggest fears is that I'll marry into a family that runs 5Ks on holidays."
Ever laughed at something outwardly only to internally admit that it resonates?
My family growing up was not a "5K family." But as an adult, and now a parent, I get to decide what family traditions to carry forward — and also to form my own. 
More than just 5Ks and physical activity, habits centered around movement and nutrition play a large role in my life — when I take care of myself, I can take better care of others. 
It's important to me to maintain these habits throughout the holidays and to share them with my family. Using these habits to form traditions, they can become something special that everyone looks forward to during the holiday season. 
From exercise and nutrition to giving back and gratitude, consider these ideas for implementation in your own home this year.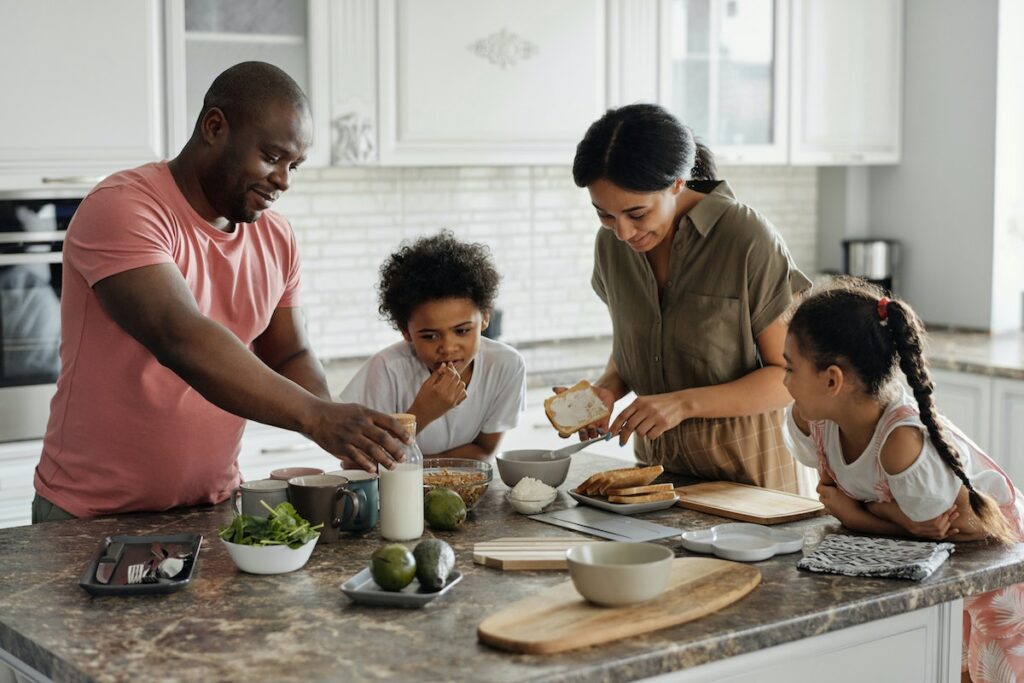 1. Get active
Fun runs, ice skating, sledding, skiing, snowboarding, sign me up! No equipment? Build a snowman! Not enough snow? Take a walk around the neighborhood to see Christmas lights!
Can't convince your kids? Even walking around the mall counts! It's all physical activity and family time together — and movement in general is good for our physical health. Pick what works best for your family for the best shot at making it sustainable.
On Thanksgiving, my husband's family plays a game of flag football, adults and children alike. It's fun for the whole family and a great way to get moving while working up an appetite!
2. Cook with the kids
Speaking of, the holidays are a great time to invite kids into the kitchen. Cooking together educates and empowers children through hands-on learning — plus, it's the perfect time of year to choose recipes that yield food that's fun!
A couple options to consider in making this tradition your own: preparing the same recipe(s) year after year or choosing something new to you. The payoff either way is the same.
"Kids not only will get to try the new foods they prepare, but they also will get a big boost to their confidence when they see family and friends enjoying their creations," says Esther Ellis, MS, RDN, LDN. "Most importantly, cooking with your children will promote future health by teaching them about nutrition and how to prepare healthy meals." 
3. Give back and show gratitude
Last but not least, the reason for the season!
Practicing gratitude isn't only nice in theory, "it has real, tangible benefits for both physical and mental health." Plus, experts agree being grateful is tied to increased happiness, and who doesn't want that for ourselves and our kids? While Thanksgiving provides the perfect opportunity to share with our family what the holiday symbolizes (gratitude!), the practice easily extends into December.
Donating to charity or volunteering at a local nonprofit are small things that make a big difference. Or if, every year, your family participates in giving gifts, consider one thing in, one out. 
According to Shelley Lindauer, PhD, director of the Adele & Dale Young Child Development Laboratory at Utah State University, "It's never too soon to start teaching children about charity." 
The bottom line: While traditions can take many shapes and forms, by repeating yours annually, you reinforce your family's values, interests, and beliefs. Whether you're continuing your childhood traditions or starting anew, family holiday traditions create memories, strengthen bonds, and foster a sense of love and appreciation.