How to Talk to Your Kids About Food and Nutrition
Chances are, you've probably labeled your daily eating habits as "good" or "bad" at some point or another. For example, you might've thought or said something like, "I've been good today with my carbs," "I'm stressed so I ate a lot of bad stuff today," or "I'll eat dessert now, but I'll be good tomorrow."
But classifying foods and eating habits as "good" or "bad" can be incredibly detrimental to your well-being. And if you have kids, this line of thinking can shape their eating habits and the way they view food and their bodies in a negative way.
We spoke with experts to learn more about how your beliefs around eating can affect your children — and got their advice on how to talk to your kids about food and nutrition.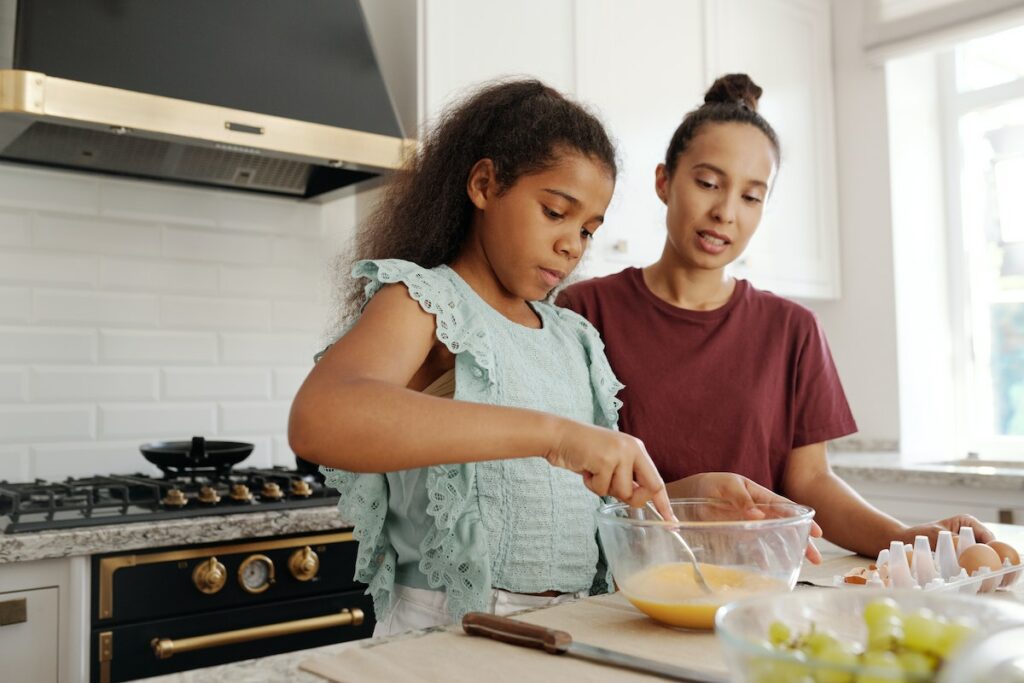 Why you shouldn't label foods as "good" and "bad"
How you frame food and eating habits can have a direct impact on your children.
"When 'good' vs. 'bad' eating habits are mentioned in the household, this can lead to harmful effects among children, such as reduced self-esteem and disordered eating behaviors," explains Emma Laing, PhD, RDN, director of dietetics at the University of Georgia and a national spokesperson for the Academy of Nutrition and Dietetics.
Adds Helen Egger, MD, child psychiatrist and co-founder and chief medical and scientific officer of Little Otter, "Parents can also inadvertently impact a child's relationship to food, eating, and feelings about their bodies when we force children to eat food they don't like or only give a child dessert if they are a 'good eater.'"
How to talk to your kids about food and nutrition
For starters, refrain from labeling foods as "good" and "bad," recommends Egger. Instead, focus on teaching your children how to prepare nutrient-rich foods and show them that it's okay to eat foods that aren't nutritious sometimes. As Egger says, "there should be a balance, instead of leaning one direction more than another."
You can make other simple adjustments too, such as "avoiding comments about calorie counts, body weight and size, and any food restrictions," says Laing. "When you praise your child, focus on qualities other than physical appearances, such as personality, creativity, kindness, and other positive attributes. Shift discussions away from food and weight."
Other great ideas from Laing include using neutral descriptors, such as color, texture, flavor, or temperature when speaking about foods. Teach children about where vegetables, fruits, grains, dairy, and protein foods come from and how these help their bodies stay strong and give them energy, she adds.
Avoid eliminating entire food groups from your/your child's diet unless there's a food allergy or other condition diagnosed by your healthcare provider that warrants this. What's more, enjoying family meals together several times per week, or whenever possible, promotes family connection and communication, promoting a child's self-esteem. 
What to do if you notice disordered behaviors
If you start to see an unusual relationship with food starting, take your child to a pediatric psychiatrist who can help undo the damage before it goes any further.
Another option is to take your child to a holistic psychiatrist, who will try to restore optimal mental and physical health as efficiently and naturally as possible by using conventional, nutritional/functional, and mind-body/energy medicine to heal individuals.
The bottom line to fellow parents: Be careful with what you say and do about labeling food and behaviors when your children are around. And heck, even if they aren't.
"It is important for parents to model a healthy and positive relationship to their bodies and to food/exercise and celebrate differences," says Egger.