10 Butter Board Alternatives to Serve at Your Next Party
Raise your hand if you've tried the viral feta pasta, pancake cereal, Dalgona coffee, or the salmon rice bowl. Me too. Welcome to the world of TikTok food trends.
More often than not, they're hits rather than misses and make delicious sense rather than making you retch (looking at you, Snickles). Enter butter boards. Thousands upon thousands of results for this 2022 trend are cropping up on everyone's FYP lately.
Crispy shallot butter boards, carnivore butter boards, mixed herb butter boards…the possibilities are endless.
Delve even deeper into the TikTok rabbit hole we all know and love and you'll discover variations like pasta boards (trying too hard), ice cream boards (too messy), buttercream boards (I'm listening), body butter boards (definitely not), and the "lazy girl" butter board, which includes Texas Roadhouse rolls and cinnamon butter dumped on a cutting board (if this isn't secret single behavior, I don't know what is).
Chances are, you're most likely going to see at least one of these colorful, mouthwatering boards this holiday season. But how can we make butter boards even more impressive at that holiday party? Before we dive in, let's start with the basics.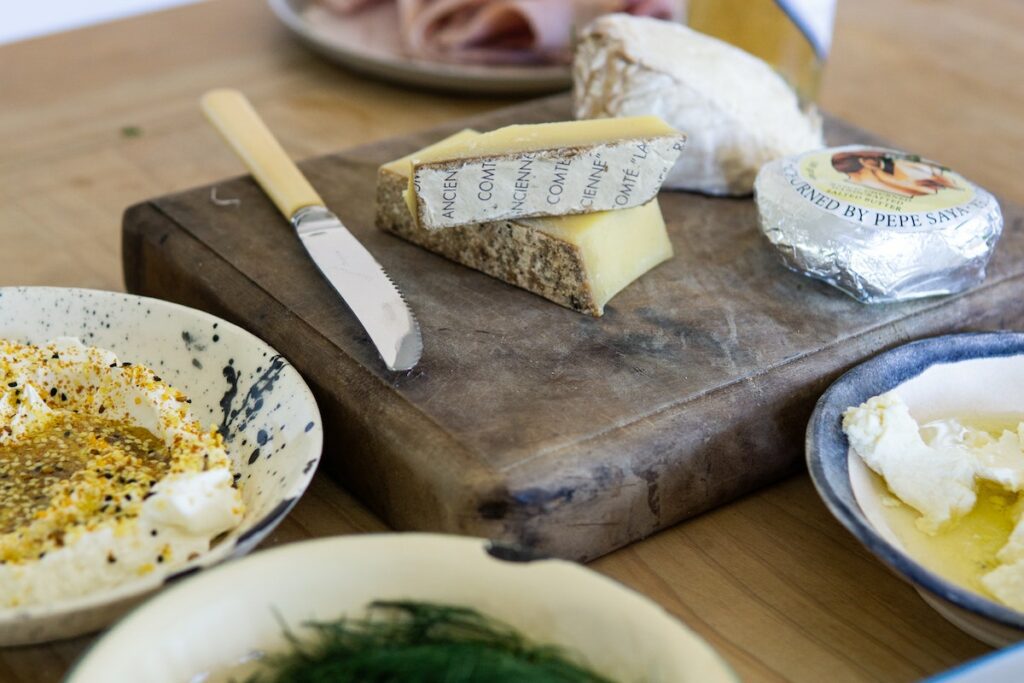 What is a butter board?
For those who haven't heard of this trend yet, you're either going to be disgusted or delighted. Think charcuterie boards but instead of meats and cheeses as the main characters, it's really creamy, salty, good-quality butter instead.
A butter board is simply a recipe of about a stick and a half of softened butter, spread prettily using the back of a spoon onto a marble or wooden board and topped with various herbs, spices, vegetables, mix-ins, and toppings, and served with crusty bread or crackers.
Some even feature fancy compound butter instead of plain as the base. But let's elevate it even more. Try one of these alternative combinations and watch the board do a disappearing act at your next party. 
Butter board alternatives
Ricotta board 
Base: good quality, whole milk ricotta
Toppings: sun-dried tomatoes, roasted red peppers, and basil
Drizzle/sprinkle: pesto and pine nuts
Serve with: toasted Italian bread seasoned with olive oil, salt, and pepper
PB&J board
Base: almond, cashew, peanut, sun butter, or a combination
Toppings: fresh sliced berries such as strawberries, blackberries, blueberries, or raspberries 
Drizzle/sprinkle: honey, molasses, or maple syrup an cinnamon 
Serve with: whole wheat bread chunks, pretzel chips, or banana chips
Everything-but-the-bagel board
Base: cream cheese (flavored or plain)
Toppings: smoked salmon, capers, halved cherry tomatoes, thinly sliced red onion
Drizzle/sprinkle: everything-but-the-bagel seasoning, edible flowers, such as nasturtiums or marigolds, and dill 
Serve with: Plain potato chips, bagel chips, or quartered, toasted bagels
Mascarpone board
Base: mascarpone cheese
Toppings: fresh sliced figs and proscuitto
Drizzle/sprinkle: fig jam, hot honey, olive oil, and rosemary
Serve with: crostini, breadsticks, or Trade Joe's Fig & Olive Crisps
Yogurt board
Base: alternating dollops of yogurt and applesauce
Toppings: granola, toasted walnuts, or toasted pecans
Drizzle/sprinkle: cinnamon, honey, and freeze-dried apples
Serve with: cinnamon pita chips or apple slices 
Guacamole board
Base: mashed avocado or pre-made guacamole
Toppings: crumbled chorizo and pickled red onion   
Drizzle/sprinkle: chopped cilantro, lime juice, and queso fresco
Serve with: tortilla chips or tostones
Vegan butter board
Base: Miyoko's or other vegan butter
Toppings: roasted garlic
Drizzle/sprinkle: lemon zest, chili oil, fresh thyme, and flaky salt
Serve with: warmed crusty bread 
Cannoli board
Base: mascarpone mixed with ricotta cheese and confectioner's sugar
Toppings: mini chocolate chips and strawberries
Drizzle/sprinkle: cocoa powder or crushed pistachios
Serve with: amaretto cookies, pizzelle cookies, or cannoli chips
Labneh board
Base: labne or plain Greek yogurt
Toppings: chopped cucumber, black olives, and bell peppers 
Drizzle/sprinkle: za'atar or sumac, chopped mint, and lemon wedges
Serve with: toasted pita triangles
Goat cheese board
Base: softened goat cheese
Toppings: chopped dried apricots and toasted pistachios
Drizzle/sprinkle: edible flowers and hot honey
Serve with: toasted sourdough