Peloton's Logan Aldridge on Adaptive Fitness
Have you ever had a "new normal" force its way into your life or learned to live in a world not made with you in mind? Then you might relate to the idea of refusing to accept that there are just some things you can't do anymore.
This is true for para-athlete and new Peloton instructor Logan Aldridge. His accident at 13 shifted his creative mindset from building things to coming up with solutions. "I would say, 'Hmm, I've never seen someone do this one-armed; how would I do this?" shares Aldridge.
When I spoke with Aldridge about adaptive fitness, his passion was infectious. Adaptive fitness is personal training tailored to the needs of individuals with both temporary and permanent disabilities. But don't misunderstand; adaptive fitness isn't only for beginners.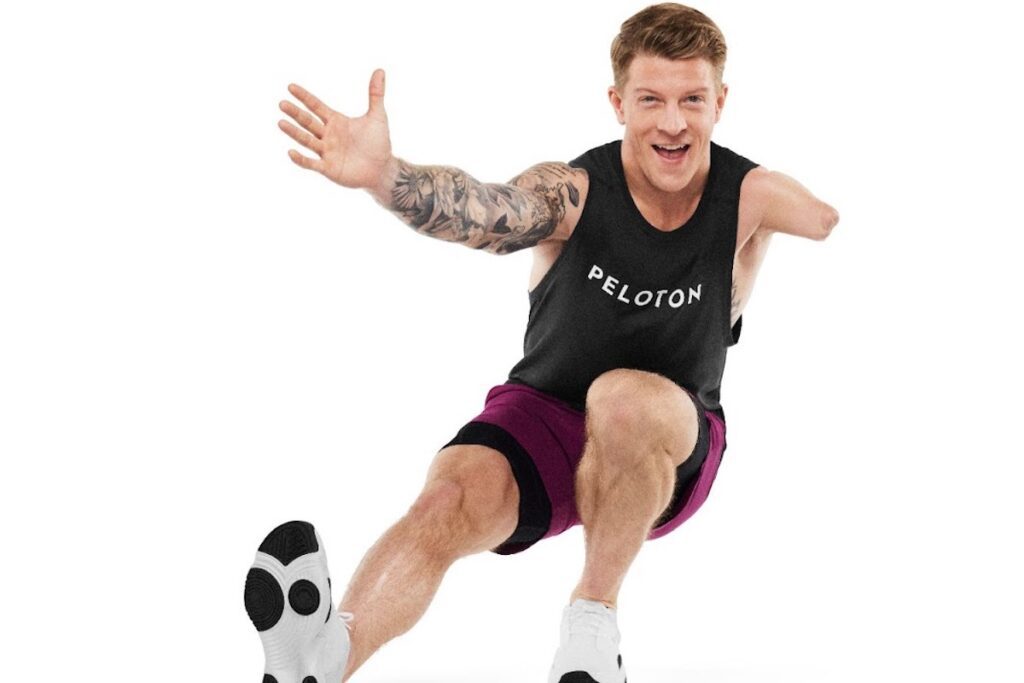 What adaptive fitness is (and isn't)
"It can be a place to get started, but it's also a great place to show up and push yourself if you are capable in fitness and have some adaptive needs," explains Aldridge.
Adaptive fitness is also more than modifying movements. "It's important for a person in a wheelchair to know how they achieve the functional progress of what another person would do in a squat," adds Aldridge. "I want to teach you how to get uncommonly good at doing the common movements. That's how we transfer it into the real world."
The approach to adaptive fitness is one rooted in curiosity and perspective — it involves creatively looking at fitness and movement through a different lens.
Two questions of importance: "What are we trying to do here, and how would [a specific] person do this?" notes Aldridge. "I love this open source principle when you share a solution that works for you, and someone else can learn from it. It's how we fuel innovation, and seeing ideas flourish on social media has been really cool."
Benefits of adaptive fitness
Adaptive fitness benefits include reducing pain and improving muscle, core, and cardio strength. As with any exercise regimen, the results vary from person to person. But it's not always about pushing your body to the limit —progression is key.
"It's important to introduce consistent movement that builds confidence," says Aldridge. "This expands your perception of what your body can do. There are a lot of things that I do as a one-armed athlete that would be deemed impossible. I do that through many progressions, proper training, the development of the technique, the movement itself, and my proficiency in it."
Peloton's first adaptive instructor
Lack of representation can leave someone feeling like they don't belong or aren't invited to that space. This can be especially true in wellness when you don't fit in cliche boxes. It can discourage you from adding fitness to your day-to-day life.
If there's something Peloton's first adaptive instructor wants you to know, it's this: "There's a place for you here," says Aldridge. "Movement is made for you. We must redefine and reshape how fitness is delivered and how individuals think about training. Adaptive training reminds you that there is a place for you and gives you the tools you need."
There can be barriers for adults with disabilities to be active, something Peloton, the global leader in connected fitness, is working to change. "Peloton makes adaptive fitness accessible — regardless of where you live or where you are on your fitness journey," says Aldridge. "It's not only for people with disabilities; it's the place for anyone. We're no different, nor are we alone."
He's excited to teach students how to utilize fitness movements outside their workouts. "We need to look at functional transfers of movement for people with varying abilities, incorporating seating and standing category classes," says Aldridge. "While on the platform together, we learn how to safely and effectively do the movements. Each individual has the ability and the opportunity to dictate their intensity. And intensity is that secret sauce. It dictates the results relative to where you are on your journey."
Getting started with adaptive fitness
We can all agree that fitness can be intimidating, regardless of physical abilities. Worrying about judgment or whether the trainer will know how to work with you is not uncommon. "Sometimes getting started is showing up and learning about what working out could look like," notes Aldridge.
Follow Aldridge on Instagram, and you'll learn he doesn't shy away from the tough stuff. When workouts get hard, he prefers to change the narrative. "When I get nervous, I say I'm excited," he says. "How we define our feelings can put us in an empowering place and move that energy. This feels really hard, but I can do the tough stuff."
The mantra of "doing tough stuff" resonates with me. Our relationship with fitness can ebb and flow. Earlier today, my feet were heavy on the way to the gym.
Aldridge talks about it as mental fitness. "Choosing to show up when you rather sleep in creates discipline," he says. "When exercising, we sharpen our minds; they're connected. It reminds us that we can choose to do the tough stuff."