The Relationship Between Representation and Inspiration in Endurance Sports
We've been working on a panel in the background to kick off the #Sweatworking Summit. And although the Summit is sold out, we'll still record this session and share it with you after.
If you were able to grab your tickets to the #Sweatworking Summit, you won't want to miss this session Monday, February 15 at 6 pm CST. You'll hear from athletes in endurance sports who are working to make the field of competitors more diverse. This panel will be moderated by Natali Villarruel, a member of Team USA who has traveled around the world to compete in endurance sports. And with her help, we've curated an incredible group of athletes ranging from professional to everyday athletes, including Khadijah Diggs, Erin Hamilton and John Young.
Kadijah's mission is to promote a positive image of Muslim women and Islam in general through sport. Erin's passion and focus are fighting for transgender rights, equality and inclusion in all sports, as well as being a strong advocate for mental health and TBI awareness. As the first person with dwarfism to race in an Ironman distance race, John loves to inspire others with Dwarfism to see their own potential through sport.
Natali will bring her own experience in the field of triathlon as well as her passion for body positivity to this session. You'll hear all of the ways that representation matters as we dive into important questions. Expect big questions like:
How do we create a more welcoming community for a sport that has historically not been very diverse?
What are the parallels of triathlon to life?
What's the importance of being visible and building a support system to rally behind you?
How do we move beyond "inspiration porn" and tokenism to create equitable change to level the playing field (like access to resources, coaches, diverse race directors and more)?
Here's more about the panel and its moderators:
Natali Villarruel, moderator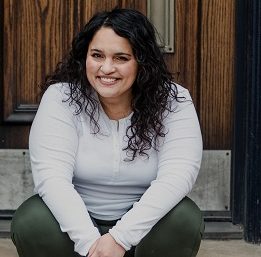 Natali Villarruel is a storyteller, plant mother, marathoner, triathlete, Team USA member, lover of fine food and libations, body positivity advocate, nerd, lizard mom, and godmother to an awesome dog. Her journey began as a reluctant runner and accidental triathlete, now she continues to push the boundaries of what her body can accomplish with challenges such as a 5k swim or 3 triathlons in 2 days. She's outspoken and actively encourages women, especially women of color, to get involved in sport. As a first-generation Latina and plus size athlete, she continues to share both her struggles and triumphs to encourage and inspire others to overcome their fears and try new things. She believes in the power of connection and is working towards increasing diversity and inclusion in the health and wellness space. 
Khadijah Diggs, Panelist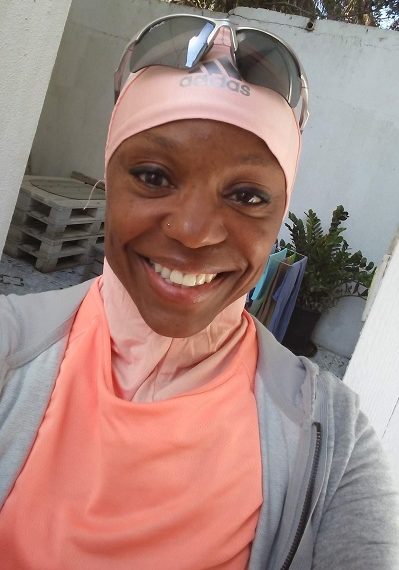 "I want to change the World, one race at a time." – Khadijah Diggs
Khadijah is a Mother, Project Manager and a Team USA and Silver Ironman All-World Triathlete. Her mission is to Promote a Positive Image of Muslim Women and Islam in general through sport.
"Training and racing started off as my therapy to recover from a failing marriage and the loss of loved ones to cancer. It has remained that but has also become how I express myself and share who I am as Muslim, a Mother and a Woman." Her goal is to open dialogue and connect women of all backgrounds on a personal level by sharing common experiences, joys and struggles through healthy living, group training and healthy competition. "I have learned traveling all over the country and the World to race, that at the core, we are more the same than different. The struggles of motherhood and just being female are universal and it binds us as women."
Erin Hamilton, Panelist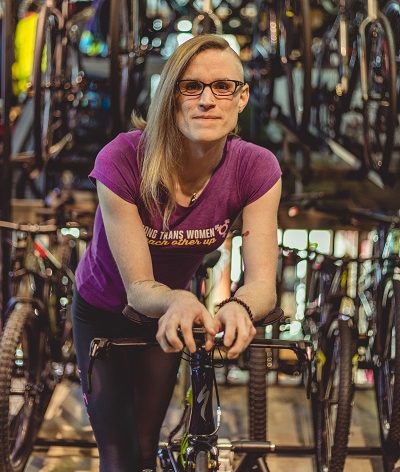 Erin is a former amateur-professional cyclist turned triathlete, a transgender woman, a brain injury survivor, and a content creator.  She suffered a horrible accident while on her bike resulting in sustaining a traumatic brain injury (TBI).  In just two years, she went from not being able to walk to finishing her first Ironman 140.6, as well as being the first transgender woman to complete Ironman Couer d'Alene.

Her passion and focus are fighting for transgender rights, equality and inclusion in all sports, as well as a strong advocate for mental health and TBI awareness.
John Young, Panelist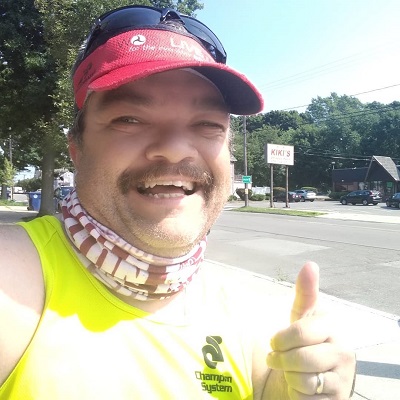 John Young was born in Toronto, Ontario in the '60s. Always a swimmer, John was much more of a sports fan than an athlete for most of his life. He started teaching high school math and coaching basketball in 1990. In 1999, John and his wife Sue moved to Hong Kong where John continued his teaching career. In 2003, after the birth of their son Owen in 2002, John and Sue moved to Massachusetts. John continues to teach math at Pingree School, a small independent prep school north of Boston where he has also worked as the freshmen boys' basketball coach and the varsity swim coach.
As an attempt to improve his health and fitness, John starting cycling in 2008 (at the age of 42) and then stumbled upon a video of Dick and Rick Hoyt, the father-son team, who have been competing in marathons and triathlons for more than 30 years. Following Dick's and Rick's mantra of "YES YOU CAN," John entered and completed his first triathlon in 2009. John has now completed more than 50 triathlons, including ten 1⁄2 iron distance races, 18 marathons (Boston x6 and NYC x6) and numerous 1⁄2 marathons. In October of 2016 he raced in Ironman Maryland, becoming the first person with dwarfism to race in an Ironman distance race.
Let us know!
Did this post help you get closer to achieving one of your goals?