The 9 Best Peloton Strength Training Instructors
In the "before" times, I was always a cardio fitness person, much preferring indoor cycling and dance classes to anything involving strength training. But since I started working out exclusively at home during the pandemic, I've broadened my exercise horizons. 
Now, I look especially forward to taking a couple of muscle-shaking barre classes a week on Peloton's online fitness platform. I also enjoy the core, legs, and full-body workouts, which leave me really feeling the burn afterwards and have helped improve my overall strength. In fact, improving strength, lowering your risk of injury, and improving your heart health are some of the major benefits of strength training workouts. 
Everyone has different interests and fitness abilities — and Peloton has something for everyone. Here, we've rounded up the best Peloton strength training instructors to suit your workout needs.
Jess Sims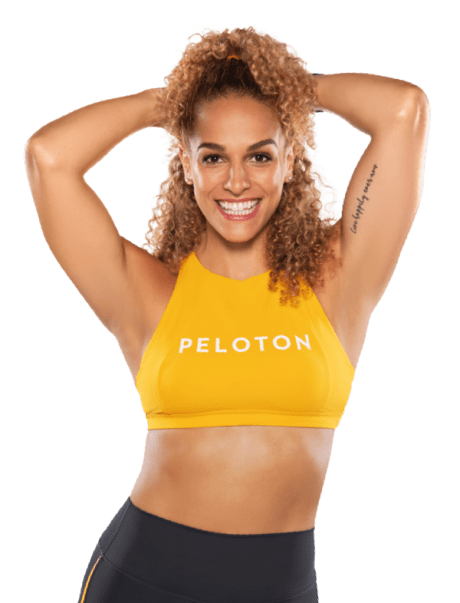 Best for: beginner, intermediate, full body, bike bootcamps, 15-minute workouts, weight training
Whether you're a strength training novice or you're looking up your game with more advanced workouts, you'll be enamored with Jess Sims, one of the most popular Peloton strength training instructors. "Jess is by far my favorite instructor and truly feels like a friend (a friend who sometimes likes to try and kill me)," writes one Reddit poster. (Chief Content Officer Kristen knows that exact feeling—and totally fangirled over having Jess on the #WeGotGoals podcast. Listen to Jess's interview here.)
Sims teaches bike bootcamps, where you alternate your time doing cardio on the bike and doing strength training off the bike, as well as butt-kicking full body strength training workouts. One of her most-loved classes is Flash 15, which incorporates medium weights and targets muscles all over your body in just 15 minutes. She also teaches classes specifically for beginners.
Adrian Williams
Best for: intermediate, full body, upper body, chest and back, weight training, bodyweight, tread bootcamps
For those who have some experience with strength training already, turn your attention to Adrian Williams. "Adrian's classes are really awesome. Perfect balance of humor, intensity, rest and great playlists," says one Reddit poster. 
Williams teaches a variety of strength training classes utilizing weights, as well as classes that feature bodyweight moves only. The majority of his classes are on the intermediate level. They range from full body workouts to workouts targeting specific muscle groups, including upper body and chest and back. He also teaches treadmill bootcamps, which entails switching between running on the tread and doing full body strength training moves off the tread. 
Andy Speers
Best for: intermediate, full body, weight training, bodyweight, tread bootcamps
Speers is known for his funny, goofy personality, which helps make it through his challenging strength training workouts. "Andy became a strength favorite of mine when I took his total strength class," notes one Reddit poster. "He's so goofy and makes me laugh."
He teaches tread bootcamps, as well as a number of full body weight training classes and strength training classes using bodyweight only. Most of Speers' classes are geared toward people at the intermediate level. If you have previous experience doing strength training workouts, then he's a solid choice as an instructor. 
Oliva Amato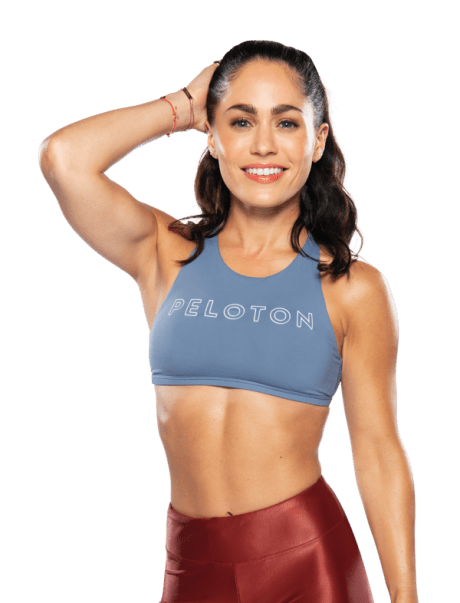 Best for: intermediate, full body, core, glutes and legs, weight training, bodyweight
Amato's strength training workouts are no joke. (Seriously: I'm sore for days after taking one of her classes.) "She's fun, she's a CHALLENGE, she's got great playlists, and she's great across all platforms," says one Reddit poster. 
Her core classes are especially challenging and effective. She teaches 5-, 10-, and 15-minute core strength classes, which are all best for people who have some experience doing strength training. 
Ben Alldis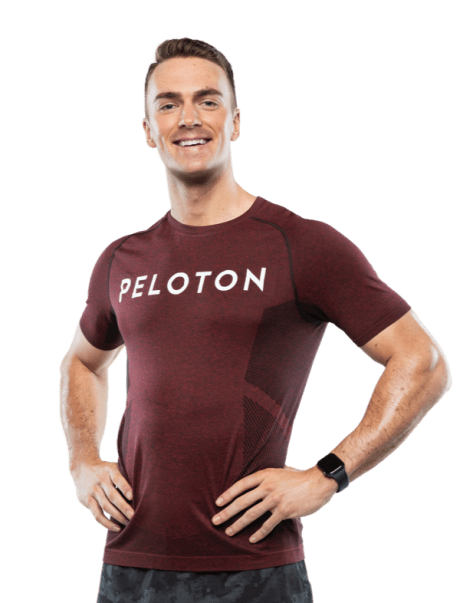 Best for: intermediate, full body, upper body, chest and back, glutes and legs, weight training, body weight
If you have a Peloton bike, then you're probably familiar with this Brit's rides. But his strength training classes are underrated. "They're simple and solid," explains one Reddit poster. "No crazy moves and nothing super-complicated. Nice and compact classes—he gets a lot done in 10-15 minutes!"
Alldis' classes are aimed at the intermediate level. He offers plenty of full body workouts (some use weights, some don't), as well as classes that target specific muscle groups in the upper and lower body. 
Robin Arzón
Best for: intermediate, advanced, full body, core, prenatal, postnatal core, weight training, body weight
New parents, listen up: Aronzon recently launched a postnatal core program on Peloton, and it's everything. The 10-minute strength training classes are all taught in the supine position to support people on their post-pregnancy journey. Aronzon also has a bunch of prenatal strength classes on the Peloton app too.
Aronzon's strength training classes are best suited to people at the intermediate or advanced level. She teaches fully body classes using weights, bodyweight classes, and classes focused on improving core strength.
Selena Samuela
Best for: intermediate, full body, glutes and legs, weight training, bodyweight
While Samuela teaches full body weight training and bodyweight strength classes, she's truly known in the Peloton community for her excellent lower body workouts. (Trust me: Your glutes and legs will be on fire.)
"I pretty much exclusively do Selena's classes for lower body work and my legs feel destroyed after every class," says one Reddit poster, adding, "she focuses heavily on unilateral work: curtsy/side/reverse single leg lunges, one legged deadlifts, clam shells, etc." 
Hannah Corbin
Best for: beginner, intermediate, barre, resistance bands
My favorite Peloton strength training instructor is Corbin (another Peloton instructor on the #WeGotGoals podcast). She's my go-to for barre classes and resistance bands workouts. "I love her barre," adds one Reddit poster. "It's actually the perfect blend of Pilates/barre movements for me."
Her barre classes are good for beginners and intermediates as she clearly demonstrates how to get into each pose. Barre classes range from 10 to 45 minutes and include sections that target each major muscle group, from arms to core to glutes. Most require no weights or light weights.
Emma Lovewell 
Best for: beginner, intermediate, Pilates, core, bodyweight
Lovewell teaches a very popular strength training program on the Peloton app known as Crush Your Core. This four-week bodyweight program takes you through a series of core workouts that are designed to increase with intensity each week and improve your core strength over time. "I thoroughly enjoyed her four-week 'Crush Your Core' program for anyone looking to build some structure into their routines," says one Reddit poster. "It's great for beginners, as the weeks begin lighter and progress as you go."
Lovewell also has a handful of intermediate-level Pilates classes on the Peloton app that range from 10 to 30 minutes. These bodyweight workouts help increase core strength and flexibility.