Here's What It's Like to Have A Virtual Personal Training Session
I get it. Working out at home instead of, say, anywhere else, is not my first choice either. And while some people have thrived in the at-home workout game for years (looking at you, P90X-ers and Daily Burn aficionados), I admit I am not one of those people. But here we are, and listen up: we're going to make the best of it.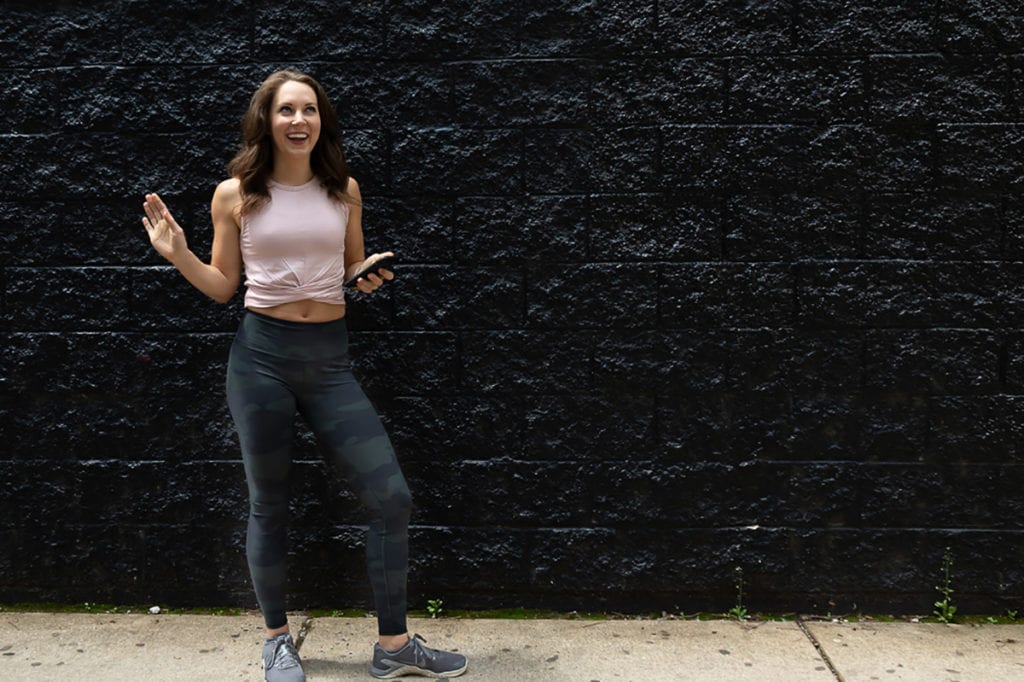 Over the past few years in Chicago, I've discovered a love for in-person classes. For me, HIIT classes are hard to beat – they make a tough workout fun, they are social, and I always walk away feeling a whole lot better, if not a little sore. Where was I supposed to get this level of fulfillment from in my 1,350 square-foot apartment? While there is no shortage of at-home workout content available these days, I wanted to find something a little more motivating and personal.
Enter: Annie Padrid, Certified Personal Trainer and owner of The Space in Hyde Park. Padrid started The Space in 2012 in a "dirt hole" (her words, not mine) while she lived paycheck to paycheck, and over the past eight years she has grown, moved, and built a truly unique and positive workout space for both trainers and gym-goers alike. 
One of my friends has been going to Padrid's classes for years and told me that Padrid was continuing her small group training with clients by video (both by FaceTime and Zoom). Her class schedule remained the same for her loyal following – they just needed to sign in to show up. I was intrigued and committed to join my friend for the next one – #EverythingIsBetterWithFriends, right?
How to prepare for a virtual personal training session
The day before our small group virtual training, I received a text from Padrid asking me about what equipment I had available (if any), if I would be working out on hardwood or carpet, and if I have access to stairs in my building. I gave her the rundown, and she followed up with, "You'll also need two hand towels. I'll show you why when we 'meet.' Ha!" Ominous, I know.
Prepping for virtual personal training takes a lot of work. As Padrid explains, "This is the trickiest part. If you are 1-on-1 with someone, you don't have to balance to make the exercises all the same. I reach out and find out what equipment people have. If they want to order stuff online, great. Most people have something in their house. Otherwise we can use household items like hand towels."
Here's how the actual workout went
The next morning, I had the Zoom details in my inbox and signed in for our 10 am class. I met a handful of other ladies who were in our small group; most of them knew each other from the gym, but some were also new faces like me. I won't lie, it's a strange way to socialize, but it's also kind of nice!
"Zoom is great because people can still see each other and connect with others in a similar way to the way they can in the gym," Padrid says from her experience. "Even virtual group training like this holds people accountable to each other. You depend on those relationships even when you are forced to stay in the home."
Before I knew it, we were off. Padrid had me running laps up and down the stairs of my building based on how many flights I had. After our warm-up, she continued to personalize moves for each of us based on the equipment she knew we had on hand.
She also kept us honest – she made sure we were always within camera frame and focused on our form, correcting us and doling out modifications as necessary. She handed out compliments as they were earned to keep everyone motivated. Honestly, if it was not for my husband's interruption to scoot by to get some laundry done, I could have sworn I was back in a gym. The workout was just as hard as any I've been to in a long time, and the other group members kept me engaged and made me feel accountable.
How social distancing is changing the personal training industry
While we don't know how long this isolation period will last, we do know it will be changing businesses like Padrid's and how and where we workout for a while.
We talked a lot about attitude and why it's more important than ever to show up for yourself and for your friends. For Padrid, "It's about not being isolated. This is a way to connect with my clients and keep my business."
In preparation for more at-home virtual workouts, I talked with Padrid to get her thoughts on a few questions I had on equipment, cost, and how to best reach out to trainers.
Investing in equipment
We all know you don't need equipment to have a great workout – you just need a body.
But if you are looking to invest in some scalable at-home equipment, Padrid suggests a few options that won't break the bank:
Two resistance bands that have handles – one light (like yellow) and one heavy (like blue)
One set of dumbbells that you can raise laterally 10 times but not more than that
Ankle bands to serve as a great form of lateral resistance.
How much is virtual training?
You might wonder (as I, a full-time student living off of grad school loans also wondered), that sounds great and all – but how expensive is this going to be? Padrid advises to reach out and let trainers know your budget. Most will be able to figure out a set-up to make it work or suggest another trainer that will.
For me, investing in my fitness while supporting local gyms feels like a great way to spend my money during this time – but I'm only able to afford the luxury once every week or so. For you, it may look different. If virtual training is not in the budget at all, you can check out aSweatLife's ever-growing list of free workout content here.
How to get started
If you are interested in working out with Padrid or any of her recommended trainers at The Space, you can contact her at her e-mail address. If you have a gym you regularly go to and want to support your favorite trainers, this is your official push to do so.
Padrid suggests reaching out directly to your favorite trainers you have worked out with before. If you do not have any contact information for them and can't slide into the Instagram DMs, Padrid suggests reaching out to your gym's contact e-mail.
"It's the only way gyms are staying open right now – especially these smaller, local gyms that really care about who you are and have to make a living," Padrid explains.
During these socially isolated times, gyms continue to adapt and we're all trying to do the best we can.
Padrid concludes, "I'm unbelievably grateful that people want to stick with me during this time. [Training is] what I'm the most passionate about and it's the love of my life. Losing it isn't an option for me and it never will be. It gives me life every day."