Meet Your Go-To Summer Drink: Watermelon Juice
Watermelon is one of the quintessential fruits of the summer season. Think about it. How many backyard summertime soirees have you attended or hosted that did not include a platter of fresh watermelon slices? There is almost nothing truly as satisfying as taking a big bite out of a chilled, juicy slice of watermelon on a hot summer day.
Maybe the *one* downside of watermelon is the sticky sweet liquid that's left on your fingers after enjoying a slice or two. Luckily, there's an easy solution for that – make watermelon juice instead. Plus, there are some pretty impressive health benefits of watermelon juice that you may have never thought of before. Here's everything you ever wanted to know about watermelon juice, plus a super simple recipe to try.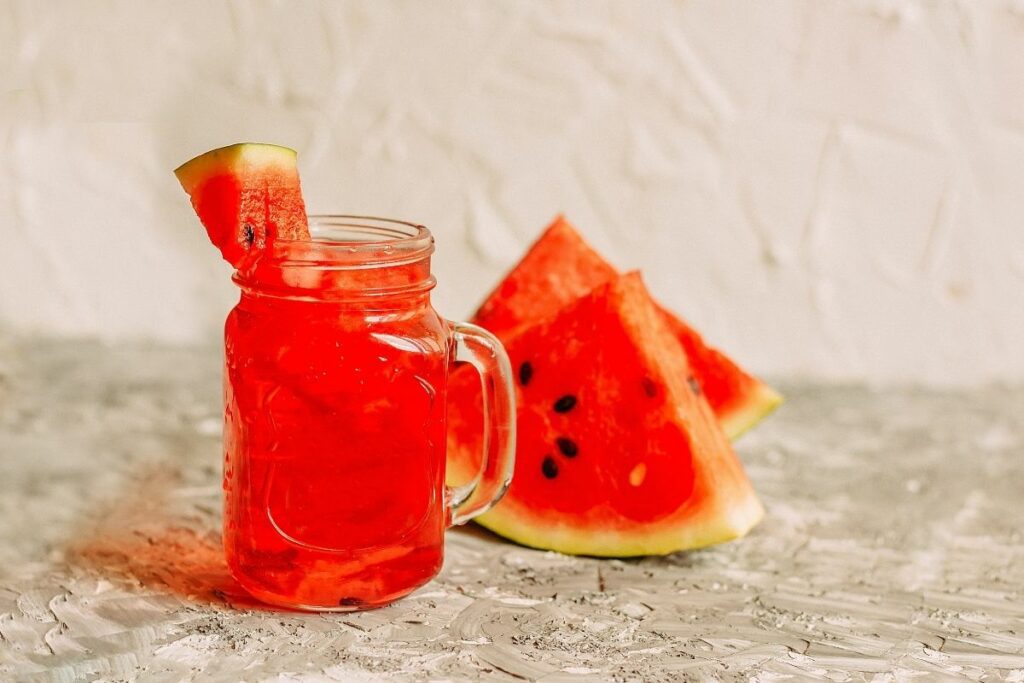 Benefits of drinking watermelon juice
Beautifully bright and incredibly hydrating, watermelon is composed of 90% percent water. Even better, it's naturally high in electrolytes like magnesium and potassium. (Electrolytes, remember, can help the body maintain an optimal fluid balance – not to mention, the electrolytes in watermelon juice mean it's great when you're hungover.)
A member of the melon family, watermelon gets its brilliant and juicy ruby red color from high levels of lycopene. Lypocene is a powerful antioxidant that is commonly associated with tomatoes. It's also protective of heart health.
Besides being naturally high in antioxidants and minerals, watermelon also contains high levels of citrulline, which converts to nitric oxide in the body. This little molecule has been shown to enhance athletic performance, just like beetroot juice.
Watermelon juice recipe
Incredibly hydrating and refreshing, this easy watermelon juice recipe is like the Fourth of July in a glass.

Ingredients:
A splash of fresh lime juice
2 cups of cubed watermelon, seedless (or more if you really enjoy the taste of watermelon)
4 cups water (Add less if you are using more watermelon)
Optional: A pinch of pink Himalayan salt and a few fresh basil leaves for a burst of added flavor.
Directions:
Blend watermelon chunks until smooth. Feel free to strain if needed, but not necessary.
Add 4 cups of water and watermelon juice to a large pitcher. 
Stir in a splash of fresh lime juice. 
Then, add a pinch of pink Himalayan salt and a few basil leaves for a touch of garnish if desired. That's it!
The next time you slice up some slices of juicy watermelon, save some to whip up a handcrafted batch of irresistible watermelon juice perfect for a hot summer's day. Umm, can someone pour me a glass, please? Thank you!