The 5 Best Healthy-ish Hangover Foods to Cure You From the Night Before
Alcohol alternatives, mocktails, and the sober curious movement are all gaining popularity. But even though these options are currently front and center, it's still totally normal to enjoy an alcoholic beverage every once in a while. But whether you prefer beer, cocktails, or wine, sometimes "just one" turns into two, then three, then more… The next morning, you may find yourself feeling less than stellar. Hey, hangovers happen.
Before you grab that bottle of Gatorade and head out to that irresistible greasy spoon cafe, consider whipping up some of the best hangover foods. Here are some healthy hangover foods to try the next time you find yourself struggling.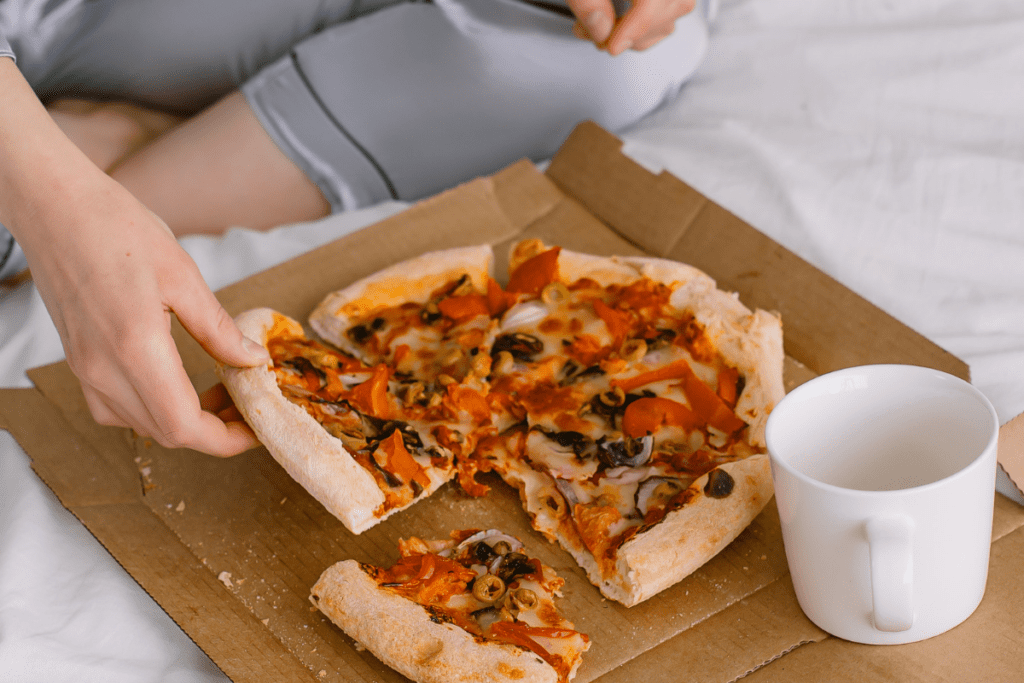 Can food really help cure a hangover?
First things first, can food really help cure a hangover? The long and short of it is no, but some healthy hangover food can help lessen the symptoms of a horrible hangover. Jennifer Schlette, a Registered Dietitian, and Integrative Nutrition Health Coach at Kitchen Substitute says, "Sure, it may not be possible to cure a hangover, but some foods will at least make the morning after a little easier."

When deciding which foods are the best hangover foods, Schlette says to look for a few things. "The best hangover foods have a few things in common: a lot of vitamins and nutrients, rich in protein, light on grease or fat. These types of food will help you regain your energy levels after a hangover while helping to reduce headaches and dizziness."
What about greasy foods?
Wait, so about greasy foods? I hate to break it to you, but you can promptly remove those from your list of the best hangover foods.
"Greasy foods such as bacon and cheese fries certainly do not help," says Schlette. "They are loaded with fat and protein, which can make you feel bloated."
Best hangover foods
Avocados
As if you needed yet another reason to enjoy avocados. "The rich, creamy texture of this fruit comes in part from its high concentration of anti-inflammatory monounsaturated fat" and according to Trista Best, Registered Dietitian at Balance One Supplements, anti-inflammatory foods are some of the best foods you can eat for a hangover. 
"If you are experiencing a hangover the best thing to do for yourself is to hydrate and eat plenty of natural anti-inflammatory foods," shares Best. "Foods that give your brain a source of energy like complex carbs and healthy fats."
Not a fan of avocados, but still want to enjoy some anti-inflammatory foods? Best recommends trying berries, brown rice, cucumbers, eggs, legumes, and watermelon.
Bananas
Bananas are one of the best healthy hangover foods. Schlette says, "Bananas are a great fruit to eat when hungover as they are filled with B-vitamins and potassium that can help calm nerves and relieve headaches."
Green smoothie
If you don't have enough energy to chew your food post hangover, opt for another healthy hangover food – a green smoothie. "A green smoothie is a healthy option for a hangover as it provides you with antioxidants that can reduce the damage to your body caused by toxins that have built up during the night," shares Schlette.
Be sure to fill it up with green leafy vegetables, too. Schlette shares why. "Green leafy vegetables are a great source of magnesium, which can help to ease headaches and sore muscles. High levels of magnesium can also prevent you from feeling nauseous."
Need some green smoothie recipe ideas? Try this Delicious Tropical Healthy Green Smoothie, this Green Peanut Butter Hemp Smoothie, or try a smoothie bowl like this Green Smoothie Bowl with Creamy Pumpkin Seed Milk.
The good news about enjoying a green smoothie after a hangover is that many of the ingredients used to make a homemade smoothie are also hangover-friendly. (Score!) Here are a few ideas if you are wondering what ingredients to use in your homemade hangover smoothie:
Bananas
Cantaloupe
Celery
Chia seeds
Coconut water
Collagen powder
Ginger
Honey
Nutrient-dense nuts and nut butter
Protein powder
Seeds
Tropical fruits
Salmon
Okay, okay, steaming a piece of salmon may not sound the tastiest after a night out, but hear us out. Rima Kleiner, MS, RD, and blogger at Dish on Fish, says, "Excessive alcohol intake can deplete the body of B-complex vitamins and increase compounds that cause inflammation. Eating salmon may help counter these effects since this fatty fish is rich in vitamins B6 and B12, as well as omega-3 fatty acids that help to lower inflammation. In fact, a 3-oz. serving of cooked salmon provides more than half of the daily value for vitamin B12."
Plus, you can dress up the salmon to be a little more appealing to your hungover self. Kleiner offers up a tasty meal idea sure to be one of the best hangover foods we have ever heard. "A comfort meal of grilled salmon tacos may help alleviate some hangover symptoms. Pair those salmon tacos with a tall glass of water to help you rehydrate -and avocado, which contains potassium and can help replenish electrolytes." One order of salmon tacos, please!
Yogurt
Looking for the best hangover food when you have to head out the door early the next morning? Grab a yogurt, another healthy hangover food. "This food can be a fantastic pick-me-up after you are hungover," notes Schlette. "Not only is yogurt high in calcium and protein, but it also has probiotics that will help to reduce the symptoms of hangovers such as nausea."
So the next time you know you're going out for a big night, do future-you a favor and stock the fridge with these hangover-friendly foods.