How To Better Communicate With Your Healthcare Provider
The pandemic has made us all hyper-aware of the importance of health and wellness, but it's also made the process more challenging. Many doctors and specialists are still busy and backed up. Appointments may feel rushed and stressful. While telemedicine is more popular and convenient than ever, it lacks a personal touch and has other limitations. We've never had more access to medical information than we do right now, but talking about our issues with our providers can feel intimidating. We all need to learn how to clearly communicate our concerns and our needs with our healthcare providers. Here's how to advocate for yourself as a patient.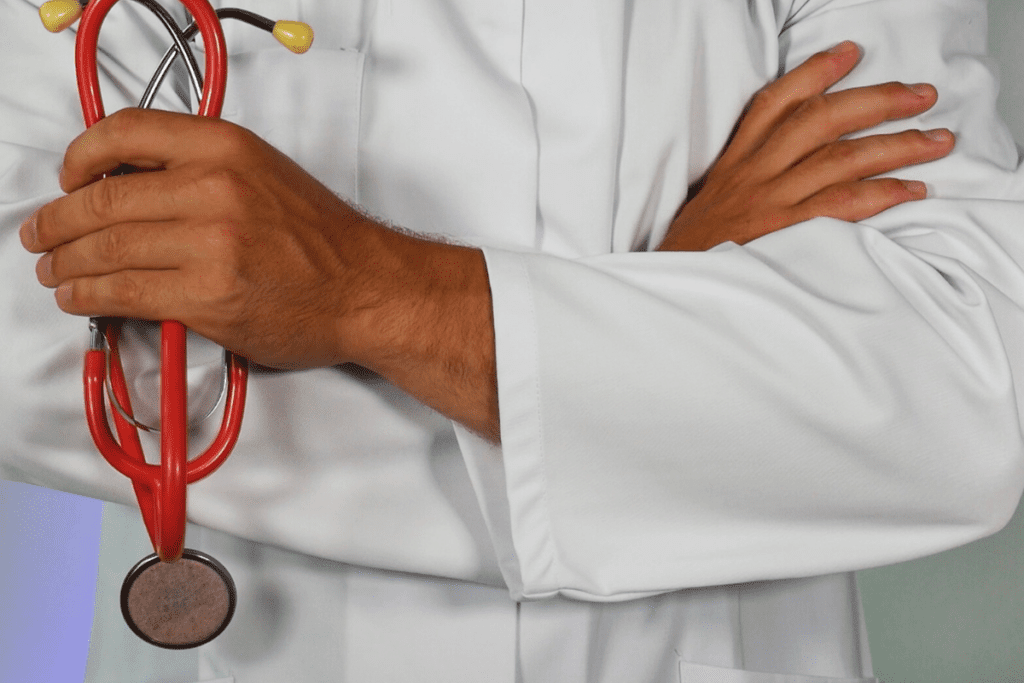 Open Wide And Say "Meh"
If something doesn't feel right health-wise or you haven't felt your best for awhile, you need to tell your doctor. Yes, even if it feels uncomfortable (as learning how to advocate for yourself often is). Remember, physicians aren't psychics or God. They're people doing a job and the best way to approach this is to be direct.
"Healthcare providers and patients need to be comfortable speaking openly about their concerns and allocate the proper time to each person for a proper assessment and diagnosis," Dr. Abe Malkin, Founder of Concierge MD Los Angeles, tells me. "If you feel this isn't the case, it's important to voice your concerns to the doctor and staff right away so adjustments can be made and your health is not sacrificed. Patients should feel comfortable asking questions or presenting their own research, treatment options or concerns for a doctor to discuss and advise on."
Drop A Hint
If you're reading this, you're probably privy to Googling your symptoms before your doctor's appointment. But what do you do if you're in the middle of an appointment, trying to open up, and your doctor isn't as understanding as you would like? It's always a smart idea to suggest blood tests. At the very least, they can't hurt and can probably steer things in the right direction.
There are several types of testing to consider. "A point of care testing (POCT) refers to laboratory testing that occurs close to the patient. Sometimes at a patient's home, but sometimes at a physician's office or a clinic," Jeff Dlott, MD, Senior Medical Director of Diagnostic Services, Quest Diagnostics tells me. "While POCT offers speed, these tests are often not as sensitive or specific as tests processed in a laboratory."
Another option is at-home testing, which has advantages and disadvantages. "At-home collection for laboratory tests offers convenience. But, there are times that a patient feels hesitant to collect their own blood, or they may feel more confident having it drawn by a professional in a healthcare setting," Dr. Dlott explains. Another problem with at-home tests is that you may not understand the results, how they impact your health, or the next steps to take.
There are also services like QuestDirect, which offer patients both at-home collection and patient specimen collection under the oversight of a physician who can help them interpret the results, prescribe treatment, and, if appropriate, figure out the next steps. According to Dr. Dlott, these tests are the same quality as those that are performed by your own physician, but with the added convenience of being purchased on demand.
QuestDirect offers a variety of tests including allergy tests, thyroid tests, women's health panel, food allergies, COVID-19, and STD tests.
When To Say Goodbye
If you express your concerns and your doctor can't help you or doesn't want to have a conversation— run, don't walk away from the practice. Or ask to be referred to another provider. Unprofessional behavior by physicians should not be tolerated under any circumstances. 
However, finding a new doctor can come with its own set of challenges. If you can't find someone on your health insurance, there are some alternatives to consider.
One of these options is a concierge doctor. "If your healthcare provider isn't taking the time or attention to detail you need, it may be time to change. My company, Concierge MD Los Angeles, prides itself on personalized care. Patients need to feel that their concerns are heard and treated with respect and consideration. The nice thing about concierge medicine is that our doctors travel to you at your home, hotel, or office. That way, treatment is both accessible and convenient," says Dr. Malkin.
While every concierge doctor may work a little differently, most charge a monthly membership fee for various tiers of service. While not everyone needs a concierge doctor, it may be worthwhile for anyone managing multiple or chronic health issues. However, house calls come at a high price.
Another choice to consider is a membership practice such as One Medical, which has offices in many major cities. One Medical offers same-day as well as next-day appointments and telemedicine with your doctor, among a list of other services that many traditional offices don't provide. In general, memberships are great alternatives for anyone who wants extra medical attention and is willing to pay for it.