How Hip Hop Dancing Helped Free Me From My Mental Trauma
I started dancing before I could form full sentences. I started my journey with dance in classical ballet. Then, I moved more into hip hop dancing and contemporary dance towards the end of high school. Fun fact: I actually wrote my Harvard application essay about my love for dance!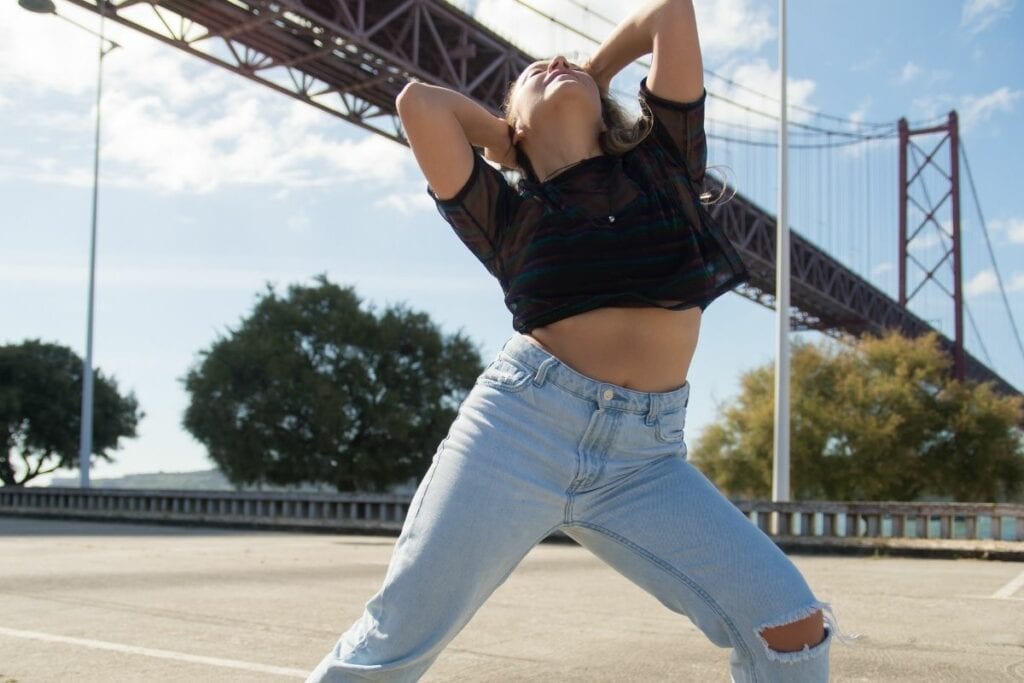 As someone with anxiety and depression, I have the tendency to bottle up my feelings. Dance gave me an outlet to process and share my emotions when I didn't have the words to vocalize them. I remember morphing my body into different shapes and talking this shared body language to tell my story.
It was wonderful for me to start in ballet, where there's guidance and direction on what expression looks like. But when I moved into hip-hop dance, there weren't really rules or special techniques to follow. Hip hop is also more accessible than ballet — you don't need special shoes or equipment. As long as you turn on some music, you can do it wherever you are. The history of hip hop is one full of soul and emotion and intertwined with feelings of liberation. Moving into hip hop was so empowering because it was about taking everything I knew about movement and dance, throwing the rules out the door, and just being able to express my authentic self. 
Ballet gave me structure when I needed it during my early dancing years. But hip hop gave me community and liberation from the confines of my own mind and trauma.
How dance can impact mental health
There is no questioning how the COVID-19 pandemic has exacerbated the mental health problem both within the U.S. and globally. The Household Pulse survey of 2021 — conducted by the United States Census Bureau — found that anxiety rates are now 35.9 percent, up from 6.1 percent before the pandemic. People of color, women, and low- and middle-income households bore the brunt of the impact, due to their roles as essential workers and poorer access to health care.
As the mental health epidemic spreads rampantly, it has become even more important to find new therapeutic things to process our emotions and new ways to find community and build a support system. 
"Pain, stress, and anxiety often go hand in hand with depression. Dance, music, and related expressive forms of therapy could help lessen mental fluctuations even before the onset of full depression," says Hanna Poikonen, a cognitive researcher who investigates the relationship between dance and neuroscience in her doctoral dissertation, "Dance on Cortex—ERPs and Phase Synchrony in Dancers and Musicians during a Contemporary Dance Piece." Based on a growing body of empirical evidence, Poikonen believes that dance-based movement can be used as part of holistic treatment for conditions such as Parkinson's disease, chronic pain, dementia, autism, and mood disorders. 
Numerous researchers and scientists can attest to the impact of dancing on one's mental health. In the Archives of Pediatrics & Adolescent Medicine, Swedish researchers studied 112 teenage girls who were struggling with problems including neck and back pain, stress, anxiety, and depression. Half of the girls attended weekly dance classes, while the other half didn't. The girls who took dance classes improved their mental health and reported a boost in mood — with positive effects lasting up to eight months after classes ended.
Dance is more accessible than many mental health therapies
It's so vital to find affordable and accessible ways that you can integrate even into daily mindfulness practices. For me, dance was and has always been the best outlet. Nowadays, therapy is expensive and hard to access for marginalized communities. I have experienced this firsthand as someone who struggles with mental health and has gone in and out of periods of having health insurance. Obviously, without health insurance, therapy gets even more expensive.
Did you know that the U.S. spends over $200 billion on mental health disorders? The average cost of therapy is $60 to $120 per session, with most Americans paying between $20 to $250 per hour. Mental health treatment and care comes with a heavy price tag, one that many people aren't able to afford. Though dance likely cannot solve more serious disorders, it is an accessible way of boosting mental health and practicing mindfulness.
Define dance for yourself
Sometimes it's just about putting on a song or your favorite playlist and dancing like no one is watching. Pick up your hairbrush, in the movie-visual cliche way, and sing at the top of your lungs while dancing in the mirror. There are so many diverse forms of dance and communities within them. Find the ones for you and define dance for yourself!
You can even look into different modes of open dance classes. Look at different studios or organizations that are working to make dance + community more accessible. For example. Coffee, Hip-Hop & Mental Health is a Chicago-based 501c3 charity advocating for the physical, emotional, and mental health needs of underserved black and brown communities.
There is also a new dance and mindful fitness studio in New York City called Good Move that embraces inclusivity in dance. Their mission is to "help you feel the joy, freedom, and empowerment of expression through movement."
So, I encourage you to get up and dance! Find different communities through dance, and use it as a way to open yourself to how you are feeling and process through movement.