How to Get Back to Strength Training—Safely—After the Pandemic
This post was written as part of a partnership with Strength Society. As always, we only write about products, brands, or services we truly love.
Since "unprecedented times" have become par for the course these days, most of us have been working out with whatever you've got around home. (And if you're one of the lucky ones who already had a set of dumbbells, a kettlebell, or a Peloton, well, we're jealous.) Bodyweight workouts may get the job done, but according to our recent State of Fitness survey, a LOT of you are missing the variety of equipment your gyms were able to offer you pre-COVID.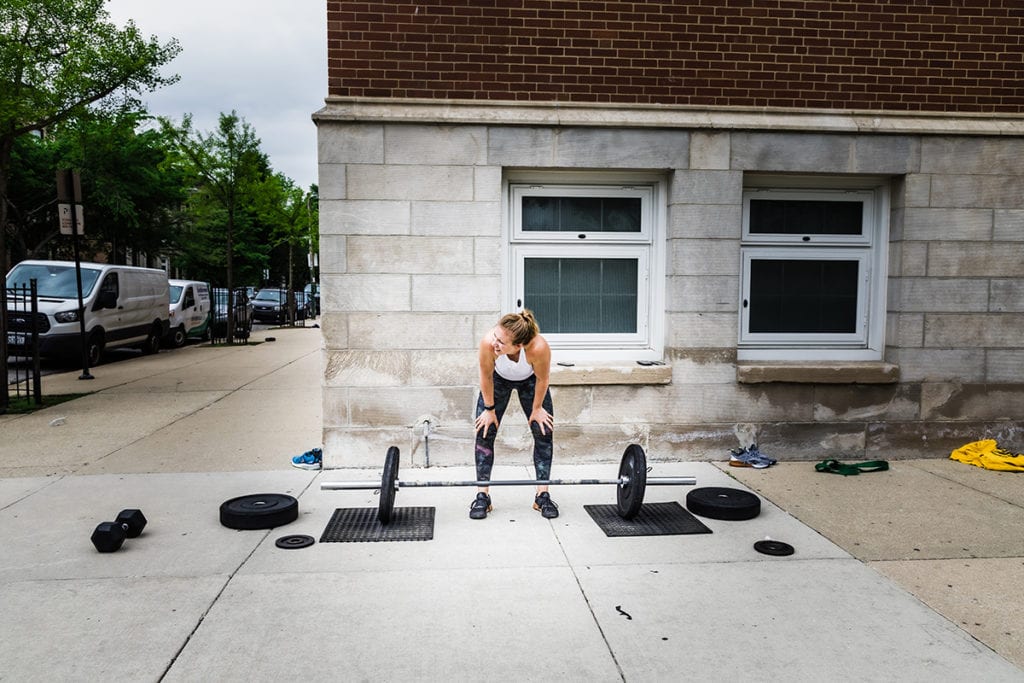 When we asked what you guys were currently missing most in your fitness routine, you said things like:
"A real gym with all the equipment and weights/squat racks…the variety of it all"
"Heavy weights! I used to be so sore after heavy classes at Sweat or Train Moment. I grabbed a resistance band and 20lb kettlebell from my parents, but it's not the same."
"Equipment – I can't even find 10-15 lb dumbbells for a reasonable price to buy for home."
"Powerlifting! Heavy barbells and leg press machines."
But now, with Chicago entering Phase 3 of re-opening, gyms are able to host outdoor classes and one-on-one training, leaving many fitness enthusiasts rushing to book classes and reserve time at their favorite gym. And high on people's list is heavy strength training.
Says Mimi Bosika, co-founder of Delos Therapy and managing partner at Strength Society, "We had a client tell us that they've been using some at-home equipment during quarantine and the workouts are just not the same. They've missed the feeling of maximizing their resistance load on machines and feeling accomplished."
She continues, "It almost seems as if the hope during the stay at home order was to maintain some level of muscle memory so that when they got back into the gym real progress could be made."
However, after several months away from the gym with only free weights or bodyweight workouts, gym goers will need to ease back into higher intensity workouts. Here's what to know about returning to strength training after the pandemic.
What happens to your muscles after three months of bodyweight-only training
Dan Geraci, Chief Strength Officer at Strength Society and former University of Michigan Strength Coach, says that while bodyweight workouts have their place in a training program, heavier resistance is needed to truly make those gains.
"Your strongest muscle fibers won't get worked unless you have significant weight," explains Geraci, who's worked with top athletes including Olympic gold medalists and future NFL standouts. "Even heavy resistance bands won't work because they'll slip or won't act the right way. Weight machines take care of loading the intended muscle group safely and effectively."
According to the Medicine and Science in Sports and Exercise Journal, significant muscular detraining can occur in as little as 2-3 weeks of no physical activity (however, it's important to note that strength performance seems to have a slower rate of decrease, with research indicating that there are little decreases in strength within the first 2-4 weeks of training cessation).
Bodyweight exercises can be helpful in maintaining muscle mass, and beginners may even continue to see progress with bodyweight-only training. Experienced lifters, however, will likely find that bodyweight-only workouts, even with high rep counts, simply aren't enough to stimulate muscle failure and growth.
What risks do you face when returning to strength training?
The temptation, of course, is to immediately return to your pre-pandemic levels of volume and weight—but not so fast, says Geraci.
"You'll have to build back to where you were," he cautions. "It won't take as long as it took to get there, but you probably need a solid three weeks if you want to stay safe and avoid injury."
And speaking of injury that's the number one risk of returning to the gym too enthusiastically. Muscle strains and muscle pulls are commonly sustained injuries from pushing those limits.
"Your muscles will fight back by stiffening up," says Geraci.
How to return to strength training safely
Start low and slow
First, plan to decrease your rep count and your weight to about 75% of what you were doing before, says Geraci. For example, if you previously set three sets of 12 reps at 20 pounds for bicep curls, start at three sets of nine reps at 15 pounds.
"You'll want to build some basic foundational strength. Once you're strong again, you can go back to doing the things that you're used to doing," he explains.
Schedule rest days
Make sure you schedule a rest day after your first day back at the squat rack—and maybe even two rest days.
"At most, you should train every other day to start," says Geraci. "You might even want two days off after that first workout, and then ease into every other day."
Work with a personal trainer
In the weeks since you've moved heavy weight, your body might have forgotten proper form, putting you at a huge risk for injury. A trainer can correct your form in the moment and keep you on track with every rep—safely.
"People are going to be pretty severely atrophied strength wise, since they just haven't had enough weight training. Getting yourself accustomed to working with heavy weights again is best done under supervision," says Geraci.
And of course, working out one-on-one is safer from an epidemiological standpoint.
How Strength Society is prioritizing client health as they reopen
At Strength Society, for example, a maximum of three trainers at a time will have clients working out across the 2200 sq. foot space, which is divided into upper body machines and lower body machines for even more split space. The trainers will wipe down equipment after every single use, and they'll be wearing masks as they coach as well (clients are not required to wear masks during the workout).
"We have the ideal scenario for folks who want access to rigorous strength training while minimizing contact," says Bosika. "We're open seven days a week with plenty of availability to address demand, so we can stagger schedules and minimize how many people are in each other's space. Our workouts are geographically designed for not much interaction. Clients will be able to stay 10 feet apart, and our workouts are only 30 minutes long so you're not in the same space with people for an extended amount of time."
When you're planning your comeback, make sure to ask your gym whether they have similar policies. Bosika points out that aside from additional cleaning, Strength Society has always specialized in 30-minute, one-on-one workouts that are high in intensity while avoided crowded gyms.
"Honestly, this is an optimal setup to get back to some rigorous strength training while not being among a lot of people," Bosika points out. "This is what we do—we're really not modifying the workout at all. This is our bread and butter."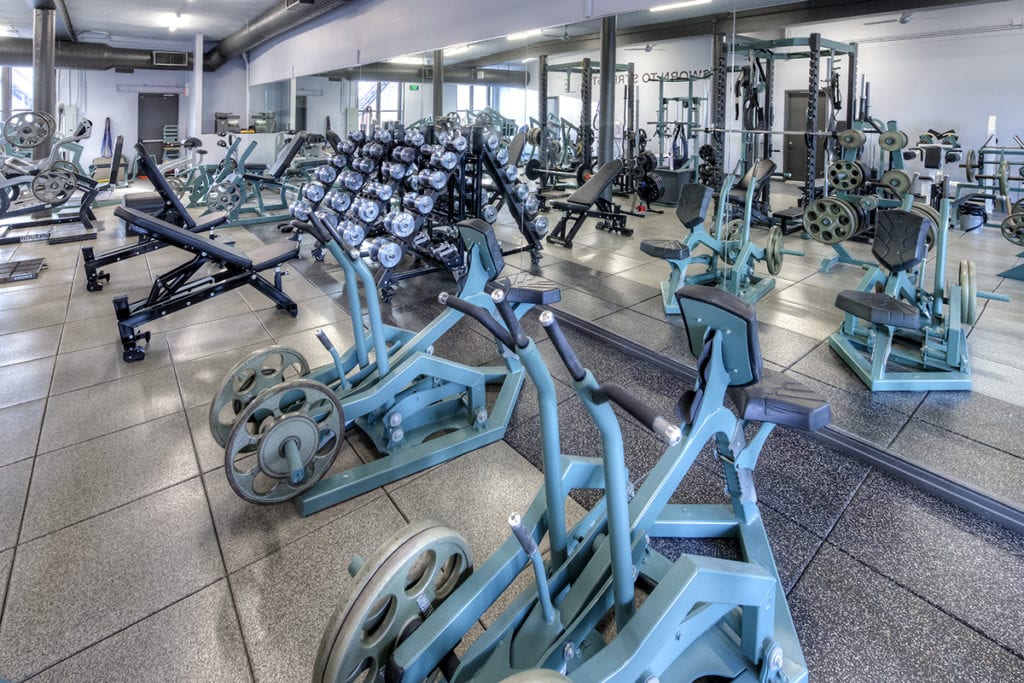 Remember, you WILL get back to where you were before
You may feel like a weak little kitten after you try your first pull-up in months, but don't despair—you will be able to return to the levels you were working out at pre-pandemic.
Take it from Geraci, who faced a life-threatening heart defect in 2017 and subsequently took three months off from any activity.
"Just try to be consistent and don't worry about how well you're doing in the moment," he advises. "Making it to the gym is an achievement. Your strength WILL come back."
Adds Bosika, "The hardest part is always starting. Getting started always seems so overwhelming, like such a big mountain to climb. The longer you wait, the harder it is."
Ready to schedule your one-on-one training session at Strength Society? Book your session here (and note, new safety policies and procedures will be shared in your confirmation email and throughout the gym).