How to Set up a Home Gym, According to Fitness Pros
As someone living in one of the epicenters of the coronavirus pandemic—New York City—I haven't felt comfortable stepping inside a fitness studio or gym since cases started spiking here last spring. But without my group of in-person workout buddies and instructors to hold me accountable, I haven't had much motivation to work out at all lately.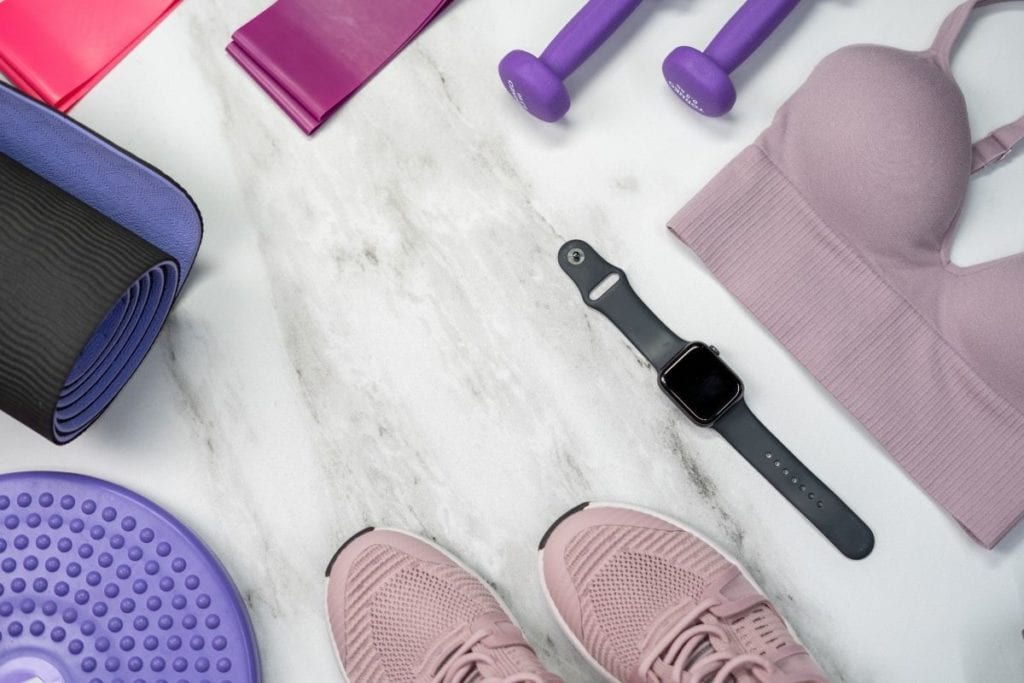 With a new year finally here, though, I've decided to recommit to a fitness routine in 2021 and carve out some space in my apartment for an at-home gym. Whether sticking to a regular exercise routine is one of your New Year's resolutions too, or you got some new fitness equipment for the holidays and are ready to put it to good use, I've got some tips for you.
I chatted with top fitness experts for their best advice on how to set up a home gym and get back into the workout groove. Here's what they had to say.
First things first: Start small.
Signing up for a 30-day bootcamp challenge after months of not working out? Not the greatest idea.
"The first thing you need to do when easing back into a workout regime is to start small and be honest with yourself," says DeBlair Tate, health and fitness coach. "You have to decide what is necessary and valuable to you so you can set a goal that comes from within."
In general, it's best to ease back into exercise with lower intensity workouts, such as light strength training, even if you used to do high intensity workouts before you took a break, says Mecayla Froerer, National Academy of Sports Medicine-certified personal trainer and director of iFit Training.
"Exercise can be overwhelming at times, but it can also be fun," says Froerer. "Try not to become overwhelmed by what you are not doing or can't do—instead, focus on what you can do." Once you feel like you can take on small tasks, and your body and mental outlook start to adapt, you can slowly begin to add on to your fitness regimen, she adds.
Stock up on the right equipment.
Now onto the fun part: Outfitting your home gym with the right equipment. While everyone is different, these are the items Tate recommends:
Weight machine with multiple features to target a variety of muscle groups
Punching bag and boxing gloves
Barbell and plates in various weights
Ab roller or other ab machine
Free weights, wrist/ankle weights, or dumbbells in at least three sizes: light, medium, and heavy
Resistance bands for toning and light resistance work
Not ready to buy a ton of equipment just yet? Get started with resistance bands. "Resistance bands are the cheapest and most versatile piece of equipment to have at home," says Froerer. "Using these bands is an excellent way to get a total body workout."
Maximize a small space.
Of course, if you live in a small apartment like I do, you probably don't have the room for large equipment. That's totally fine—you can still set up an at-home gym and do some seriously effective workouts.
"Equipment that is compact or takes up a small footprint is great for someone who lives in a small apartment," says Froerer. She says a number of NordicTrack treadmills and rowers come equipped with SpaceSaver Design, which means you can fold them up and stow them away when you're not working out.
Resistance bands are an ideal pick for small home gyms because they take up virtually no space, says Tate. The Fit2Go Resistance Band Starter Kit ($65, mindbodyonline.com) is a good option for beginners and anyone who lives in a tiny apartment. It comes with five adjustable resistance bands that are colored and numbered by resistance, as well as handle attachments for upper body exercises, ankle attachments for lower body exercises, and a door anchor so you can do lots of additional exercises.
Dumbbells are also a good idea because they can be stored in a closet or under your bed, says Tate. Even just one or two dumbbells is useful.
"The movements you are able to do with a single dumbbell, or pair of dumbbells, in a home gym space are almost limitless," says Froerer. "From cleans, overhead presses, squats, RDLs [Romanian deadlifts], and more, you can get a total body workout working both strength and cardio in no time."
SPRI Dumbbells come in a variety of weights (you can choose from 1 pound up to 18 pounds), are pretty compact, and have a small price tag, making them an ideal pick for at-home workout newbies and small apartment dwellers.
Another way to maximize a small living space? Let your household items perform double-duty as workout equipment. Yep, Tate says you can even use your wall to do exercises like all wall sits, pushups, and squats—and you can use a chair for things like dips, step-ups, and incline pushups.
Don't be afraid to splurge.
You don't need to shell out a lot of money for your at-home gym. But if you have the extra dough (and space!) to spare, there are plenty of big-ticket items you can consider adding to your at-home gym to up your fitness game even more.
The Peloton bike, which starts at $1,895, for example, "is a must-have have for so many reasons," says Tate. "This bike is a high-quality home exercise bike that offers the convenience of working at home and links you to live and on-demand workouts, which allows instructors to motivate and push you."
Tate also recommends a full-body gym machine. Her favorite is the Marcy Multifunction Steel home gym, which clocks in at $600. "This equipment includes exercises customary to the upper and lower body," she says.
Tate also likes the MiM USA Champion Home Gym Machine, which costs $999. "One major benefit, especially for those that lift heavier, is that it supports you lifting heavy without needing assistance from a spotter," she says. "There are so many different exercises you can incorporate with this machine."
Froerer, meanwhile, recommends the NordicTrack X22i Incline Trainer, which costs $2,999. "This machine is a game changer for me in my training," she says. "With the ability to incline to 40% and decline to -6%, I can train my body for any type of running race, from a 5K to marathon distance." Froerer says that because this treadmill has the ability to incline so high, she used it to train for her hike up Mount Fuji in Japan.
Froerer says mirrored fitness equipment is going to be huge in 2021 because they provide immediate visual feedback that allows you to match the form of the trainer for a better workout. If you're looking to try a mirror yourself, Froerer says the NordicTrack Vault: Complete, for $2,999, is a gamechanger. It's a full at-home gym kit that comes with an exercise mat, two yoga blocks, dumbbells, and more.
Remove distractions.
Just because you have all this fancy equipment doesn't mean it'll be easy to stick to a fitness routine. In fact, you might find yourself putting off working out because you have so many other things on your plate.
"The biggest obstacles when it comes to working out remotely are all the distractions that could cause you to cut your workout short or your lack of consistency or preparation," says Tate. "To get the most from an at-home workout regime remotely, you need to minimize distractions and schedule time to workout so you can remain consistent."
So how do you combat the distractions so you can successfully work out from home? Tate suggests putting your phone on do not disturb mode, telling your family members to respect your workout time, and turning off your computer so you don't have the option of checking your work email.
Find your favorite workouts—and stick to them.
So you bought all this gear for your at-home gym, but what are you supposed to do with it? It's time to figure out which workouts will help you meet your fitness goals.
"For someone who wants to burn calories, you may look for a high-intensity cardio workout regimen—something like HIIT training," says Tate. "If you just want to build or get stronger, you may eliminate the cardio aspect and focus on a workout that consists of strength and/or weight training."
My main fitness goal for 2021 is simply to move more because working from home means I spend way more time sitting than I normally would. To help myself achieve that goal, I signed up for 305 Fitness At Home. This dance cardio class not only gets me moving but also helps boost my energy and my mood. Tate's favorite workout class, meanwhile, is the 30-minute one she teaches on Instagram and Facebook Live every Thursday called Trapping on Thursdays.
Having someone to hold you accountable will also go a long way toward making sure your at-home gym actually gets used.
"If you don't have any friends or family nearby, try encouraging each other toward similar fitness goals via online or phone," suggests Froerer.
Taking advantage of a virtual coach can also help you stay on track. Froerer, who works for the fitness app iFit, says using this particular app is a great way to stay motivated because there are thousands of workouts on it led by supportive certified personal trainers.