This Journaling Practice Helps You Through Stressful Times
It's no secret that we're living through one of the most stressful years we'll ever face during our lifetimes. And as the election, colder weather, and the holidays all approach, you might be looking for more self-care practices to add to your toolbelt.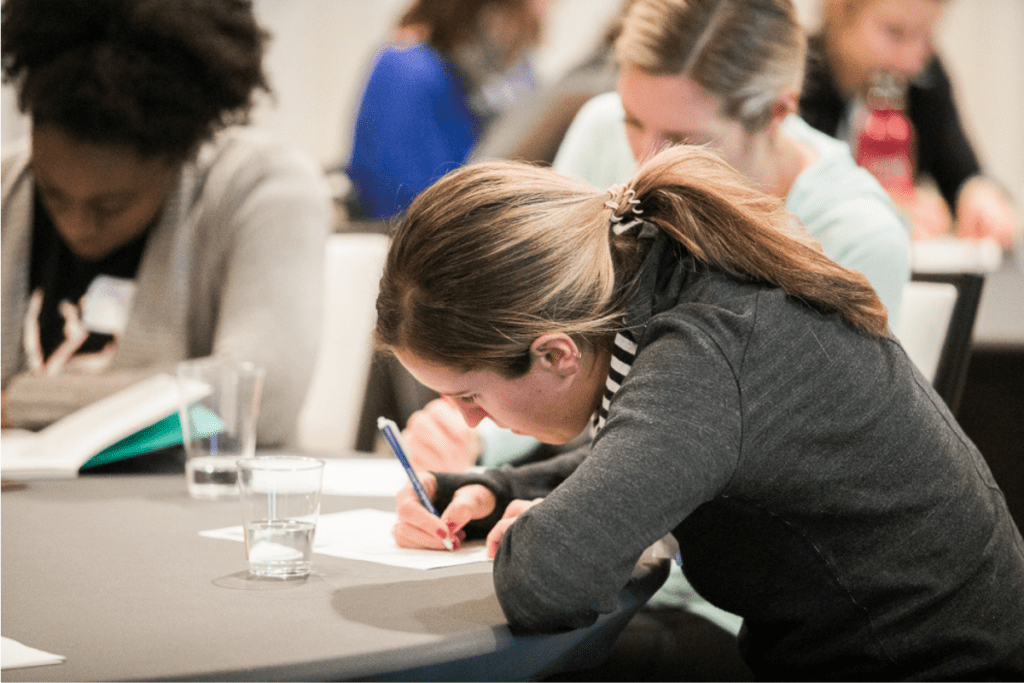 Enter: journaling. But not just any journaling—we talked to Ariel Upton, co-founder of the Today I Did It Right (TIDIR) journaling method. TIDIR was created for those in transition (cough, all of us, cough) to help them focus on the present moment and what they could control on that day.
Here's how identifying and journaling about "one right thing" might help you through stressful seasons of life ahead.
How daily journaling can help you relieve stress
"Daily journaling is the most effective tool I've found to help us connect with ourselves on a daily basis and it's why we call TODAY I DID IT RIGHT™ a Self-Connection Journal," explains Upton.
In a broad sense, journaling is a way for you to make sense out of the world around you, as you write your own narrative and turn the events that have happened to you into a story.
"The practice of writing something down, taking a thought from swirling inside our heads and putting it on to paper, can help us make sense of chaos or stress that exists outside us," adds Upton. "If we listen to this conversation we can find the instructions on how to take action in a way that feels aligned and right to us."
Shaina Partlow, a health coach in Indiana who joined October's TIDIR writing challenge, shares, "The biggest benefit I've seen [from journaling] has been having more mental clarity during the day. I feel like I'm able to start off my day by thinking about my life and it helps me have a clear intention throughout the day."
Sara Haynes, a relationship therapist in Chicago, adds that a daily journaling practice has helped her live more intentionally, which has grown into being more discerning about where she directs her energy.
"Noticing the joy filled moments throughout the day, my beliefs or reactions to a conversation, how I feel when I partake in my morning 'ritual,'" she further shares. "Ariel does a wonderful job of encouraging you to notice, reflect, and go one step deeper in understanding what works for you and what does not. This has helped me feel more confident in knowing what I need, what gives me energy versus what does not, and living more in the moment."
And the special sauce that makes the TIDIR so valuable during transitional times is that it asks you to flip the narrative from what's wrong to what's right.
How focusing on the positive can enhance your journaling practice
"Right does not always equal happy, perfect, or easy," Upton is quick to say. "If you can focus on one right thing every day regardless of what is going on around you – you have a superpower."
By focusing on what's right, Upton argues, you have a clearer vision for what you want your life to look like—plus, you have an actionable plan for living that "right life."
"If you can build the muscle for noticing one right thing every day, you can connect with yourself no matter what is happening," she states. "The upside is this superpower—that you never lose sight of you—or what you want your life to look and feel like."
Hally Ryan, who's also participated in journaling challenges with Upton, found that focusing on one "right" thing naturally led to a gratitude practice.
"While participating in the journal challenge, I found that at the end of each of my journal sessions I would always end with writing three things I was grateful for," she shares. "Journaling about the good and positive things in my life always left me feeling uplifted and helped me realize how many good things I have in my life, despite some of the unknown and scary times."
A few "right" things to focus on during times of stress
Using four focuses (self, every day, choice, and connection) and 16 "rights" that fall under those focuses as a framework, Upton and TIDIR offer several different lenses through which writers can reflect on their lives. But, there are a few particular "rights" that stand out especially during transitional times.
"My favorite Right for times of stress is Be A Noticer," shares Upton. "So much of life is actually just about paying attention to what is going on within you and around you and trusting what you see and feel. When I feel stressed, unbalanced, or spiraling in a direction I don't want to go, I always come back to Be A Noticer."
By asking herself questions about actualities versus expectations, Upton finds that she's able to stay grounded and find clarity in times of stress.
"It's the opposite of just going with the flow and seeing where life ends up, or where stress takes you," she elaborates. "When you're noticing you can see what needs to change and find the encouragement you may need to take action and change it."
She continues, "Instead of sitting in the stress and feeling helpless about how to get out, I can ask myself – how do I want to feel? What is one thing I could do today to help me get there?"
Others who have done the TIDIR method found value in letting go of "shoulds."
aSweatLife Ambassador and TIDIR challenge participant Mandy Patterson tells us, "I got a lot of value from reflecting on what I want to do and the shoulds that I can let go of. It was incredible for me to see what poured about all the things I want to do in life, personally and professionally. Something about seeing those on paper was a big deal."
Similarly, Haynes found that reflecting on "shoulds" helped her move past them.
"The follow up questions with the "shoulds" prompt forced me to witness and see where this is showing up on a daily basis," she says. "It forced me to notice, move through, and release it when it does show up."
How to start a daily journaling practice
If you're new to journaling, Upton encourages you to embrace the beginner's mindset and think about a new journaling routine the same way you'd think about a new fitness or running routine—you start where you are, and build up.
"It takes patience and discipline to commit to a workout routine and get results," she points out. "It's the exact same for a daily journaling practice and the inner workout, the inner work so many of us are being called to do to find that clarity and confidence we desperately want and need."
Here are a few tips Upton shares with new TIDIR community members:
Throw out the old memo that you should be good at journaling and self-reflection on day 1. This practice takes time. Have patience and keep coming back to the pen and paper even when it's hard – the same way you come back to the mat after a tough workout. Don't quit.
Make it special. Daily journaling and self-connection doesn't have to be a chore or monotonous routine – it can be a sacred ritual. How can you create a few minutes each day that bring you comfort? Light candles, sit in a chair that is comfortable, put on background music, make a cup of coffee – turn the practice into something you want to do instead of something you have to do.
Set a timer. You might not have an hour or 30 minutes to do an entire self-care practice on top of your physical workout. Do you have 3 minutes? 5 minutes? 7 minutes? Can you find a few minutes each day just for you? The inner work is just as important as the physical work – prioritize a few minutes each day for self-connection and set a timer. Write until the timer goes off.
Embrace daily journal prompts. If you're feeling uninspired or overwhelmed at having to think of something to write about each day, sign-up for daily journaling prompts to get the juices flowing. Turn to a journaling teacher the same way you'd look to a workout instructor – they can help you stay motivated and accountable in your writing practice.
And while journaling might have been a new habit for some people in Upton's writing challenge, they've all found comfort from knowing their journal will be there for them during times of stress.
"Some days I'm in the mood, and some days I'm not and I don't want to force myself to write," Patterson admits. "But, I have noticed, on mornings where I'm stressed out by what the day holds, journaling for those seven minutes and 30 seconds sets my course for the day off better, I feel stronger, and ready to tackle whatever the day throws at me."
She continues, "It gives me time to breathe and get lost in a moment with myself and the positive talk that comes from it, I believe, will make a world of difference during the holidays and everything else 2020 might want to throw at us."
Partlow adds, "I think [a journaling practice] will help me have better focus during those times of stress and be able to focus on the things that matter. I can get caught up a lot of times in the little things, but being able to journal helps me remember what really matters and where I'm trying to go."
Want to start a daily journaling practice? You can join the 30 Days of Doing It Right Writing Challenge by TODAY I DID IT RIGHT to start your own journey in self-connection, self-reflection, and daily journaling. The next session begins November 1, 2020 just in time for the stressful season ahead.