How to Cope With Feelings of Dread Around Winter
Can I be honest with you? I have been feeling down for over a month now. I feel mentally and emotionally drained, and I lack motivation. There are a few reasons why.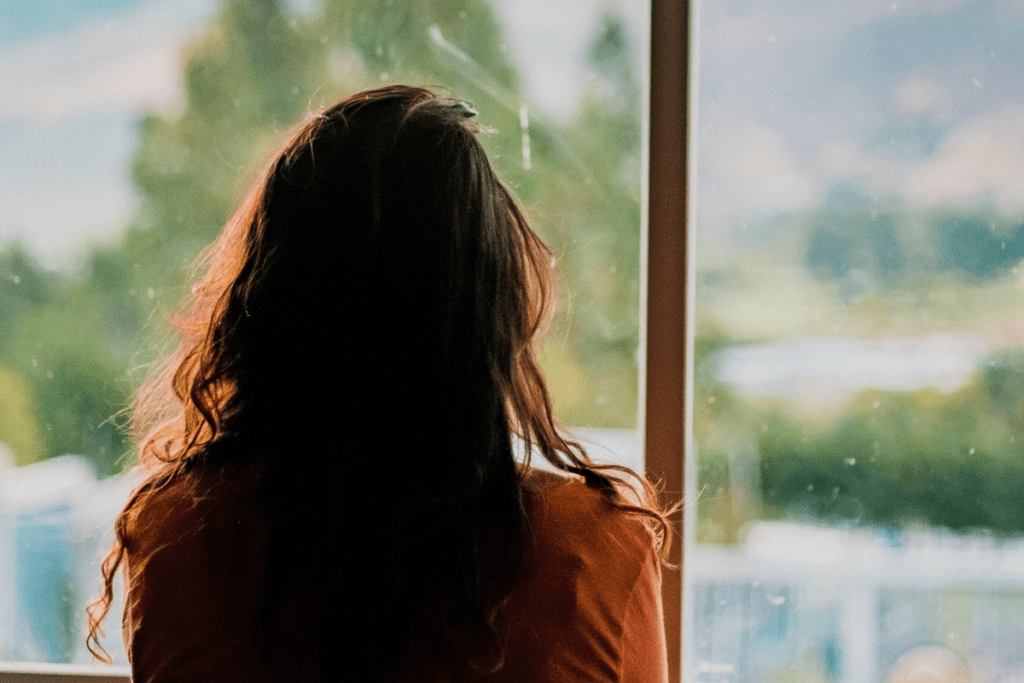 First, I have never been this invested in an election before, and I'm anxious about the outcome. Second, the pandemic that was supposed only to last a couple of months is going on eight months with no end in sight. Lastly, with the colder weather coming, that means more time cooped up inside, which brings me back to my second concern about COVID not going away anytime soon.
It's a lot to handle—but instead of adopting a "resistance is futile" mindset, we talked with a mental health expert on ways to proactively handle stress surrounding these three delicate topics. Here's how to cope if you're dreading the next few months.
The election and politics in general
For a while, I was reading and listening to everything I could regarding the election. I thought that knowledge is power, and the more nuggets of information I could pick up, the more "control" I would feel knowing what the outcome might be.
I finally realized that I needed to limit my exposure to the news, which has been helpful. I'm glad I did. 
"Election week will bring its own share of emotional distress among people who are especially invested in the subject. In fact, debates and arguments during this period can affect everybody regardless of where they stand politically," said Jolene Caufield, Senior Advisor at Healthy Howard.
"Before you know it, this stress will lead to more serious conditions like high blood pressure and sudden heart attacks if not properly managed. It's the pitfall of being informed and engaged in this topic. This why people should remember to set boundaries in order to preserve overall health."
The pandemic
I feel so helpless about the pandemic. As much as I'm wearing a mask, social distancing if/when I go out, and washing my hands, I'm at the complete mercy of the people who are not taking safety precautions. The longer people disregard the cautions, the longer the pandemic will continue.
Caulfield explained, "Experiencing winter blues is not uncommon for most people during the winter season, but since we are still under an imminent threat from a deadly virus, some people may deal with more than seasonal affective disorder (SAD) this year."
She continues to explain that it's no secret that the pandemic has caused an exponential increase in anxiety among people with previous emotional distress. And, with the mental health consequences shorter days and cold weather during winter, we may be facing a considerable spike in seasonal affective disorders, which is worsened by carried over anxiety from the COVID-19 lockdown.
How can we attack these feelings of helplessness? It turns out there are many types of self-care we can do.
"Make sleep a priority, followed by exercise. Take vitamins and eat healthfully, and watch out for binging on food and alcohol. These are all immune-boosting health practices, and we should take them seriously now more than ever," said Allison Johnsen, LCPC, BCC, manager of behavioral health at Northwestern Medicine Central DuPage Hospital and Delnor Hospital.
"Keep up the hand washing, mask-wearing, and physical distancing for your protection and others," Johnsen continues. "Don't let your guard down; protect yourself especially when others are not." 
Stuck inside this winter
The thought of cold weather has had a negative vibe for me for many years, mainly due to a lack of sunlight. The struggle against SAD is real. When the weather was warmer, it was easier to have a socially-distanced visit with friends, and there were so many more opportunities for safe, outdoor activities. I wondered, what are some things I could do to help me cope when I'm cooped up at home?
Fortunately, Johnsen has tons of suggestions: Do what works to keep your thoughts as positive as possible: gratitude journaling/exercises, practicing your faith, mindfulness with a focus on noting and refuting negative thinking. Remind yourself that winter is temporary, and spring light will come again. Put positive activities that you like into each week: visits (physically distanced and masked) with friends and family, special dinners, reading a real page-turner, watching a TV series that does not depress you; and committing to a project or hobby.
"Productivity really helps our mental health. Reach out verbally to someone you trust when you need someone to help you 'straighten out' your thinking if it is going negative or irrational," adds Johnsen.
Armed with these ideas, I'm feeling a little better about how I can handle this crazy world. How about you?