12 Best Face Masks for Running
Many people have taken up running as their exercise of choice during the coronavirus pandemic. But running looks a little different these days: If you're in a park or other area where it's hard to socially distance from other people, experts recommend you wear a mask while you work out. It's easy enough to throw on a mask before you head out to the grocery store, but while you're pounding the pavement, it can be seriously uncomfortable.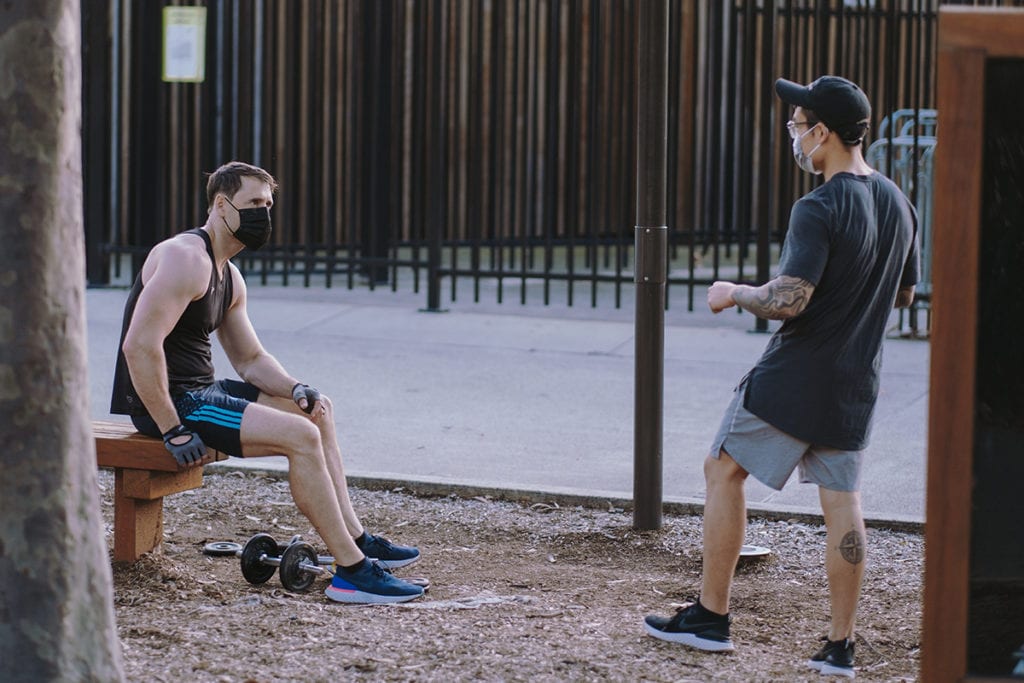 But it doesn't have to be that way. We crowdsourced runners from across the country to ask about the best face masks for running they've discovered.
One of the most popular options? A buff-style mask.
"I have been running with a neck gaiter around my neck that I pull up when I see other runners approaching or when I am within six feet of another person," says Lynette Pettinicchi, founder of Lynette Nicole PR and Pilates and PR. "I've found the neck gaiter a solid alternative to wearing a traditional mask when running as it's easy to maneuver and there is a little breathability. Traditionally, I try to wear it in the winter to keep my face and neck warm when it's freezing out so the biggest adjustment is wearing it in the heat."
Montreal-based freelance writer Steph Coelho also runs with a neck gaiter.
"I wear a gaiter around my neck and pull it up over my face if I see people ahead (which doesn't happen too often)," she says. "It's comfortable and I can easily toss it in the wash when I'm done." 
A disposable mask works great for runs too.
"The plain paper blue disposable masks are the easiest for me to run in, especially in hot weather," says Sheryl Huggins Salomon, a Brooklyn, New York-based freelance health journalist. "They allow me to draw down air from the top of the mask and not break pace too much from being winded."
Whether you choose to wear a simple disposable mask, neck buff, or a reusable cloth mask when you run, you've got plenty of options. Here, we've rounded up the 12 best face masks for running.
The Well Movement Mask ($18 for three, the-well.com): This cotton face mask has an antimicrobial agent in it that controls odors, making it ideal for exercise. Plus, the adjustable face loops ensure it fits a variety of face sizes and shapes.
"I live in New York City where masks are a must, and this one is so comfortable (it's adjustable!)," says Locke Huges, writer. "I honestly forget I have it on while I'm out running—either miles or errands."
Wattie Ink. Masks ($60 for six, wattieink.com): Quite a few runners we reached out to said they are fans of this brand's face masks, noting how comfortable and breathable they are. Another plus: Wattie Ink. donates a five-pack of masks to a person or organization in need any time you order a five-pack for yourself.
Adidas Face Covers ($16 for three, adidas.com): "What I love about this mask is that is gives me full coverage over my nose and mouth, plus it's well-fitted on the side, so I know I'm protecting myself and those around me," says Meghan Knowles, adidas Runners LA crew runner and pilates instructor at Speir Pilates in Los Angeles and for BeRevolutionarie. "The fabric is super-lightweight, breathable, and, bonus—it's made with recycled materials!"
eShakti Floral Vine Embroidery Cotton Poplin Shaped Face Mask ($12.95, eshakti.com): Look cute while you run in this embroidered face mask made out of lightweight material. The adjustable elastic ear straps make this one of the best face masks for running for all face shapes and sizes.
My E Three Neck Gaiter ($18, myethree.com): This is another option beloved by many of the runners we chatted with. That's because buff-style masks like these are easy to pull up and down, notes Maggie Wolff, aSweatLife ambassador. This particular buff-style mask is made from a breathable polyester microfiber stretch material and feels soft on skin.
Buff CoolNet UV+ ($24, buffusa.com): UV protection is a must when you go for an outdoor run, which is why this UV-protecting buff-style mask is a favorite. It offers UPF 50+ sun protection, is ultra-lightweight, and offers odor control.
Mission Cooling Gaiter/Face Cover ($19.99, mission.com): Another buff-style mask that comes highly recommended by runners, this one features UPF 50 sun protection and is made from a material enhanced with cooling technology.
Eliel Cycling Fun Face Masks ($60 for six, eliecycling.com): These face masks, which are produced in San Diego, get high marks from runners because of their breathability and the fact that they come in fun patterns. Eliel Cycling also donates a mask to someone in need for every one sold.
Athlete Everyday Non-Medical Masks ($30 for five, athleta.com): Athleta is known for their breathable workout clothes. These face masks are made with the same material for maximum breathability while you run.
Beyond Yoga In This Together Mask ($25 for two, beyondyoga.com): Beyond Yoga is also making reusable face masks out of their workout clothing material. This makes for lightweight, breathable masks that are perfect for an outdoor run. Plus, the patterns are adorable.
Accel Lifestyle Prema Anti-Bacterial Face Mask ($90 for five, accellifestyle.com): If you're looking to splurge, consider these face masks for your runs. They're made from the brand's proprietary anti-bacterial fabric, are extremely lightweight, and are adjustable.
WYZE Disposable Face Masks ($19.99 for 50, amazon.com): On the other end of the spectrum is the disposable face mask, a solid choice for runners. These are made from a soft, odorless material that won't irritate your skin.