10 Sheet-Pan Dinners (and One Dessert!) for Lazy Summer Nights
Burgers sizzling on the grill. Charred corn freshly cut off the cob. Juicy bratwursts bursting with flavor. Grilling out is one of the best parts of summer – it's fast, tasty and uncomplicated. So what's a girl without a grill to do?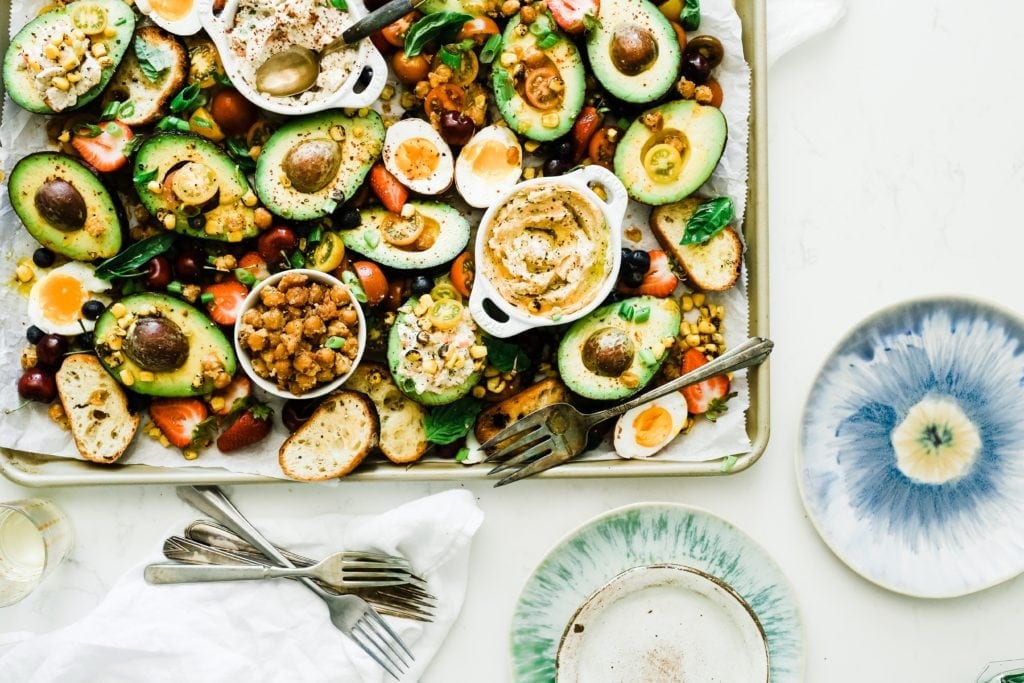 Enter sheet-pan dinners. These no-nonsense meals are perfect for lazy summer nights. Just toss a few items on a regular cookie pan, add some seasonings, pop the sheet in the oven and get back to your regularly scheduled summer programming. In hardly any time, dinner is ready. And you didn't even need to endure the heat of a grill or smoke in your eyes to get there.
Below, we've rounded up some sheet-pan dinner favorites (plus one faaaancy dessert!).
This is a classic sheet-pan recipe because it requires very little prep work but delivers big results. Slice peppers and onions, toss them with shrimp on a cookie sheet, coat the whole mess with taco seasoning and cook for 10 minutes. Serve with tortillas and a side of guacamole. 
Flaky salmon pairs perfectly with roasty (not a word, but it should be) broccoli in this picture-perfect dish. Plus, the chile-lime vinaigrette gives it a summery kick.
Get a taste of the South (South Carolina and Georgia, specifically) with The Seasoned Mom's recipe for a scrumptious pan-inspired low-country boil (or "broil," as she cleverly puns). Corn, shrimp, sausage and potatoes mix it up on the pan with some green onions for garnish. The only thing missing is the giant plastic bibs.
Meatless Mondays have never looked so good. This recipe calls for broccoli, mint and a peach (plus tofu and chickpeas), but feel free to go crazy with summer produce. Why not add sweet peppers, eggplant or summer squash? And try topping the bowl with strawberries, blueberries or chunks of avocado.
Barbecue-sauce-slathered chicken breasts plus Brussels sprouts plus sweet potato wedges (yum) equals one quick and tasty dinner.
Hot dogs are great for the ballpark and kiddos, but if you want to elevate your dinner, go for the kielbasa. The sweet onions, carrots and zucchini further fancify this dish.
Why serve Caesar salad on the side with pizza when you can combine it into one delicious dish? Slap some pizza dough into a pan, substitute Caesar dressing for tomato sauce, cover with tomatoes, cheese and cooked chicken (pro tip: stop by a Mariano's meat counter and ask them to grill it for you – it's free!), and when it's done cooking, scatter some lightly dressed romaine on top. Voila!
To make this recipe even faster, skip the homemade sauce and pick up your favorite Asian-inspired marinade. Serve this chicken and veggie mélange as is or scoop over rice, quinoa or whichever grain you prefer.
Swing by a farmer's market for green beans and cherry tomatoes ASAP so you can whip up this summery dish tonight! Garner extra presentation points with multicolored heirloom tomatoes.
Swap out comfort food from a little blue box for comfort food from a pan. It's cheesy, it's crispy, it's damn delicious! There aren't any veggies in this one, so I won't judge if you add a side salad. Then again, I won't judge if you don't either…
The name says it all: Eight desserts. One pan. EPIC GOODNESS! This amazing dessert mashup has all my favorite things (chocolate chip cookie bars, brownies, banana bread) and then some. More of a cheesecake or pie person? This dessert still has you covered. It takes some work and planning, but you can cut the labor by buying prepared cookie dough and quick-mix brownie batter. After you make it, will you please invite me over? Thanks!